A recent survey report shows that only 1% of electric vehicles (EVs) owners want to go back to gasoline. The survey was carried out by a UK-based company Zap-Map over 2000 EV users.
Zap-Map is one of the UK's leading electric car charging point finder apps and has over 100,000 registered users. Last month in November 2020, the company decided to conduct a poll which turned out to be quite interesting.
No doubt, the popularity of electric vehicles is booming, however, we had not expected it would be that much. Out of all 2000 owners, 91% said they would not go back to petrol or diesel-powered car, 8% of them weren't sure, while only 1% showed a willingness to switch back to gasoline.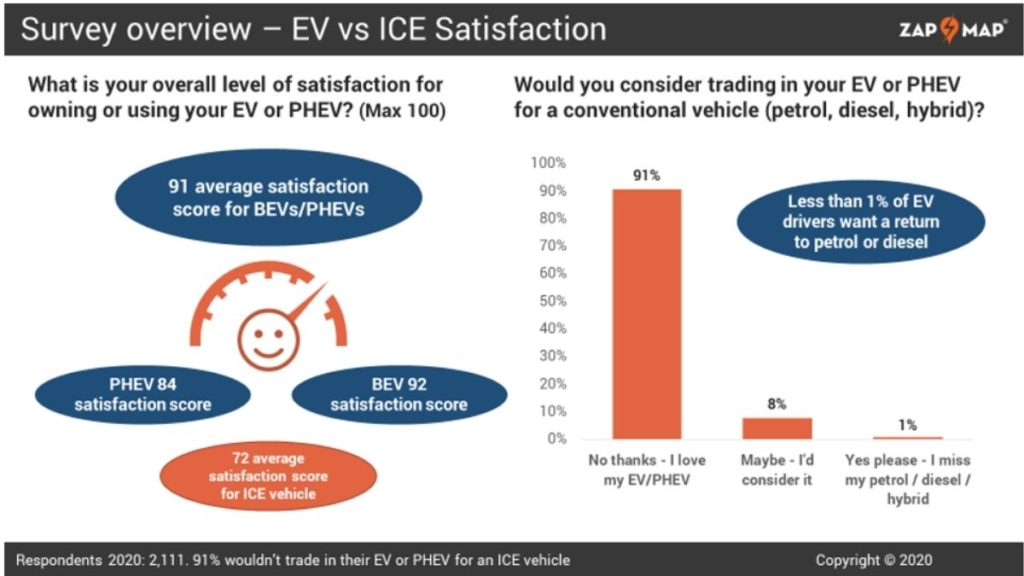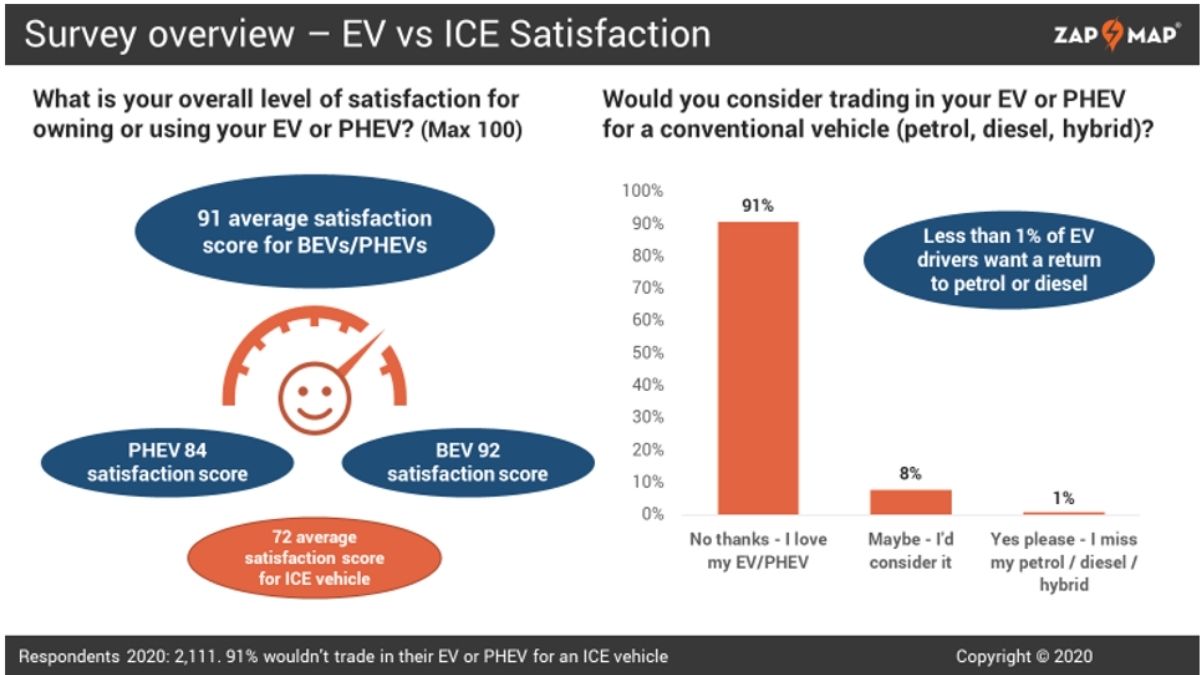 Also, the satisfaction rate for electric cars was found to be the highest with 92% followed by plug-in hybrid vehicles (84%), and ICE (Internal Combustion Engine) vehicles (72%).
2020 Acted As Catalyst In Electric Vehicles Sales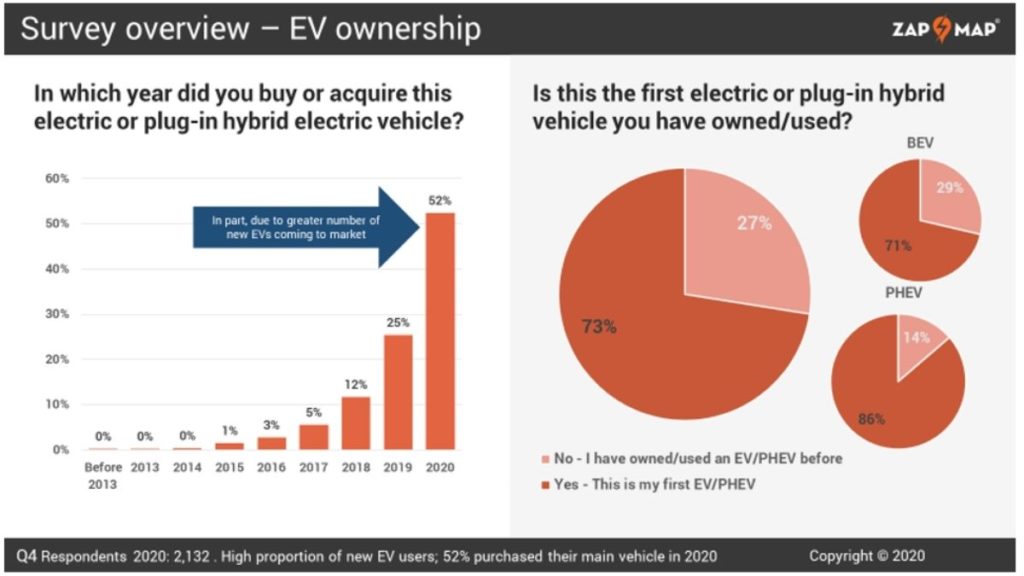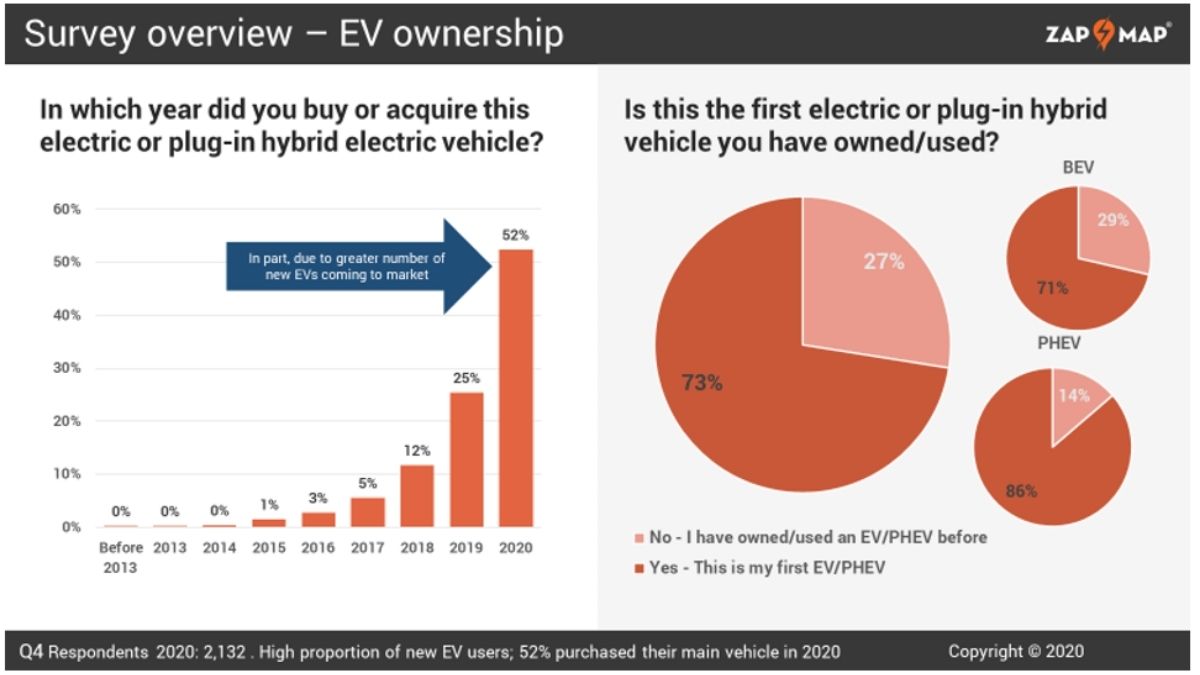 2020 might be remembered as a dark year, but it changed people and their thinking in a lot of ways. One area where it had a great impact is the auto industry. As soon as people witnessed the impact of restricting ICE cars and factories on the environment during the lockdown, it acted as a trigger.
The extent to which electric cars can benefit the environment is overwhelming. Also, electric vehicles nowadays are quite impressive in terms of performance as well.
As per the survey, out of all EV owners, 52% bought their vehicle in 2020 alone. This is in contrast to the 25% who switched to EVs in 2019 and a mere 1% in 2015.
Furthermore, 73% bought an EV or a PHEV for the first time in 2020.
Among all the electric cars, Volkswagen ID.3 was the one with a 100% satisfactory rate. Maybe, it's the reason why the bookings of upcoming SUV VW ID.4 First Edition is already full in the US.
Followed by VW ID.3 was Tesla Model 3 and Kia e Niro each with 96% satisfactory rate.
We do know that the future is electric. Hence, automakers as well as the government are spending billions on building and improving the EV infrastructure.
So, just in case you are also planning to buy an EV in the future, then we recommend you go through our list of the best electric cars.
Source: Zap-Map