A more affordable car than the Tesla Model 3 could very well be on our way from Tesla itself. It isn't speculation but a promise by none other than Tesla's CEO, Elon Musk himself.
After performing some viral dance moves at the opening of Tesla gigafactory in Shanghai, the meme-loving Elon Musk made a statement hinting at the future of Tesla motors.
Elon said that Tesla would "create a design and engineering center to design an original car in China, for worldwide consumption."
He went to describe his upcoming project as "something really radical like the Cybertruck." A few days after this announcement, a new official render of a concept electric subcompact car popped up on the internet.
It looks like a Tesla hatchback, and people, at the moment, are calling it the Tesla Model 2. Although knowing Elon, I don't think that this car will ever be called "Model 2." It'll most likely be something "radical."
This small, hatchback electric car will finally be more affordable than Tesla Model 3 at $25,000. The Tesla Model 2 will ultimately be a vehicle that brings price parity between gas and electric cars, something that futurists have been claiming for the future.
A More Affordable Tesla Model 2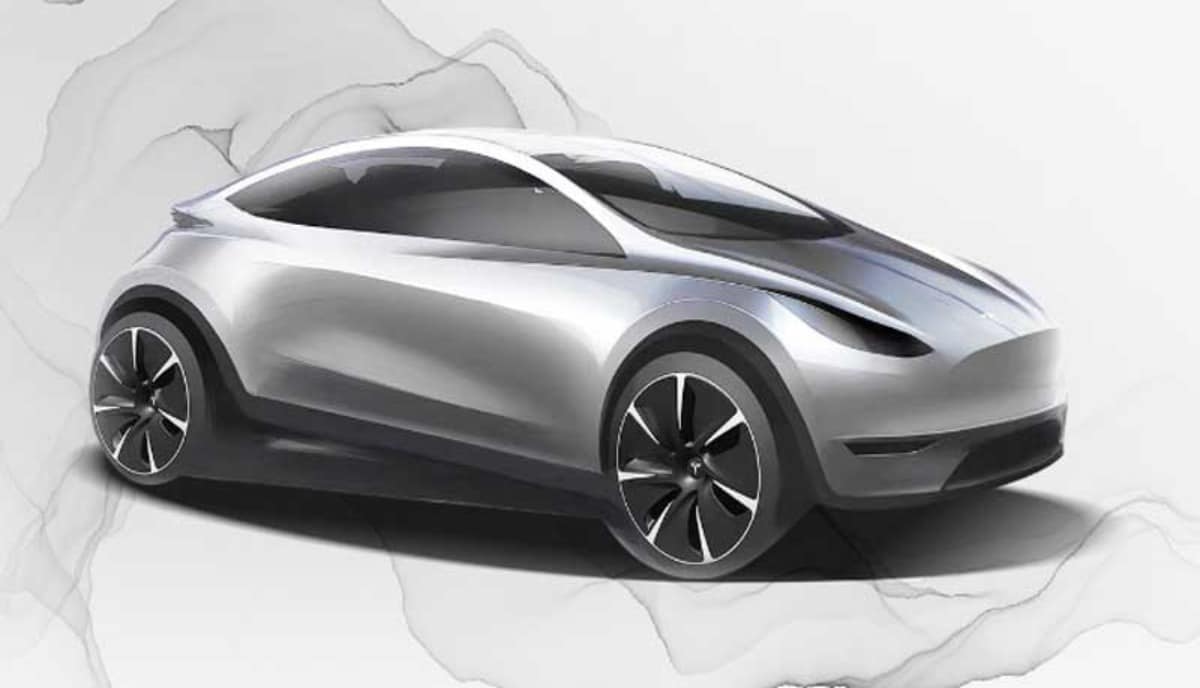 Soon after the announcement of an R&D design center in China, the Shanghai gigafactory announced new job postings have surfaced on their website. It seems though, Elon himself sees enormous potential in China and can't wait to get started.
Eli Burton, a former software engineer and president of My Tesla Adventure, Tesla owners club, spilled a ton of detail regarding Tesla Model 2. However, most of the things he said are speculations based upon the current geopolitical scenario.
According to Eli, the Tesla Model 2 will be $10,000 cheaper than the already affordable Tesla Model 3, which retails at around $39,000.
It will most likely come with FSD as standard, along with 400-500 miles of range in its top-spec variant. However, it will have a base variant with a relatively smaller battery pack than today's electric cars with more variety.
We have already seen that battery technology gets better each year. The 2012 Tesla Model S made around 265 miles of top range from an 85 kWh battery pack, while the 2019 Tesla Model 3 Long Range can go up to 322 miles from a much smaller 72.5 kWh pack. So expecting the same for a more miniature Tesla Model 2, isn't far fetched.
Tesla's battery cell is already one of the best in the world, according to Sandy Munroe of Munroe associates. And with the recent acquisition of battery tech pioneers Maxwell Technologies, Tesla is well on its way to outdo itself.
Is Tesla Model 2 A China Exclusive Tesla?
According to Elon, Model 2 will likely be manufactured in China for the global audience. However, it will reach other countries sometime after it starts selling in China. We have seen several manufacturers do that, a Nissan electric pickup truck, for example, is currently on sale in China and will reach the US shores later this year.
According to Eli, Tesla believes that every car sold on a continent should be manufactured on that continent. For example, Tesla will be selling, Chinese-made Model 3 and Model Y manufactured in the Shanghai gigafactory, only in China.
Therefore, if the possibility of making a Model 2 for the rest of the world arises, Tesla will shift the production plants from its Shanghai Gigafactory to other ones around the globe.
What also makes the Model 2 a China exclusive Tesla, at least initially, is the market size. China is the largest market for EV makers. According to McKinsey China Auto Consumer Insights of 2019, the sale of the New Energy Vehicle (NEV) market comprised of Battery Electric Vehicles (BEV) like Tesla and Plig-in Hybrids, grew 71%.
Out of this, 75% were BEVs, that are likely to grow by 3.5 million by 2024. Furthermore, the subcompact vehicle market is one of the largest ones after the SUV and accounts for 29% of global vehicle sales. If Tesla can manage to capture 1% of this market, it can earn a $7.5 billion with the help of $25,000 Model 2.
On the other hand, if it can capture 5% of that same market, then Elon Musk can see a whopping $37.5 billion in sales.
China's EV tax credits are still pretty aggressive, and Tesla has already exhausted the $7,500 federal tax credit in America. Therefore, Elon would want to cash in on this opportunity with as many vehicles as possible.
Although the Chinese government recently reduced the EV subsidies by half for vehicles with less than 400 km or 250 miles of range, Tesla needn't worry because most of its cars have 250 plus miles of battery range.
China plans to completely phase out government subsidies for electric vehicles in 2020, according to Bloomberg, to make the EV manufacturers focus more on innovation.