When two siblings are equally good, people are often curious to know which one is the Alpha. Similar is the case with emerging cars Kia Sonet and Kia Seltos. Though Sonet is the younger sibling and slightly smaller than Seltos, it's so impressive that it led us to draft a comparison between the two.
Both these South Korean cars are rich in features and have an appealing appearance. In addition, the performance and ride quality of both these cars are enough to fascinate any normal car user.
If you have both of these cars in mind but are unable to decide which one to buy, here's a detailed overview to help you understand better.
Also Read: Hyundai Venue (Top Variant) Vs Hyundai Creta (Base Model): Which One Should You Buy?
2021 Kia Sonet Vs Kia Seltos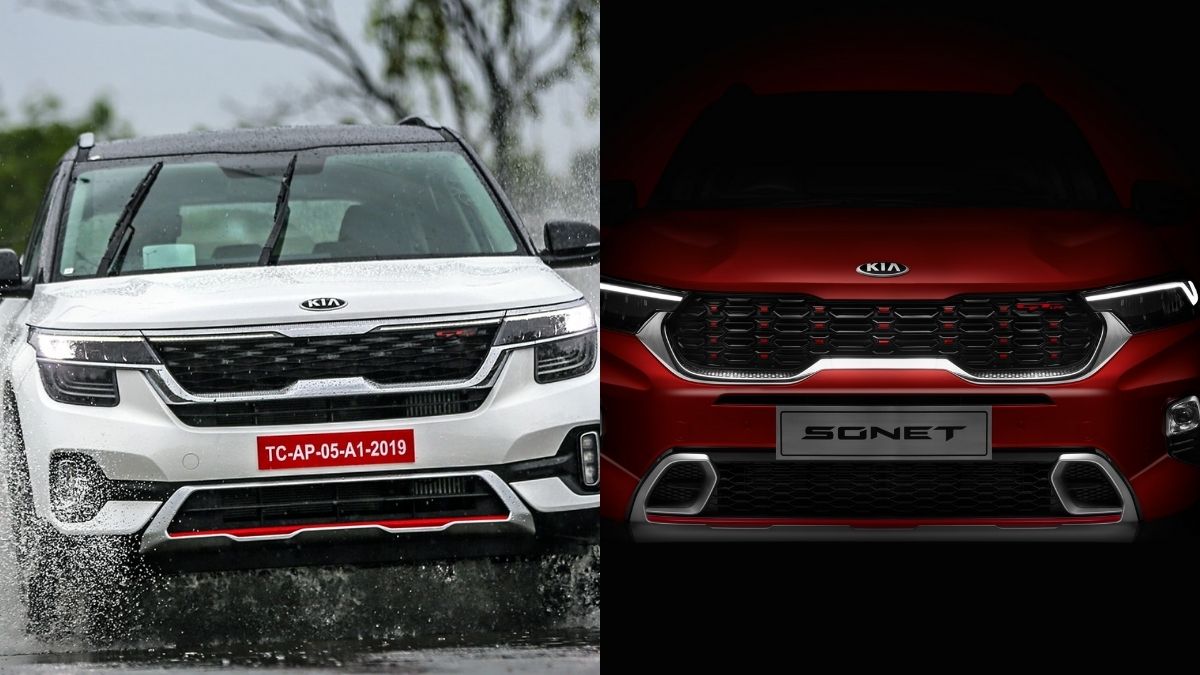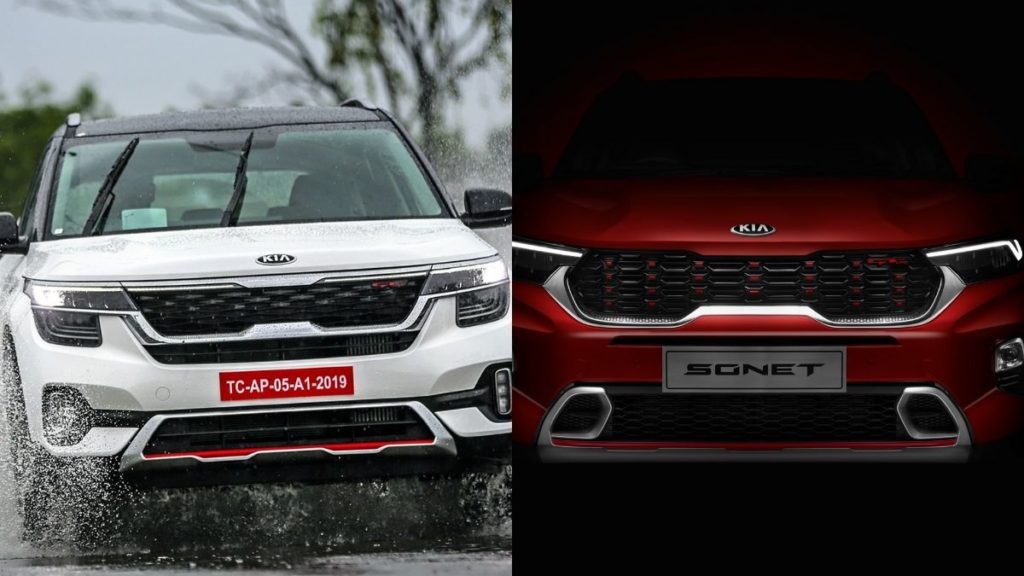 Kia Sonet is a compact SUV whereas Kia Seltos is a sub-compact SUV and slightly bigger in size.
Dimensions
| | Kia Sonet | Kia Seltos |
| --- | --- | --- |
| Dimensions | | |
| Length | 3995 mm | 4315 mm |
| Width | 1790 mm | 1800 mm |
| Height | 1610 mm | 1620 mm |
| Ground Clearance | 205 mm | 190 mm |
As we can see, Kia Seltos is bigger than its younger sibling in each dimension. There isn't much difference between the two in terms of width and height, however, you can notice a significant margin in lengths of both the cars.
Interestingly, Sonet's ground clearance is greater than that of Seltos, giving it a more SUV-like stance.
Kia Sonet Vs Kia Seltos: Engine And Performance
Kia Sonet

Kia Seltos

Performance

Engine Options
G1.2- liter Smartstream Petrol
G1.0-liter GDi Turbo Petrol
1.5- liter CRDi Diesel
Smartstream G 1.5-liter MPi BS6 Petrol
Smartstream G 1.4-liter GDi Turbo Petrol
1.5-liter CRDi VGT Diesel
Max Power and Torque
G1.2L Petrol- 81.8 BHP and 113 Nm
G1.0L Turbo Petrol- 118 BHP and 172 Nm
1.5L CRDi Diesel- 113 Nm and 250 Nm
1.5L MPi Petrol- 113 BHP and 144 Nm
1.4L Turbo- 138 BHP and 242 Nm
1.5L Diesel- 113 BHP and 250 Nm
Transmission
MT, iMT, DCT, and AT
MT, DCT, AT, and IVT
Both cars are available in three engine options: a naturally aspirated petrol engine, turbo petrol, and a diesel engine. While NA petrol and turbo petrol are of different sizes and specs, the diesel engine is the same.
Without a doubt, both the petrol variants of Seltos are punchier than Sonet. However, when it comes to the diesel variant, then users might not have the same experience. Kia Seltos is heavier than Sonet and the weight plays a crucial role in the automotive world.
Hence, you might feel the diesel variant of Sonet is more responsive, powerful as well as more fuel-efficient.
Mileage
Fuel efficiency is one of the most important factors for Indian buyers. If you look at the average here, then Kia Sonet delivers in between 18 to 24 km/l of mileage depending on the variant. In contrast, the mileage of Kia Seltos varies from 16 to 20 km/l.
Kia Sonet & Seltos Price
The price of Kia Sonet starts at Rs 6.71 lakh and goes as high as Rs 11.99 lakh (ex-showroom). On the other hand, its elder sibling is priced higher between Rs 9.89- 17.34 lakh (ex-showroom).
Which One Should You Buy?
In terms of features, there isn't much difference. Both are UVO connected and share similar features like multi-drive modes, smart air purifiers, ventilated seats, Bose speaker systems, and more.
However, the major difference lies in the size and petrol engine options.
If you have a good budget and prefer extra space then Seltos is better. In addition, I would like to recommend Seltos, if a performance-oriented petrol car is in your mind.
Otherwise, Kia Sonet is a great option, especially if you are planning to buy a diesel version as there's a significant price difference between the two models.
We would love to know which one you would prefer and why. Share your views in the comments section below.