"The Internet is full of pioneers and cowboys. It's also got its fair share of pirates and trolls."
P
iracy is the biggest challenge faced by the software companies and they are coming up with new ways to tackle the issue. One of the biggest examples is Windows by Microsoft who is basically giving away
free Windows to "everyone."
One of the best anti-virus software for Windows has an Amnesty program for Windows users. In this program, the company Malwarebytes is offering a free key to make your Malwarebytes Anti-Malware (MBAM) pirated version genuine.
If you've installed a counterfeit version of the software, the company is offering a replacement key.
The company says: "Malwarebytes is offering a free replacement key for Malwarebytes Anti-Malware Premium customers who have been inconvenienced by piracy or abuse. This new key will be exclusive to you going forward."
How to get free Malwarebytes Anti-Malware premium key?
All you have to do is download and install the latest version of Malwarebytes Anti-Malware. Here's the direct link.
After the installation, click on the activate button and enter the illegal key you are having. Now will be taken to a new section that will feature the option "I'm not sure where I got my key, or I downloaded it from the Internet" or "I purchased my key."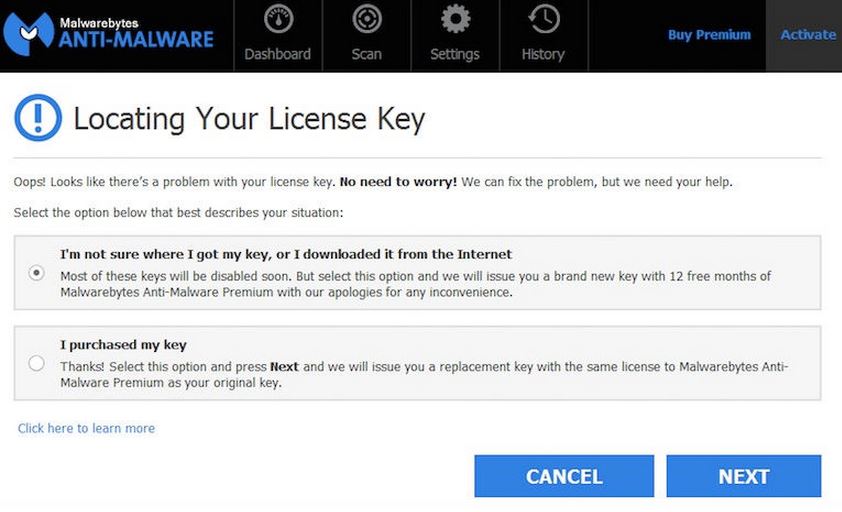 Just after you complete this option, the company will issue you the 12 months premium subscription or it will issue a replacement key for the same amount of your purchased key.
With this offer, Malwarebytes is aiming to overhaul its licensing system that doesn't account its illegitimate users. The company is hoping to convince the people who haven't paid for their existing installs and thinking of getting some new loyal customers.
For those who don't know, Malwarebytes is one of the best anti-virus software out in the market and it ranks very high in our best anti-virus of 2015 list.
Via: Malwarebytes
Also read: NSA Hacked Kaspersky Labs and Other Anti-virus Software to Track Users