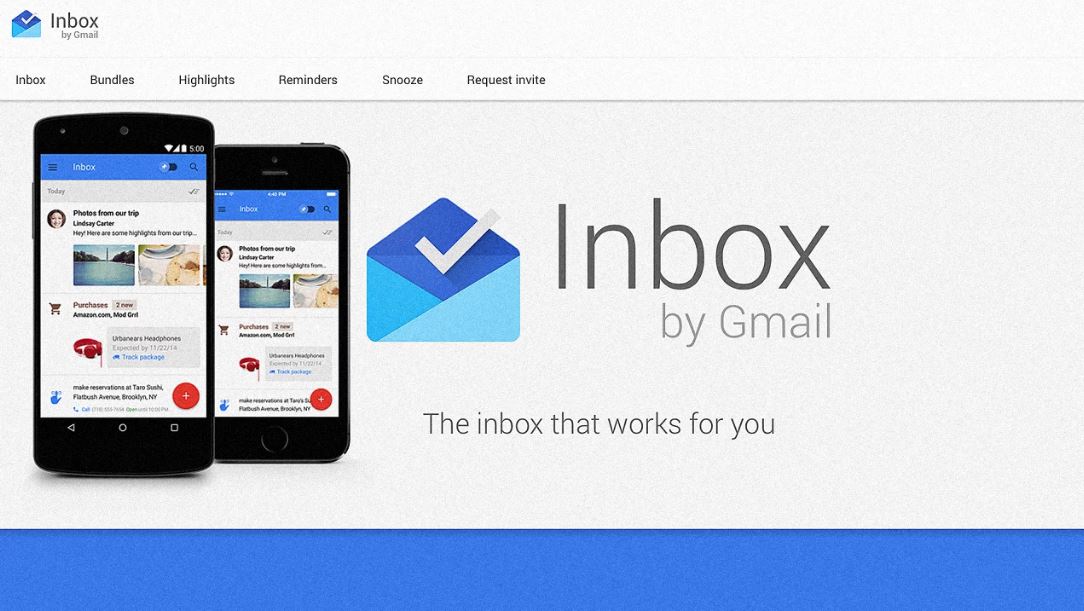 What is the need?
Google already has an efficient email app for all my devices and it works just fine, so why do I need a new app- Google Inbox? The existing email services have some problems: the endless spamming, promotion emails and the cluttered structure where our important emails from friends, family and business get lost. So here comes the Google Inbox and it tries to make checking my email fun again.
What is Google Inbox?
Google Inbox was unveiled earlier this week. This is a supplement ( actually a good one) to the existing Gmail on your computer or your phone. It is a colorful, beautiful and more organized hub for your email which looks more clean and graphical. This is an intelligent app which has features like built-in snooze function, automatic labeling and filing, improved search option and better preview for attachments. Know more about the feature of Google Inbox below:
It organizes your emails on its own ( Bundles):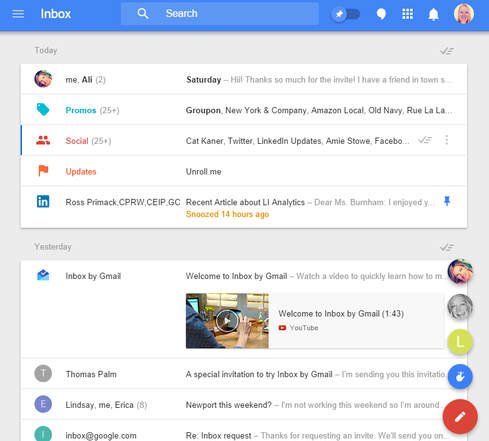 Google's Inbox app analyses the emails and categorizes them in basic categories on left navigation bar. Categories are- Travel, Purchases, Finance, Social, Updates, Forums, and Promos. Each category has a unique icon and different text color, this icon appear as a tag above your messages.
Highlights of your email:
Google Inbox smartly highlights each email with useful information. This information may include image thumbnails, attached documents, important dates and more.
Google Inbox has intelligent search:
The search option has been updated and improved. If I'm in your contact list and you're going to type Adarsh's Birthday- this intelligent search will give you the result August 18th.
Snooze, pin, delete and reminders to prioritize:
Google Inbox has some new features which help to deal with the emails and people in a better manner. You can use snooze, pin or swiping away the messages depending upon the urgency of email. While swiping an email, a box will appear asking you to create reminders and other options. This helps you to forget the useless emails and remember the useful ones.
Availability and invitation?
You may seem interested to use Google Inbox but you may have to wait. Right now it is available via invitation only. Inbox will work on a Chrome web browser on any computer, on Android and iOS.
You can register an invitation by emailing the team of Google Inbox at [email protected]. By doing this you will be added to the waiting list.
Hey Inboxers, you can invite your friends. 3 invites coming your way soon. Look for the golden ticket in Speed Dial. pic.twitter.com/WOfoHZavRW

— Inbox by Gmail (@inboxbygmail) October 24, 2014
Today, Google announced via its Twitter account that each Inbox user will now receive three invites they can hand out to their friends. If someone has already received an invitation and is already using the Inbox, you can ask that person to send you an invite.