The year 2014 may be the black year for album sales. According to Forbes- not one artist's album has touched the million mark in the year 2014 so far.  The only artist who can achieve this milestone and save the year 2014 is Taylor Swift with her new album 1989.
If this continues till the end of the year, 2014 will be the first year since the introduction of platinum certification by RIAA in 1976 that no artist has achieved the million number. The Eagles' Greatest Hits 1971 – 1975 was the first to be certified. Since then, 344 albums have received the certification. The United States awards platinum certificates for album sales over 1m copies, the UK's platinum sales certificate is awarded for album sales of just 300,000.
The only album which has managed to sell more than a million copies so far in 2014 is Frozen soundtrack. But, it doesn't have particular any artists' name written over it. The other best-selling albums of the year are Beyoncé's self-titled LP and Lorde's Pure Heroin. These three have received platinum certifications but their major sales came from last year.
The year 2014 has seen some other big albums like Outsiders by Erich church and Ghost Stories by Coldplay, but they are far from the platinum mark. The only artist who can achieve this milestone and save the year 2014 is Taylor Swift.
So, I am trying to show some optimism and expecting that Taylor Swift's fifth studio album 1989 will touch the mark. Ms. Swift has done this repeatedly several times over the past one decade. She has gone platinum previously with her albums Fearless, Speak Now and Red. All these albums were pre-Christmas releases and album sales are expected to soar during the Christmas festivity.  The album 1989 release on Monday i.e. Oct. 27th.
The other artists who are expected to release albums later this year are Eminem, Lil Wayne, Nicki Minaj and Foo Fighters. Eminem and Lil Wayne could grab platinum sales but this may happen over the course of 2015. Talking about the Rock Music, Foo Fighters don't seem much promising. Last time they scored a platinum album was 2005. By this time last year, five artists had hit one million mark or more, with Justin Timberlake's comeback LP The 20/20 Experience ruling the list.
Also read : Linkin Park and Eminem Collaboration? Mike Shinoda Wants One!
There are many reasons which compile to give birth to such depressing scenario. The lack of interest in Rock Music, which Gene Simmons of KISS described as the murder of Rock Music, increased influence of piracy and internet and online streaming services are the key reasons.
Gene Simmons said few months back describing the appalling situation of Rock Music:
Rock is finally dead. The death of rock was not a natural death. Rock did not die of old age. It was murdered.
Talking to MTV, the platinum-selling producer and co-founder of Mudrer Inc. Records, Irv Gotti said, "Technology and the world has flipped and turned its back on the music biz," he wrote. "They feel music should be free now. Look at U2. One of the biggest bands. They gave away there album on iTunes. Gave it away. But there good. They probably charged ITunes a fee for that. And now with the album for free. They will go on a world tour and make millions. But what about the label. And the producers. What do they get? Where is there royalty off of a free album? It's f–ked up."
He posted a posted this picture on Instagram captioning: "The business of music is OVER."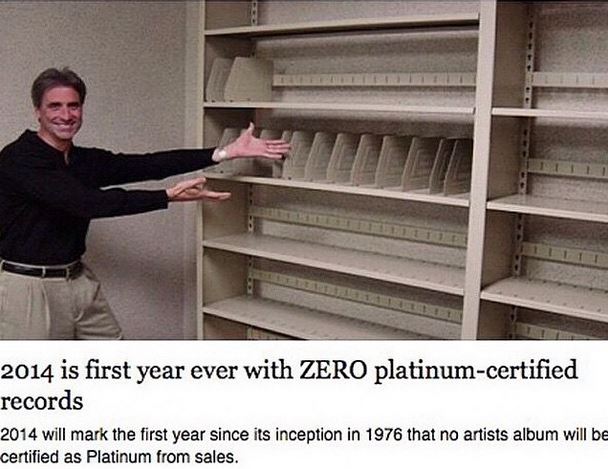 Even though the future of music sales seem bleak and there is  very thin possibility that it will get any better, all we can do is hope. Take a look at the track-listing of Taylor Swift's album 1989 below. The album releases on Monday i.e. Oct. 27th.
Also Read : Gene Simmons Declares 'Rock Music is Dead, It was Murdered.' Foo Fighters Respond 'Not so Fast'