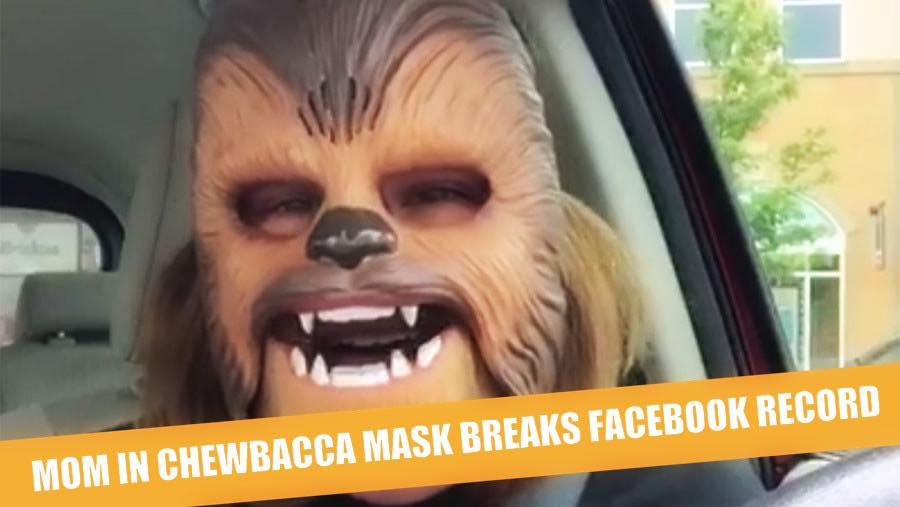 Short Bytes: We want to thank Candace Payne for filling our dry road to the weekend with loads of laughter. She has broken the internet with her viral video that she broadcasted live after wearing her newly bought Chewbacca mask from a store.
This could be one of the simplest ways one could imagine to become an internet sensation. A random Star Wars merchandise has helped a Texas mom break the Facebook Live video record.
The incident happened on Thursday when Candace Payne, a mum of two, purchases a Chewbacca mask and took the Facebook Live train and broadcasted herself as she laughed hysterically at Chewbacca voice produced by the mask.
Her caption to the video is enough to tell how sometimes simple things can be extremely joyful. "It's the simple joys in life," she wrote on the video.
Her Facebook Live video has also broken the record of the most watched Facebook Live video ever. So far, more than 85 million people have watched the video with more than 1.5 million likes.
Here's the Wookie fun video in all its glory:

Previously, a video of an exploding watermelon, produced by BuzzFeed, held the previous record with 10 million views. If we take a look at both videos, the clip of mom in the mask of the Star Wars character is 1000-times fun to watch.
Apart from her infectious laugh, she says tons of fun stuff in her video.
Talking about her kids, she says — "This is mine. I mean, I'll let them play with it, I'm not a bad mom, I'm not a jerk, but in all honesty, at the end of the day, it doesn't go in their toy box, it goes in my room."
Candance Payne, may the Force be with you.