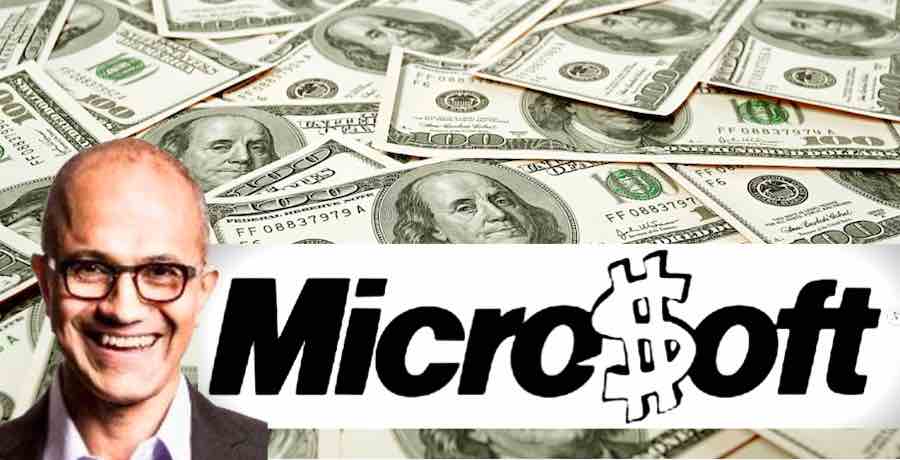 Short Bytes: Apple may have touched the $1 trillion revenue mark before Microsoft, but Redmond has achieved the same milestone with even bigger profit. Compared to Apple's $261.1 trillion number, Microsoft has raked in $265.2 billion profit, according to technology consultant Jeff Reifman. Other technology giants like Google and Amazon are far behind in this race.
Microsoft hit a major financial milestone last quarter by grossing $1 trillion in all-time cumulative revenue, as reported by technology consultant Jeff Reifman.
According to Reifman, he noticed this milestone while researching about Redmond's tax breaks in Washington state. His research also shows that Apple hit the same $1 trillion milestone in 2015.
If we compare the cumulative profits for Apple and Microsoft, Microsoft has come out ahead of Apple with $265.2 billion, compared to Apple's $261.1 billion.
Well, if you achieve such huge milestone, some kind of grand celebration and announcement makes sense — right? But, this time, Redmond chose to remain silent as the company wanted to avoid criticism and scrutiny for stacking part of the profits in offshore accounts, according to Reifman.
Also read: Watch In Real Time: How Much Money Apple, Google, and Facebook Are Making Every Second
"It chose to stay silent as it faces increased public scrutiny for holding $108.3 billion in earnings offshore (an incredible 41% of its all-time profit) and its history of tax dodging at home in Washington State," Reifman wrote.
This huge amount of profit could be attributed to Microsoft's Windows operating system that ensures large profit margins for the company.
Talking about the problems, following its Nokia deal, Microsoft is struggling to save its mobile phone business. On the other hand, things have been smoother for Apple…until the last quarter.
If compare the profits and revenues of other tech giants, Google and Amazon are far behind. While Google's cumulative earnings have only reached $96.3 billion mark, Amazon has just made $3.31 billion in profit.
Have something to add? Share your views in comments.