Falling behind in the competition with Spotify, Apple has geared up and has recently included the functionality of playing full songs on Apple music online on web browsers.
Earlier, listening to songs on Apple music online meant listening to few seconds clips of songs and if you wanted to play full songs, you would need iTunes App. Apple Music serves the purpose of a marketing tool which is used by many artists to promote their music on blogs and different websites.
With the recent update in the interface of Apple music web player, which is basically created for marketers using the service for creating affiliate links, as reported by a Reddit user, users can now sign-in with their Apple Music account to play full songs.
How to Use Apple Music Web Player to Listen to Full Songs online?
Visit Apple Music Marketing Tools webpage by clicking on this link via any web browser.
Here, you can select the country you live in and type the song/artist you want to listen to in the search box.
Upon clicking on any of the songs given there, Apple Music Player interface will open up.
 You will notice that the preview of the song will start playing. If you want to listen to the full song, click on the 'Sign in' option on the top right side of the iTunes web player and enter your credentials. It goes without saying that you must have the subscription of Apple Music to listen to Apple Music online.
After logging in, you will be able to play full songs from the Apple Music Web player with ease. No need to open iTunes app.
To add the playlist to your library from the browser, click on "…"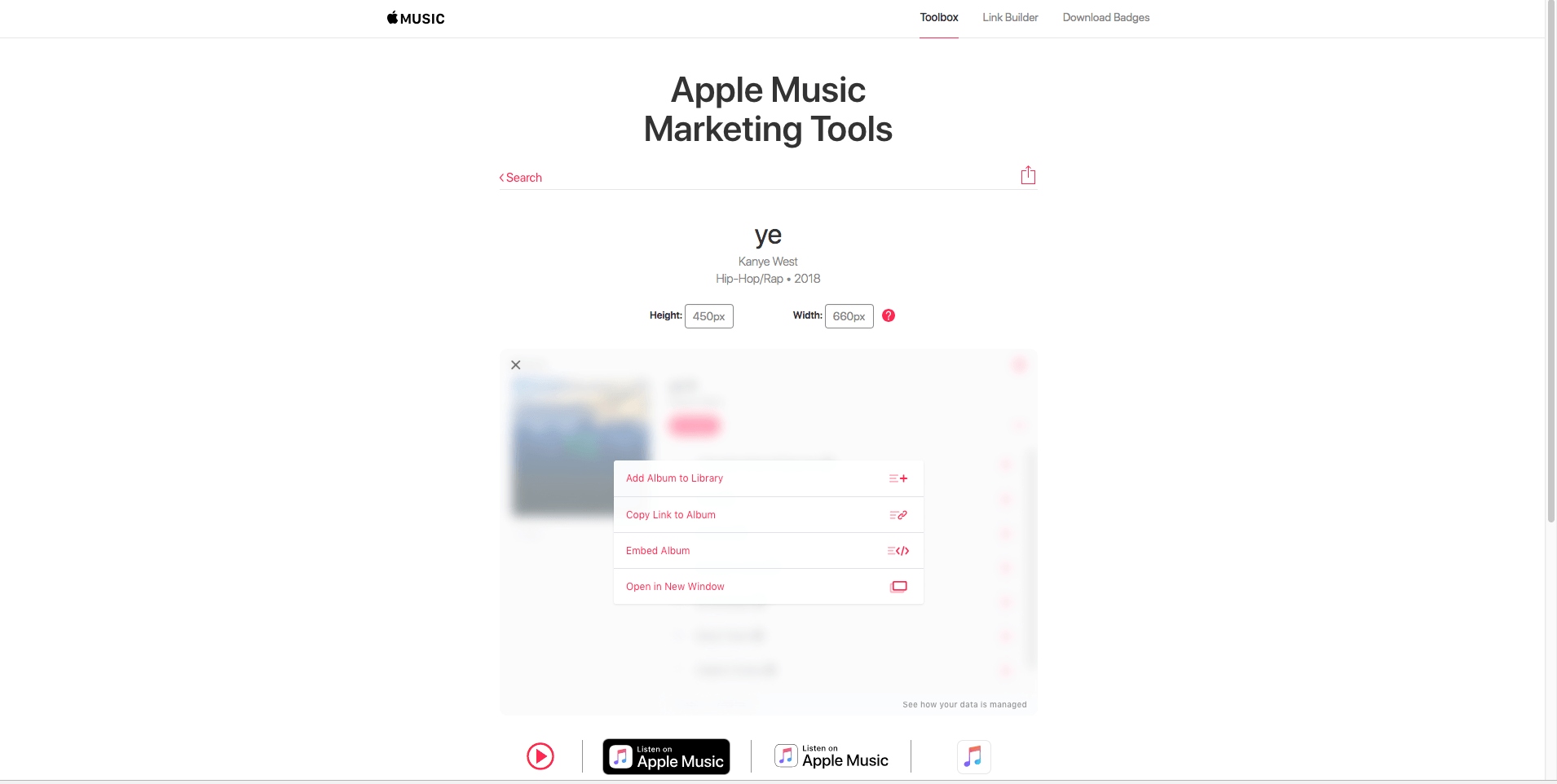 The added functionality will be helpful to those who want to enjoy songs from Apple Music online without opening iTunes app on the desktop.
This recent change in the interface of Apple Music web player is a giant leap considering the unavailability of the feature previously. Still, much work has to be done to make the Apple Music compete with Spotify. In near future, I'm betting on Cupertino launching a full-fledged iTunes web player for users who want to listen to Apple Music online. Other music streaming services such as Pandora, Spotify, and Google Play Music already offer the facility of streaming music online.
Apple has recently made its proprietary music streaming service Apple Music available for Echo smart devices. Now, Echo owners can listen to songs from their Apple Music library without requiring iTunes app.
With 50 million subscribers, Apple is still trailing behind Spotify that has 83 million paid subscribers.