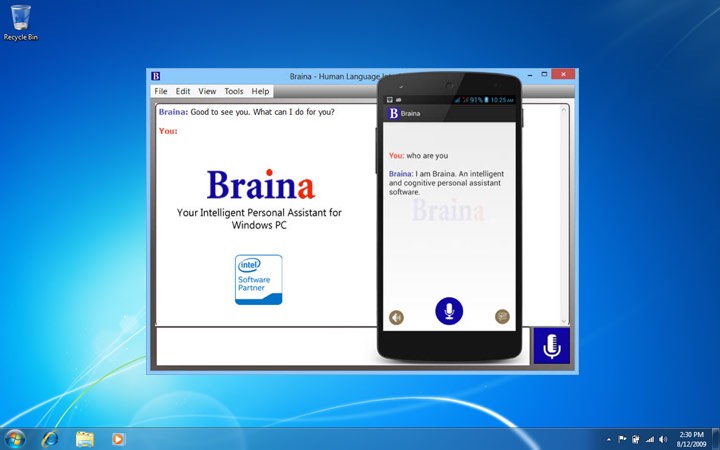 Short Bytes: Braina is an AI-based virtual assistant something to be talked about. It outpowers ubiquitous assistant like Siri and Cortana easily because it offers a plethora of functionalities which can make it sit comfortably at the fountainhead in terms of the AI-based virtual assistants. 
B
raina, which stands for the 'Brain Artificial', is an intelligent virtual personal assistant that allows you to interact with your personal computer using your voice commands in the English language.
Once Braina will be installed on your PC, it will start learning your natural language commands and with the time, it can advance more and more to make your life easier.
Also Read: Facebook Reveals Its Milestones In Artificial Intelligence Research
Do not mistake this personal virtual assistant with others like Siri or Cortana. Braina is a very powerful personal utility software when compared to others. Besides just replying your queries, it also lets you interact with your computer from anywhere in your house over a Wi-Fi network.
This piece of software can also help you in doing everyday things like providing a single window environment in controlling your computer.
By taking dictations, it can search the internet, play songs, open a file for you, search inside a directory, even set alarms and reminders. The functionalities range from doing mathematical calculations and making remember notes to automating various computer tasks, read ebooks and much more.
As mentioned on the official website of Braina —
Braina is a result of solid research work done in the field of artificial intelligence. We are working to make Braina a digital assistant that can understand, think and even learn from experience like a human brain. Braina does language understanding and learns from a conversation.
There are two versions of this AI software, lite version, and the pro version. The lite version is free to use but with limited features. For full access to its all features, you'll have to upgrade to the pro version for a yearly subscription ($29 for a year, $59 for three years).
Also Read: Who'll Be The Winner: Human Intelligence Vs. Artificial Intelligence