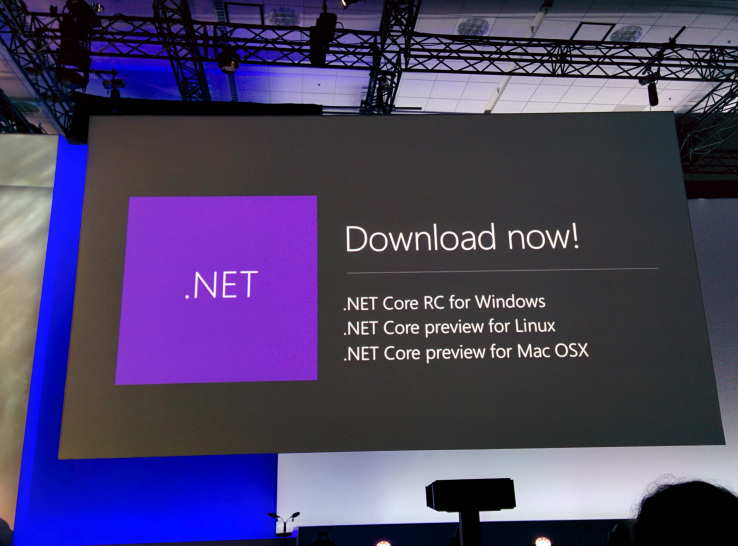 From Last November, Microsoft was teasing its developers by saying that some of the key features for Microsoft .NET platform can show-up on Linux or Mac. Today, at its Build developer Conference in San Francisco, Microsoft officially announced that its first full preview of the Microsoft .NET Core run-time is coming for Linux and Mac OS X from today for developers.
Microsoft's basic idea to take its Microsoft .NET to other platforms is to build more apps or leverage more developers towards it and create a huge ecosystem for its core platform. Microsoft also launched the Microsoft .NET Foundation last year.
I am shocked that Microsoft took this step to come in open source world by commencing their core platform to other operating systems. But from last few years, the company has made quite a few contributions to open source projects.
The company had already open-sourced the Roslyn .NET Compiler platform, but now the full preview of the .NET Core run-time will be available for the Linux and Mac OS X.
Mono work and community has been working with Microsoft for past few years now to make this cross platform a successful open source project for both companies to make a greater ecosystem. Both groups have exchanged a "tremendous amount" of ideas and code in this period to fulfill Microsoft's dream to take the .NET development to open source, and make a beneficial crossover for Microsoft .NET between different operating system.
The Microsoft .NET Core platform is made of several components like the managed compilers, the run-time, the Base class library and the application model, such as ASP.NET and many more. Even the windows Store 8.1 and Windows Phone 8.1 platforms are much smaller subsets of the Microsoft .NET Framework. However, they all are a small subset of Microsoft .NET Core. So this open source project range could be called limitless for the regular users.
Download here: .NET Core Runtime Preview from GitHub
Click here for all the announcement made at today's Build Conference by Microsoft.
Related:
Microsoft's New Browser Will be Called Microsoft Edge, Goodbye Spartan
Microsoft Releases Free Visual Studio Code for Windows, Mac and Linux