Short Bytes: The latest battery efficiency test run by Microsoft put their Edge browser in the top position in comparison to Chrome and Firefox. In the tests, Edge used 31% less power than Chrome 57 and 44% than Firefox. While playing a Vimeo video, Edge lasted for 751 minutes while Chrome and Firefox ended up with 557 and 424 minutes respectively.
M
icrosoft has failed to prove it's dominance in the realm of web browsers. Be it the Internet Explorer or Microsoft Edge. People aren't using them. But Redmond has been very desperate to show-off Edge's competence against others like Google Chrome and Mozilla Firefox.
Microsoft has already published two comparison tests last year in June and September. With the second test, they also put their BrowserEfficiencyTest on GitHub – a Selenium WebDriver based test automation project. It runs common tasks such as browsing through emails, Facebook feed, etc. done in multiple tabs. It records the usage of the CPU, battery, other resources with the help of Windows Performance Recorder.
The Third Battle
https://youtu.be/2wOz9MuwERs
A new test has been published by Microsoft featuring three opponents, Edge, Chrome, and Firefox, excluding Opera from the picture. Microsoft used three Surface Book Laptops running the Windows 10 Creator's Update Build 15063.
Hardware
CPU: Intel Core i5-6300U @2.4 GHz 2.5GHz
RAM: 8GB
GPU: Intel HD Graphics 520
OS and Browser details
OS: Windows 10 Pro 15063.0
Edge: Microsoft Edge 40.15063.0.0
Chrome: Google Chrome 57.0.2987.133 (64-bit)
Firefox 52.0.1 (32-bit)
Just like the previous instances, Microsoft's battery efficiency test included two tests.
First aimed at measuring the power consumption of the CPU, GPU, and WiFi hardware when the browsers were subjected to the pre-defined payload. Surface Book houses the Maxim 34407 Power Accumulator chip which was used to harvest individual hardware stats.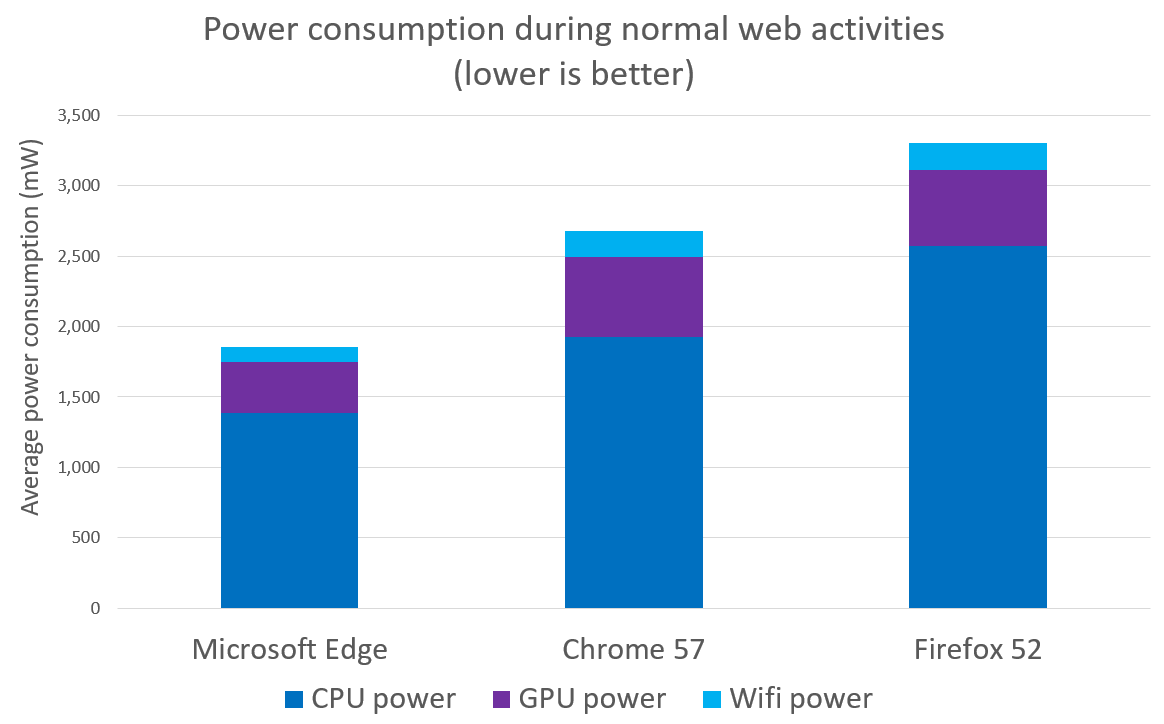 Microsoft's internal test result announced Edge as the winner. Edge used 31% less power than Chrome 57 and 44% lesser than Firefox 52.

The numbers are the average of 16 iterations conducted by Microsoft for each web browser.
Next, a Vimeo video was played on a loop on the three machines and the time was counted until the battery emptied on the each of the devices.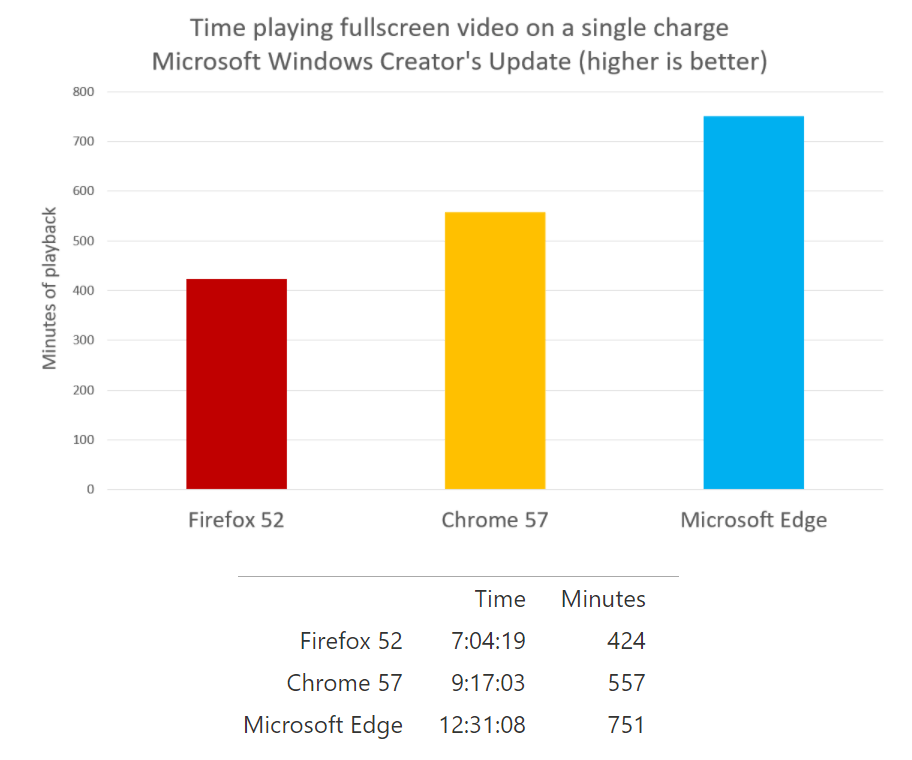 Edge lasted 77% (5 hours approx.) longer than Firefox and 35% (3 hours approx.) longer than Chrome.
Microsoft may have proved the superiority of their web browser at least in one aspect, but still, the tests were run by one of the components. It can be assumed as an ultimate outcome.
If you have something to add. drop your thoughts and feedback.