Short Bytes: Canonical's Adam Conrad has announced the Ubuntu 17.04 release codenamed Zesty Zapus. New features of Ubuntu 17.04 include Linux kernel 4.10, driverless printing support, GNOME Core Apps 3.24, swap file new installations, etc. The ISOs of Ubuntu 17.04 and official flavors are now available for download.
C
anonical has announced the Ubuntu 17.04 release of their popular Linux distribution. Codenamed Zesty Zapus, it's the second last release to feature the Unity desktop. Mike Shuttleworth recently announced that Canonical would be dropping 
Unity as default desktop environment
with the release of Ubuntu 18.04. However, a group named UBports stepped forward to
take on Unity's development
.
The announcement of Ubuntu 17.04 accompanies with the end of support cycle for Ubuntu 12.04 LTS. Continuing Canonical's habit of alternate LTS releases, Zesty Zapus has arrived with 9-month support window ending in January 2018.
Ubuntu 17.04 Zesty Zapus Features
 Linux Kernel 4.10

Ubuntu 17.04 comes with the Linux kernel 4.10 which was announced in February this year. Kernel 4.10 brought improved support for new ARM platforms, Raspberry Pi 3, and Surface 3 along with improvements in the DRM drivers for AMD and Nvidia.
Driverless Printing
Canonical has made efforts to reduce the driver dependency for printing devices. Ubuntu 17.04 now includes support for Apple AirPrint and IPP Everywhere printers without requiring custom driver software.
Zesty Zapus can automatically setup compatible printers connected via USB or the local network.
Swap file
Canonical has dropped the concept of swap partition for new Ubuntu 17.04 installs, replacing it with a swap file. It is a wiser move considering modern systems have an ample memory at their disposal. Swap file, on the other hand, uses a very low percentage of the hard drive's free space with a 2GB cap.
Other changes
In Ubuntu 17.04, systemd-resolved in now the default DNS resolver. The GNOME core applications have been updated to version 3.4 excluding Terminal (3.20), Evolution (3.22), and Nautilus (3.20) and Software Center (3.22).
Unity 8 arrived with 16.04 LTS but you can try it as an alternate session before it gets ditched. Also, Ubuntu 17.04 has dropped the support for 32-bit PowerPC platform. But the platform is already obsolete, so it won't concern many users.
Two System Settings applications (?)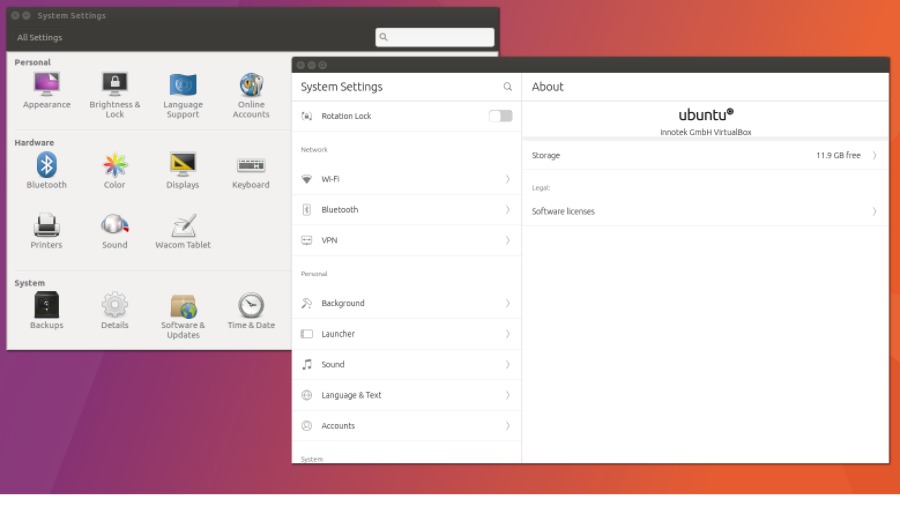 For some weird reason, Ubuntu 17.04 has two version of the System Settings application. One is the regular old one and another has redesigned UI.
Download Ubuntu 17.04
If you're already running Ubuntu 16.04 on your machine, you can use the inbuilt upgrade option or do it using the command-line. For the ones wanting to do a fresh install, use the links mentioned below:
Download Ubuntu 17.04 Zesty Zapus
Use the following button to download the official flavors for Ubuntu 17.04 flavors:
If you have something to add, drop your thoughts and feedback.