Short Bytes: The Edina Police Department is running after an unknown suspect responsible for a wire transfer fraud. According to the reports, the police obtained a search warrant to ask Google for names and details of the people in the town of Edina who searched for the victim's name on Google between December and January.
A
wire transfer fraud case happened in the town of Edina, Minnesota. According to a
report
by Tony Webster, the bank relied on a faxed copy of the victim's passport and used it to verify the transaction of amount $28,500.
It was known to the police that the fake passport of the victim was created using a publically available photo of a person who resembled the victim in appearance. The police had found the photo while searching for victim's name on Google. Ruling out the possibility of Bing and Yahoo, the police believes that the photo on the fake passport was obtained using Google Search.
A search warrant has been granted by a US judge which allows the police to direct Google Inc. to provide the names of anyone who searched for the suggest four variants of the victim's name on Google between December 1, 2016, and January 7, 2017. It also seeks other details like address, birth date, social security number, email, IP address, etc.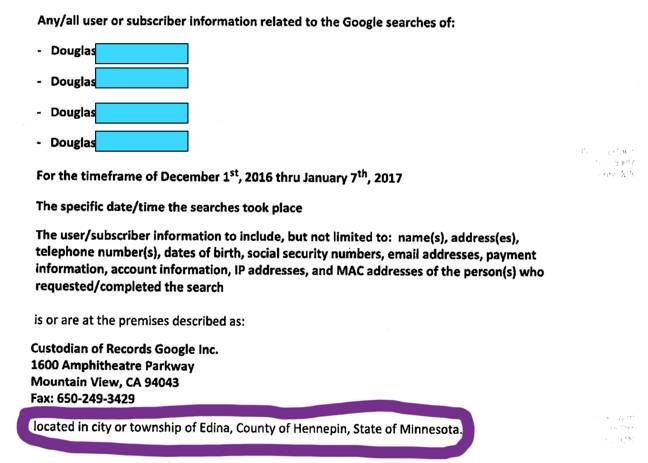 The warrant is however limited to the "city or township of Edina, County of Hennepin, State of Minnesota" which has a population of around 50,000.
People might say things like this are a hard blow on their privacy, and it is. Google didn't comment on the specific case but a spokesperson told The Reg that they won't entertain any "excessively broad requests" for their users' data. The search giant has already rejected an administrative subpoena from the court. In fact, Google has been known to make efforts against such things in the past.
What do you think about this? Drop your thoughts and feedback.
Also Read: Fappening 2.0: Private Pictures Of Emma Watson And Other Celebs Hacked And Posted Online