Short Bytes: Google has integrated Google Wallet into its Gmail app for Android smartphones. As a result, the users can easily send or request money. A user simply needs to compose a mail and press the paper clip button to access the money transfer options. The sent money goes in the recipient's Google Wallet and it can be transferred to the bank accounts without any additional fee.
T
here exist tons of methods to transfer money to our friends and family. Ranging from vintage wire transfer to the newer methods like Apple Pay and PayPal, the users have tons of choices. Now, you have a new and unlikely way to send and request money — Gmail for Android.
Google brought this money sending facility to the Gmail on the web in 2013. Now, Google Wallet has been integrated into the Gmail for Android. As a result, the Android users will be able to transfer money with a single tap.
It should be noted that you don't even need to have Google Wallet installed on your device and the entire transaction takes place in your Gmail app. Google also tells that there are no fees involved and the money can be sent directly into the bank account.
Note: The send/request money feature is currently only available in the US.
So, are you willing to try out the new money transfer feature in your Gmail app for Android? Here's how to get this done:
How To Send/Request Money In Gmail App For Android?
Just like composing a mail and attaching some document, sending money in Gmail app is very easy.
Open the Gmail app on your Android smartphone and tap the compose button in the rig

ht bottom corner.

Look for the paper clip button in the top menu bar and tap it.

This will open a new drop-down menu wi

th options Send money or Request money. Select an option.
Now enter the amount and press the Continue button.
Just in case you don't have any payment method

saved

in your Google Wallet account, you'll be asked to do so. Simply add your card details, save it, and proceed.
You can also add a memo to describe the reason for payment.
Now, tap the Attach Money button. It'll deposit the money directly into the recipient's account. The recipient will have the option to transfer the money directly to the bank without any charge.
After the transfer, you and recipient will get an email with all the transfer details.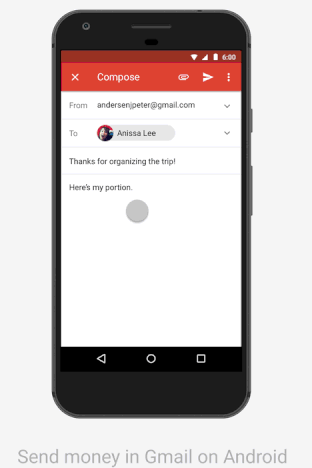 You can see the process in action in this GIF:
By following the similar steps, you can request money.
So, did you find this newly added option to send/request money in Gmail app for Android exciting? Don't forget to share your feedback.
Also Read: How Much Money Apple, Facebook, And YouTube Make In A Second?