At some point in our lives, we've all been there when we've been locked out of our phones — be it a forgotten password, a case of multiple mistyped passcodes, or a child fiddling with the phone until it locks for good. However, the real problem starts when we can't access the phone; the best option in that scenario is to get help from a professional who helps unlock your Android phone. Meanwhile, what if we were to tell you that you can unlock your Android phone all by yourself and even bypass the FRP lock on Samsung smartphones?
Well, this article will tell you every detail you need to know about iToolab UnlockGo, an FRP bypass tool that will let you remove any Android lock screen and bypass FRP locks to unlock not only Samsung smartphones but also any other Android phone.
What precisely is iToolab UnlockGo?
To put it simply, UnlockGo is a PC tool that makes unlocking any Android smartphone a piece of cake for any user. In addition to Android screen locks, iToolab's UnlockGo also allows users to bypass FRP on Samsung smartphones. What's more, users will be able to unlock their Android smartphones without the fear of losing any data.
For the uninitiated, the FRP lock is short for the Factory Reset Protection lock. FRP lock is a security feature on Android 5.1 and up that safeguards your Android phone by making sure no one else can use your Android smartphone even after factory resetting it without your permission.
UnlockGo: Key Features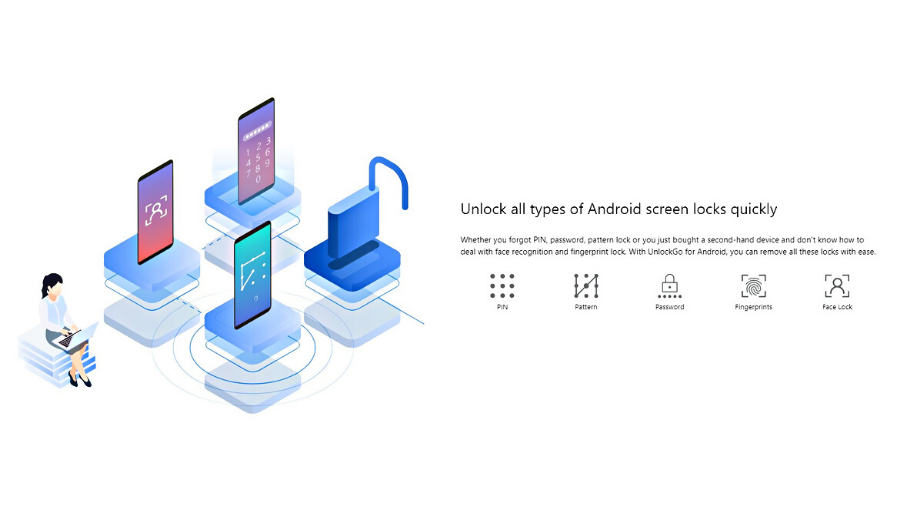 Removes a variety of Android smartphone locks effortlessly, be it a PIN, simple or complicated Password, or a Fingerprint lock, the tool can get through it seamlessly.
Has no problem bypassing FRP lock on Samsung smartphones, with support for even phones running Android 12.
Supports and unlocks a number of Android devices, from 15 brands, including Huawei, Xiaomi, Samsung, and Motorola, along with 2000+ Android smartphones and Android tablets. With support for OnePlus devices on the way.
Bypasses FRP lock on Samsung devices with no requirement for a passcode.
After bypassing the FRP lock, it allows users to log in to a new Google account on the unlocked device.
How do I unlock any Android smartphone using iToolab's UnlockGo?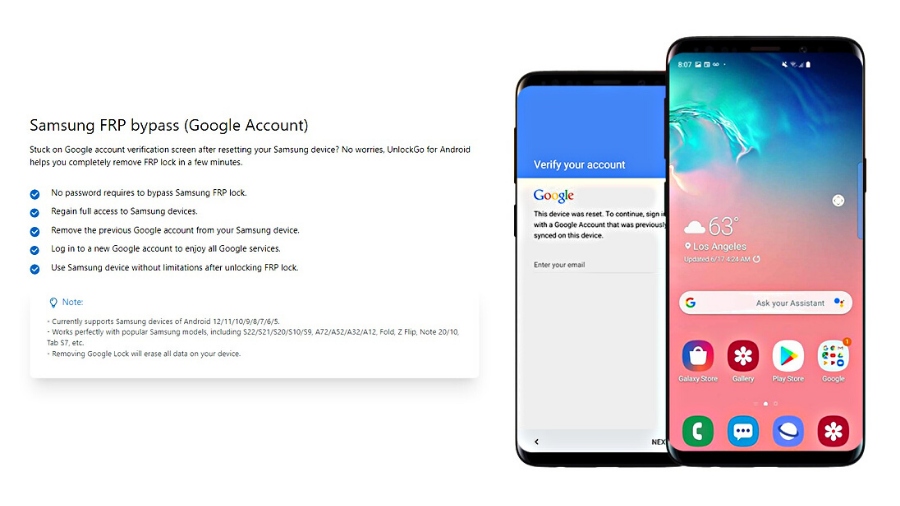 Removing FRP lock on Samsung devices
In our testing, iToolab's UnlockGo turned out to be a pretty sweet experience. The FRP lock on our Samsung smartphones was lifted in mere seconds, and we were able to get to the phone without compromising on any data.
1. First, you need to download and install the UnlockGo tool from the website.
2. Now, simply connect your Samsung phone with the PC using a USB Type-C cable and run the software.
3. In the UnlockGo interface, click on "Remove Google Lock (FRP)" and click on start in the next menu.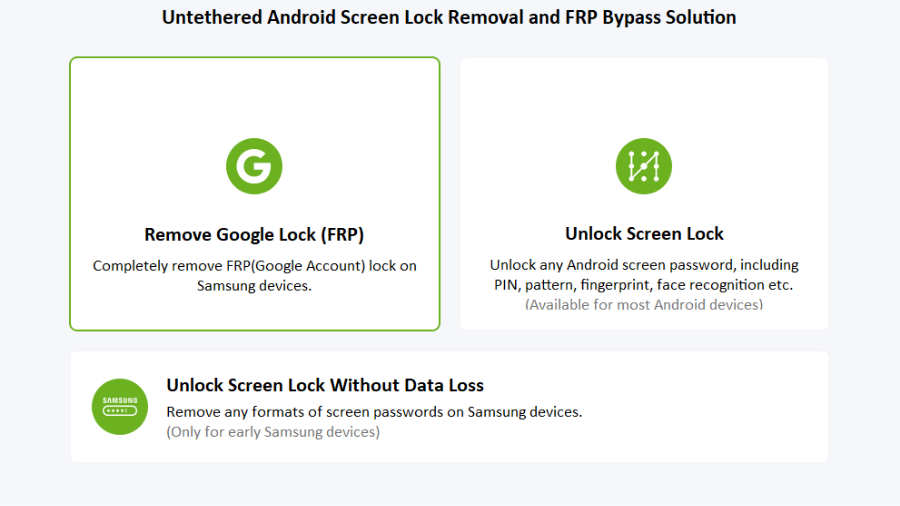 4. Now select the Android version and click on next.
5. In the next screen, make sure to read all the warnings carefully and proceed with the process.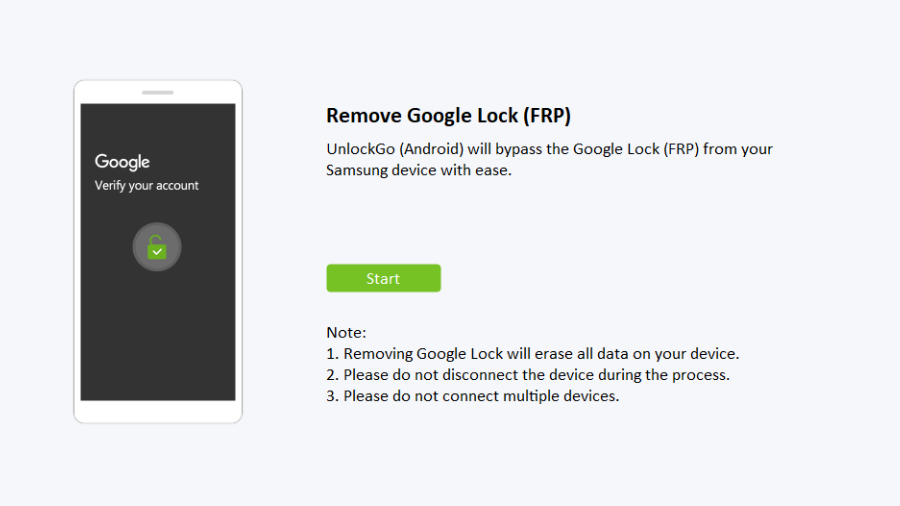 6. Lastly, the process will take a bit of time; in the meantime, do not disconnect your phone and let the process complete. Within minutes, you will be able to access your phone again.
For other Android phones
To unlock an Android phone other than a Samsung one, you can take similar steps after launching the UnlockGo client. Furthermore, if you're facing any difficulties with the same, you can refer to the detailed steps to unlock any Android and Samsung phones, along with the FRP lock for Samsung phones here.
Meanwhile, for the users who live the visuals, we'll embed a video tutorial below so you can make sure you're not taking any incorrect steps in unlocking your Android phone.
iToolab UnlockGo Pricing
As for the pricing of the iToolab UnlockGo premium, the tool has varied pricing catering to different needs. The plans vary from monthly to yearly to lifetime plans; moreover, there's also a business plan, which is catered toward professionals. Meanwhile, apart from the below pricing, you can get a special 20% discount if you use the code LABR8F.
| | | | | |
| --- | --- | --- | --- | --- |
| | 1 Year Plan | 1 Month Plan | Lifetime Plan | 1 Year Business Plan |
| Automatic renewal + cancellation | ✔ | ✔ | One time fee | ✔ |
| Number of devices | 5 devices + 1 PC | 5 devices + 1 PC | 5 devices + 1 PC | Unlimited devices + 1 PC |
| License validity | 1 year | 1 Month | Lifetime | 1 Year |
| Pricing | $39.95 | $29.95 | $49.95 | $399.95 |
iToolab UnlockGo: Conclusion
While you always have the option to get your Android phone unlocked via a professional, the UnlockGo tool provides a certain amount of ease to the experience. At best, it allows users to unlock any Android phone or bypass the Google FRP lock on Samsung phones. All in all, UnlockGo as an Android unlocker is a handy tool, and if you're in the dilemma of whether to get a tool for your locked phone problem, we suggest you give this tool a try.