macXvideo is a free Mac App to prepare 4K, 5K, 8K videos for social sharing on YouTube, Facebook, etc. It is not merely a daily-use video editor to create stylish videos, but also a fast processing program to save users from the dilemma of bulky video size and format incompatibility.
When it comes to creating stunning videos for social sharing with your family and friends, you don't need Hollywood special effects in your videos. Much of what you need is a video in small file size, good quality and excellent compatibility with YouTube, Facebook, Vimeo, etc. So for ordinary people like us who are used to recording 4K, HD videos via smartphone, camcorder, DSLR, GoPro or drone, it's essential to find out a tool to transcode, compress and edit HD/4K videos to meet the requirements for social media uploading. Of course, it's best to be free.
There are various video processing tools out there that could convert, compress or edit videos separately. But speaking of a versatile yet free tool to do all these together, it's a rarity of the rarities. Whereas macXvideo is such a far superior tool, allowing you to transcode video to social media supported formats, compress video effectively with great reduction and edit video all at once and free.
Edit 4K video in the most convenient and easy way
A video with a great many of audiences must have been edited and customized elaborately with brilliant footage and a great story. While a majority of video editing tools are complicated and at high cost, such as iMovie, Sony Vegas, Adobe Premier, etc. Thus that would be great if there a free and easy-to-use video editing tool to handle 4K UHD videos.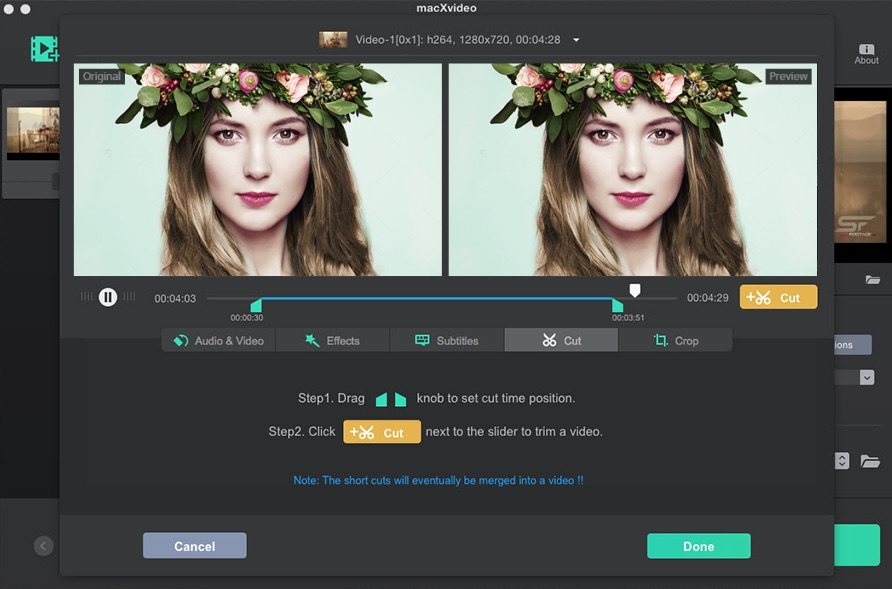 macXvideo is such a handy tool to trim, crop, rotate, merge, add effect for free. It solves all your problems on how to edit videos on Mac easily in one click, rather than the complicated and tedious steps using other complicated video editing tools. After the video is loaded, all the editing options are visually displayed below the video information. You can directly tap on the corresponding options to cut your 4K ultra HD video recordings to save your favorite clips, crop video dimensions to meet the specific aspect ratio requirements of different sites, rotate videos into the right direction, merge excellent video fragments together, add subtitles and add effects for different color grading. The editor is designed for the fast and convenient video editing and all the operations can be finished in just a few clicks.
Transcode 4K videos to any format to compatible with all social platforms
The issue of compatibility is a primary problem of sharing videos on social media that you face. As people record 4K videos with different devices, the wide range of video sources will undoubtedly lead in a diversity of video formats and codecs, which may be incompatible to social media. For example, the HEVC MP4 4K UHD videos recorded by iPhone X/8 are definitely unacceptable for YouTube.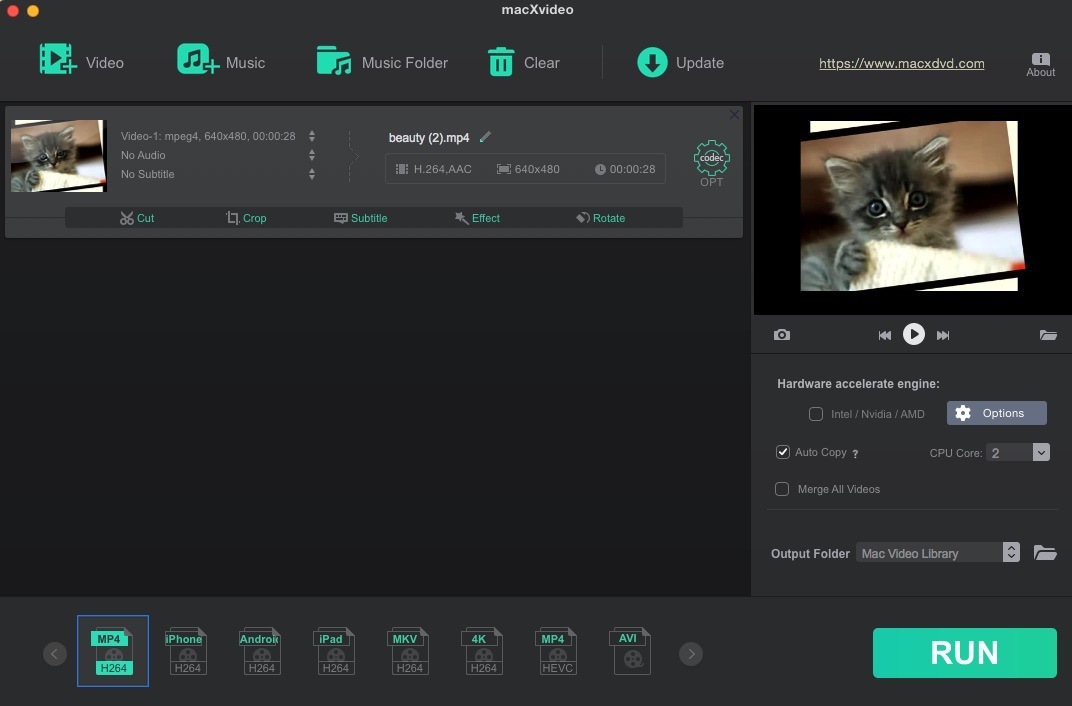 macXvideo gives an access of all video footage and transcode them to MP4, H.264, HEVC, MKV, AVI, MOV and a plethora of common video formats (as many as 370), including decoding HEVC to H.264 MP4 for better compatibility or encoding videos to HEVC with higher quality and smaller size. Therefore with it, you're able to encode your 4K video whatever you recorded it with to a proper format and codec for uploading to YouTube, Facebook, Vimeo, Dailymotion etc.
Compress 4K videos by up to 90%
The large video size is also a problem that has long been plagued with those who want to share their video recordings to social media. It will consume too much time and bandwidth to upload a large video and also eats up your storage space on your iPhone or computer.
Thus it's reasonable to compress video size with macXvideo. The built-in advanced compress engine empowers you to shrink video size by up to 90% without visually quality loss. With it, you can resize your video size smaller by transcoding video to high compression algorithm format, lowering parameters like bit rate, frame rate, resolution, aspect ratio etc., and even trim the length of video or crop the video dimensions to finally meet the requirements of the web.
Straightforward UI and 5X Faster Processing Speed powered by HW acceleration
macXvideo comes be a considerable option, not only because of its powerful features, but also owing to the so much easier actual hands-on experience. The intuitive and well-arranged interface helps you process 4K UHD videos simply following the buttons instinctively.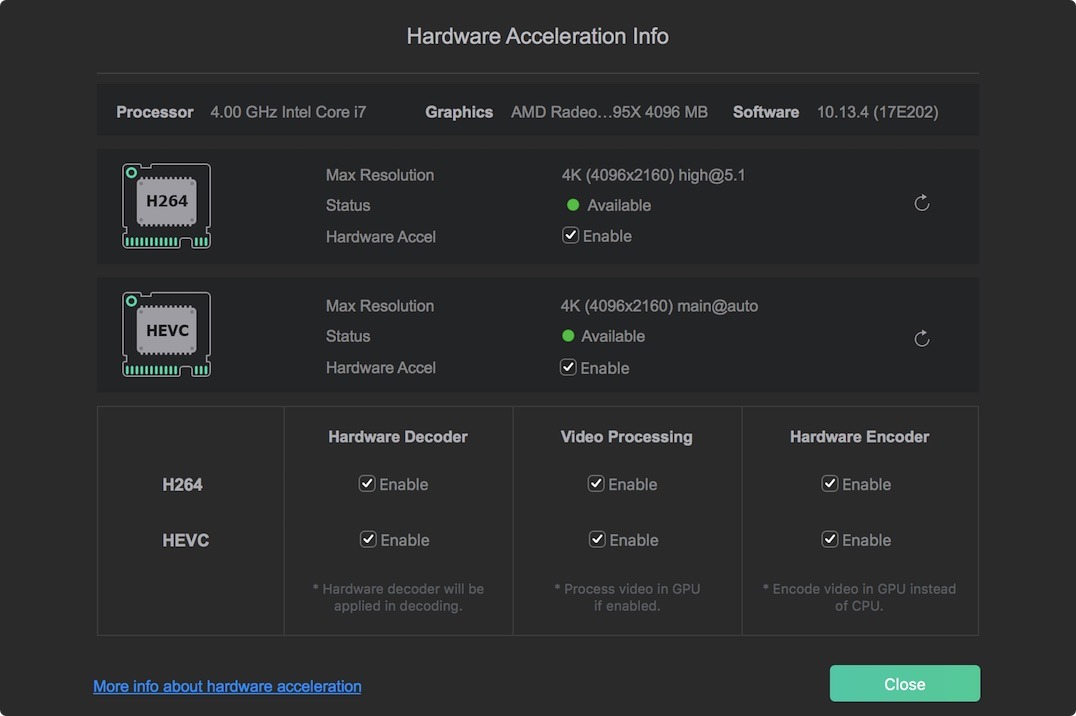 With the unique hardware acceleration enabled, you're able to achieve the 4K, 5K and 8K video processing task at 5X faster speed, without any problems like too much CPU usage or the computer goes overheated. Seldom video processing tool and video editor can deal with these UHD videos smoothly and successfully like macXvideo in this filed.
macXvideo provides the convenient one-stop video processing services. Even the newbies can create the stunning videos with this handy tool. Just give it a spin and you won't regret!
This post is sponsored by macXvideo