I
f not for every smartphone, there is more excitement associated with teardown as compared to the release.
The guys at iFixit don't spare any device; they have to go under iFixit's screw. So, the recently released iPhone X is not an exception. In fact, people have eagerly waited to see what's inside Apple's 10th iPhone anniversary celebration.
iFixit has given iPhone X a repairability score of 6 out 10. Significant changes including the Face ID hardware, notch, removal of Home button (and Touch ID), etc. make this iPhone X teardown different that of regular iPhones.
The arrangement of the components inside iPhone X is more compact than the previous versions. The logic board is smaller than iPhone 8 Plus and still packs more stuff. It turns out it's double-sided, made by soldering two silicon chips together.
However, the iPhone X isn't the first iPhone to feature double-sided board; the first iPhone had it. The design of the flagship iPhone also resembles with the first one, according to iFixit.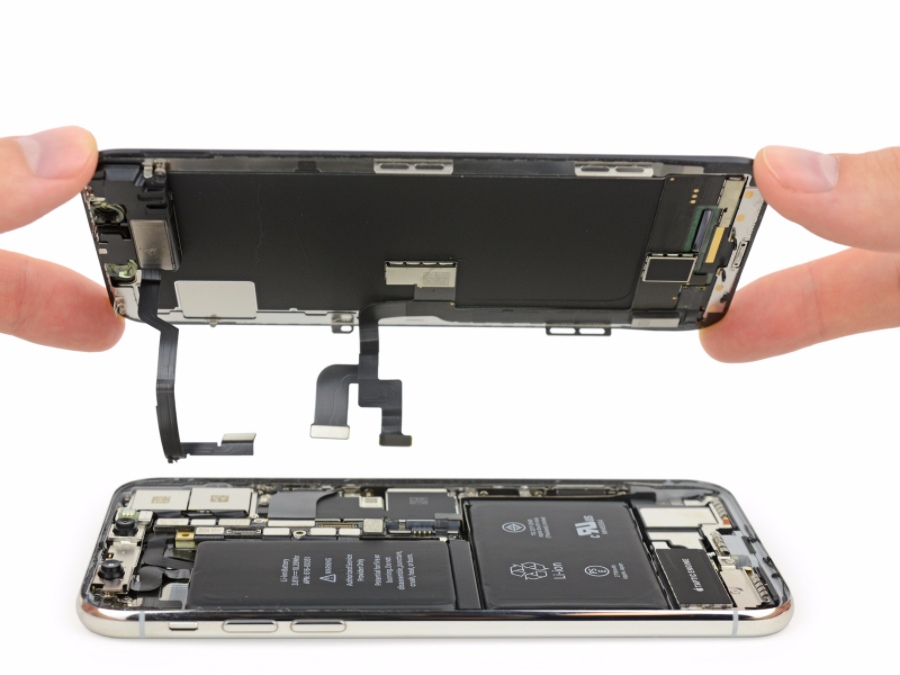 The dual-celled battery has taken most of the area inside the device. Opting for two cells instead of one has helped Apple with space optimization. It would have been harder if it was a single cell.
iPhone X's display unit is separate from the Face ID hardware present on the notch which makes the process easier when you'll pay the $295 screen replacement cost. While testing Face ID, iFixit's IR-enabled camera was only able to record the illumination, in the form of camera-like flashes, in place of the dot pattern Face ID tech uses to scan your face and help you make Animojis.
The use of glass on the back makes iPhone X good for the eyes but not for your pocket, as it increases the chances of getting damaged when dropped accidentally. The iPhone X teardown reveals that repairing the back panel glass requires the whole chassis of iPhone X to be replaced which would cost $549.
You can read the complete iPhone X teardown using this link. Don't forget to drop your views about the iPhone X in the comments below.