At HotChips 2019, Intel was all about AI and one of the major announcements at the event was its first artificial intelligence chip 'Springhill'.
The processor has been designed for large data centers and is based on the company's 10nm process technology. The official name of the chip is NN-I and is developed at Intel's development center in Haifa, Israel.
Springhill is Intel's first AI product after it invested in Habana Labs and NeuroBlade — two Israel-based AI startups. The chip will help Intel Xeon processors in large data centers where complex computations are required in the field of AI.
Specifications of Springhill
The AI chip will offer the best in class performance/power efficiency (4.8 TOPs/W) for major data center workloads and boasts 5x power scaling for the performance boost.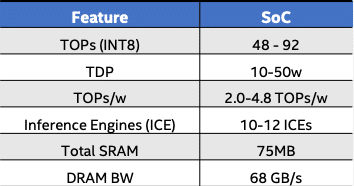 It will achieve a high degree of programmability without compromising performance/power efficiency because of on-die Intel Architecture cores.
Springhill offers a comprehensive set of RAS features to ensure that it can be easily deployed in the existing data centers.
Following are the specifications of Intel NNP-I:
Based on the Intel 10-nanometer process technology
Intel IA cores with AVX and VNNI
12x Inference Compute Engines (ICE)
4×32, 2×64 LPDDR4x
Dynamic power management and FIVR technology
24MB LLC for fast Inter ICE and IA data sharing
Hardware-based sync for ICE to ICE communication.
Intel said that Facebook has already started using the AI chip.