A
long with the launch of its
new 8th Gen Core chips with Radeon RX Vega M
graphics at
CES 2018
, Intel also launched its most powerful NUC to date. The new Intel mini computer is based on the same chip.
As Intel and AMD partnered to bring extreme performance in highly portable configuration, new Intel NUC showcases the same. This 1.20-liter system packs powerful new CPU and dedicated graphics solution.
NUC will be launched into the markets in two versions, namely NUC8i7HVK and NUC8i7HNK. While NUC8i7HVK is based on the unlocked version of 8th Gen Intel Core CPU with Radeon RX Vega M GH, the second version uses Radeon RX Vega M GL graphics. So, the first version lets the overclockers harness the capability of the machine to the fullest.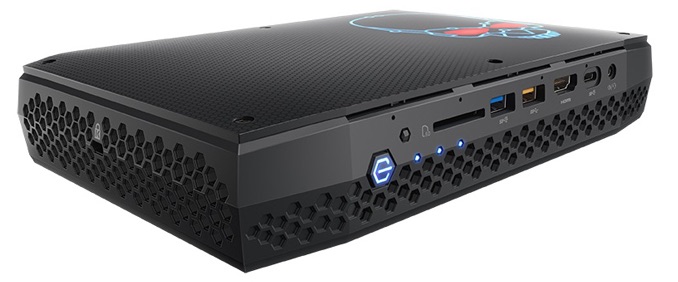 Talking about the connectivity, both versions have dual Thunderbolt 3 ports and dual Gigabit Ethernet ports. This tiny system can also be used with 6 independent monitors.
Intel has also called the new NUC as the smallest premium VR-capable system in the market. To make the tasks for VR enthusiasts and content creators, one of the HDMI ports is on the front.
Targeted at DIYers, these NUCs will be sold as bare-bones kits. They'll hit the market starting this spring.
Find our complete CES 2018 coverage here.