A
t CES 2018, Intel has
officially unveiled
its unique chip offering in the form of first 8th Generation Intel Core processor with AMD Radeon RX Vega M Graphics.
This unprecedented launch was reported earlier and it was seen as an effort to tackle the increasing competition from Nvidia. This Kaby Lake G chip brings some serious advantages like heavyweight CPU and GPU performance in a lightweight form factor. As Intel says, these chips could be used in 2-in-1 PCs, mini PCs, and thin and light notebooks.
This 8th Gen Intel Core chip will be available in two configurations; the second offering also comes in an unlocked configuration —
8th Gen Intel Core processor with Radeon™ RX Vega M GL Graphics (65W total power)
8th Gen Intel Core processor with Radeon™ RX Vega M GH Graphics (100W total power)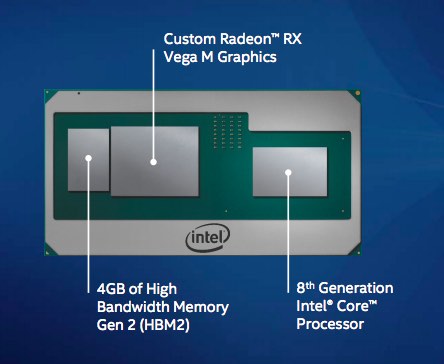 This chip combines Intel quad-core CPU, Radeon RX Vega M graphics, and 4GB of dedicated HBM2 using Intel's Embedded Multi-Die Interconnect Bridge (EMIB) technology.
With the help of EMIB, Intel has been able to create a high-speed information bridge between HBM2 and GPU. It also reduces the silicon footprint to less than half.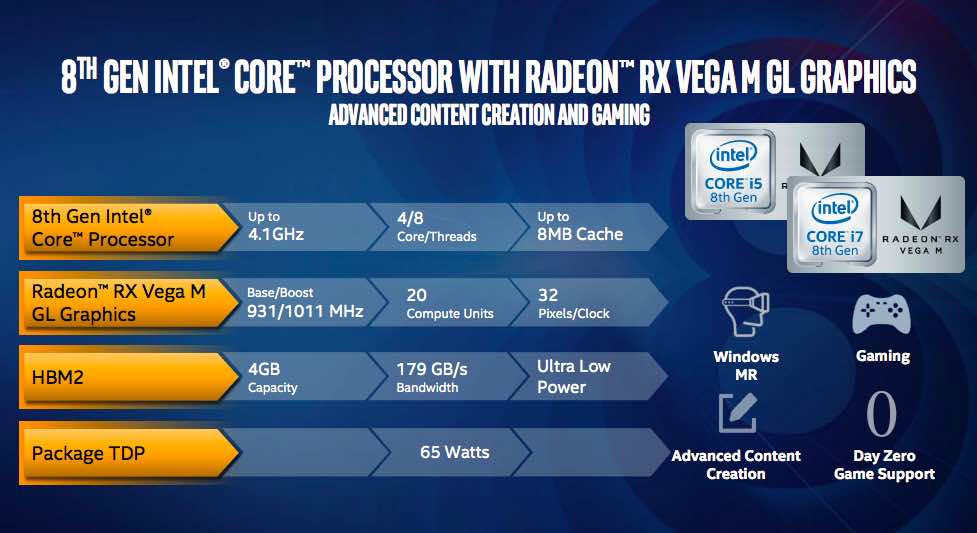 Intel is presenting these chips as top-of-the-line offerings for gamers and VR enthusiasts. In case you're interested in numbers, compared to a 3-year-old PC with discrete graphics, content creation with Adobe Premiere Pro is 42% faster.
At CES, major Intel partners like Dell and HP are expected to announce devices powered by this chip. So, you can expect the devices to be seen in the market later this spring. One of the first devices announced is from Intel itself, which is the new Intel NUC (earlier code named Hades Canyon).
Find our complete CES 2018 coverage here.