Probably the lowest Intel Core i5-13600K price in India is around Rs 33,159, with a little bit of hassle one can round the figure off to Rs 33,000 and call it a deal. Meanwhile, last year's Intel Core i5-12600K costs Rs 26,799 and can potentially save you a decent amount of money. But how much performance will you sacrifice or gain depending upon your choice? Here's a quick comparison.
In terms of specs, the Intel Core i5-13600K comes with 14 cores with support for up to 20 threads. The 13600K also has a 24MB Intel smart cache memory and 5.10GHz of maximum clock speed. In comparison, the Intel Core i5-12600K has 10 physical cores with up to 16 threads. The processor also has a 20MB smart Intel cache and up to 4.90GHz of Max Turbo frequency.
| | Intel Core i5-13600K | Intel Core i5-12600K |
| --- | --- | --- |
| Price | Rs. 33,000 or $319 (Approx) | Rs. 26,799 OR $249 (Approx) |
| Total Cores | 14 | 10 |
| Number of P-Cores | 6 | 6 |
| Number of E-Cores | 4 | 8 |
| Total threads | 20 | 16 |
| Max Turbo Frequency | 5.10 GHz | 4.90 GHz |
| Cache | 24 MB Intel Smart Cache | 20 MB Intel Smart Cache |
| Processor Base Power | 125 W | 125 W |
| Maximum Turbo Power | 181 W | 150 W |
Intel Core i5-13600K Vs Core i5-12600K Specs
Intel increased the number of performance cores in the 13600K along with the amount of smart cache memory. The maximum clock speed also crosses the 5.00GHz barrier according to official claims as well. Still, it'd be interesting to see how much of this transforms into real-world performance.
Intel Core i5-13600K Vs 12600K: Testing Rig
MSI Z690 Motherboard
Samsung 980 EVO 1TB
MSI Nvidia RTX 3080 with a 320-bit bus
MSI MPG Coreliquid K360 V2 ARGB 360mm CPU Liquid Cooler
32GB DDR5 RAM 6000MHz
MSI MPG 850GF 850W 80 Plus Gold Certified Power Supply
Intel Core i5-13600K Vs 12600K Performance Benchmarks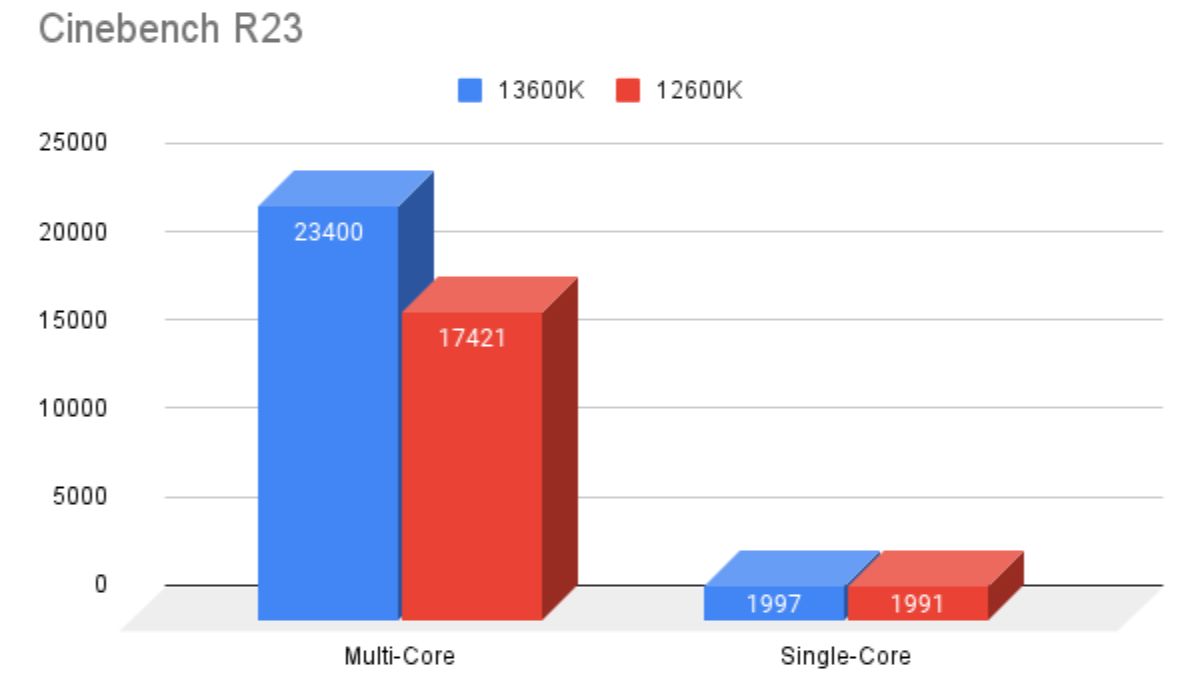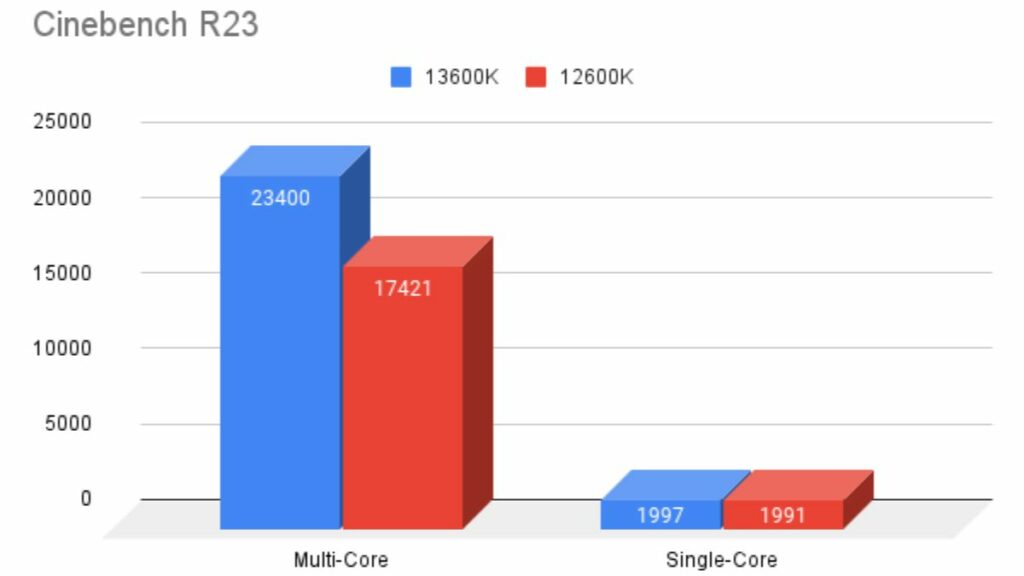 Starting with the most popular one, Cinebench R23, we can easily see the Intel Core i5-13600K take the lead. The biggest gain by far is in Multi-core performance, the Core i5-13600K scores 23400, which is much higher than the 12600K that scored 17421. We also have around a 100-point increase compared to the last gen in the single-core performance with 13600K scoring close to 1997 and sometimes even crossing 2000. The secret here is that the E cores are twice as fast or even more in the 13th Gen as compared to the 12th Gen, which results in a huge increase in multi-core score.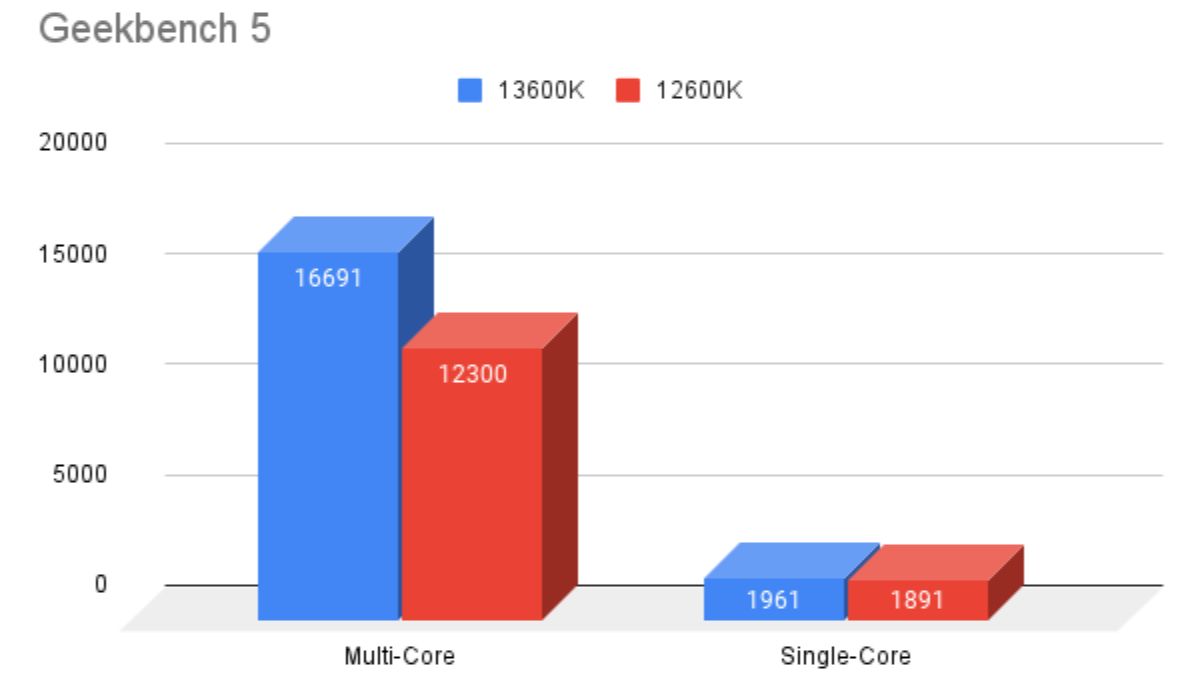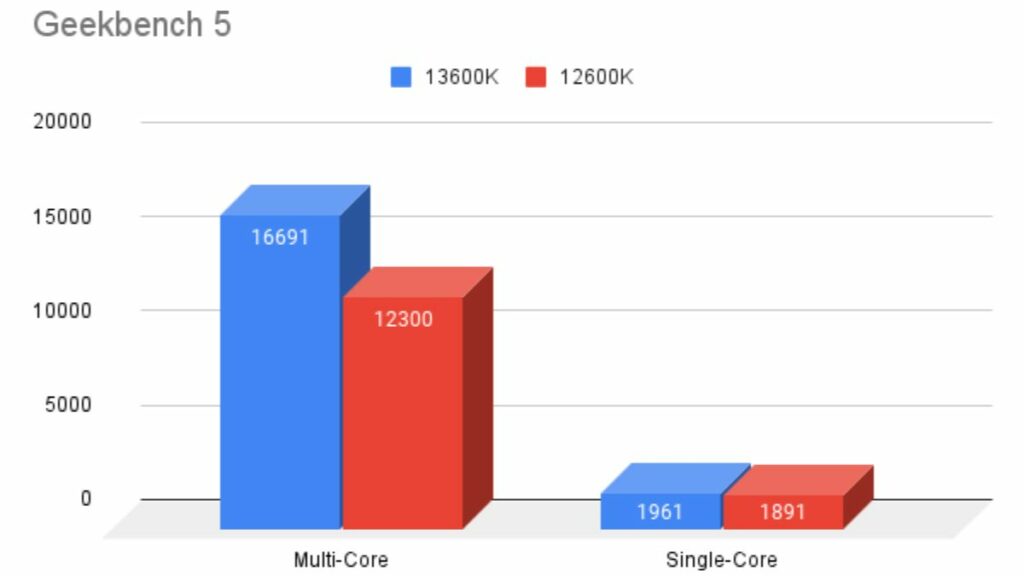 The same story continues in Geekbench 5, with 13600K scoring 16691 in multicore and 1961 in single-core tests. Meanwhile, the 12600K scored about 12300 and 1891 in multicore and single-core tests respectively. In the Puget Bench for Adobe Premiere Pro, which is a creator-focused test, the 13600K scored 1077, meanwhile the 12600K managed to score 842. The same healthy lead of the 13600K continues in the Puget Bench for Adobe Photoshop as well. The 13600K scored 1369 meanwhile the 12600K scored 1215.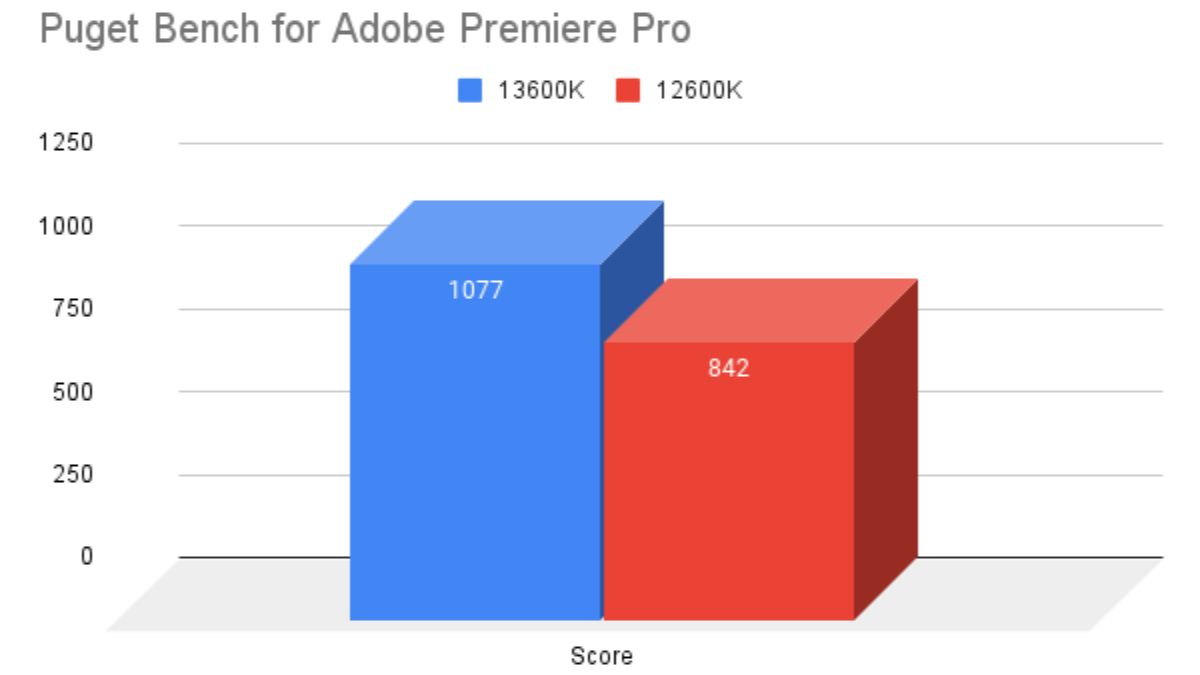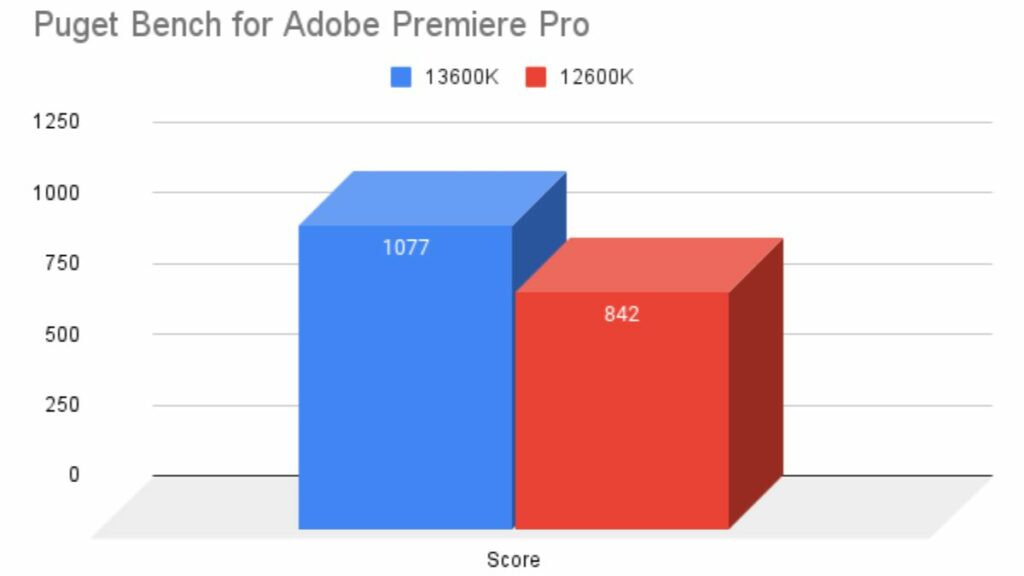 Efficiency was also the main talking point in Intel's presentation this year. With a higher number of E-cores, the power draw and the resulting performance should reflect each other. While benchmarking, the CPU package power reached close to 139W for the 13600K and the 12600K drew close to 110W of maximum power. But these figures represent these chips pushed under a super high load scenario. In everyday usage, the power consumption would be much lower, for instance, here's how these chips perform while gaming.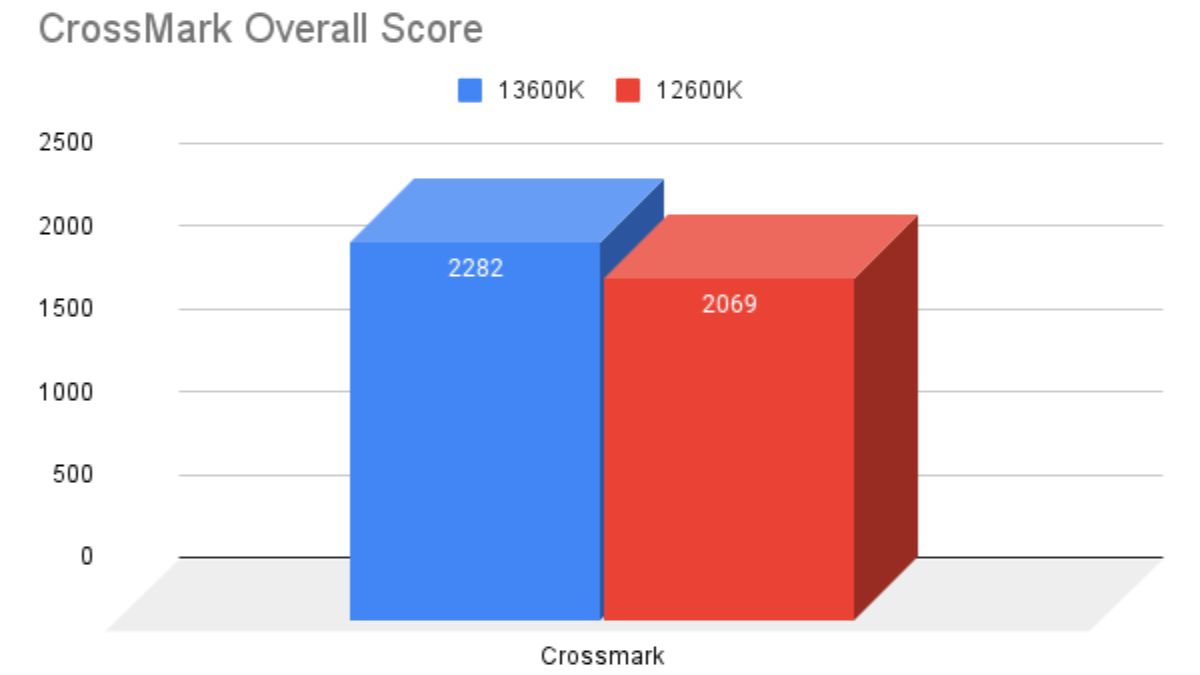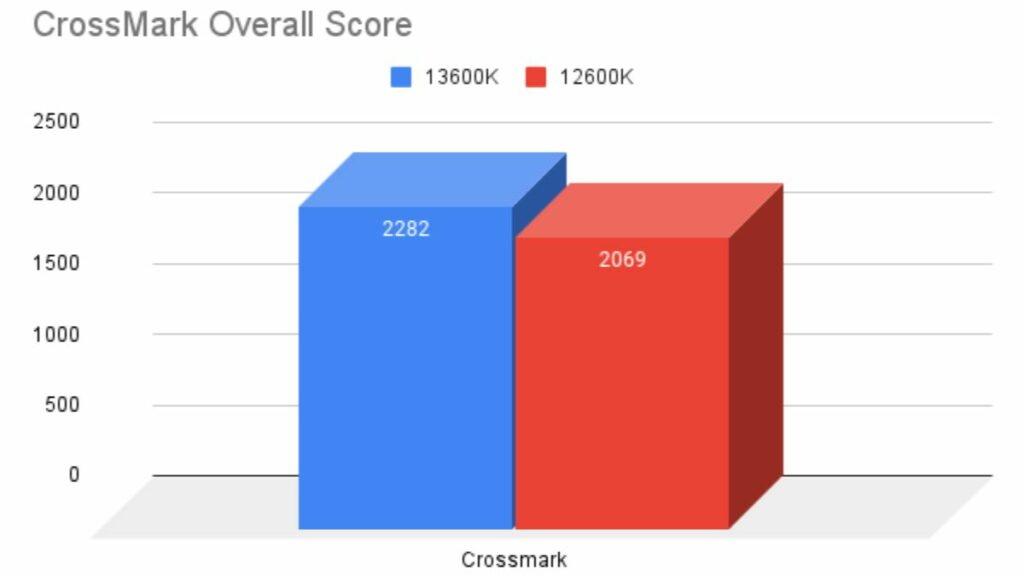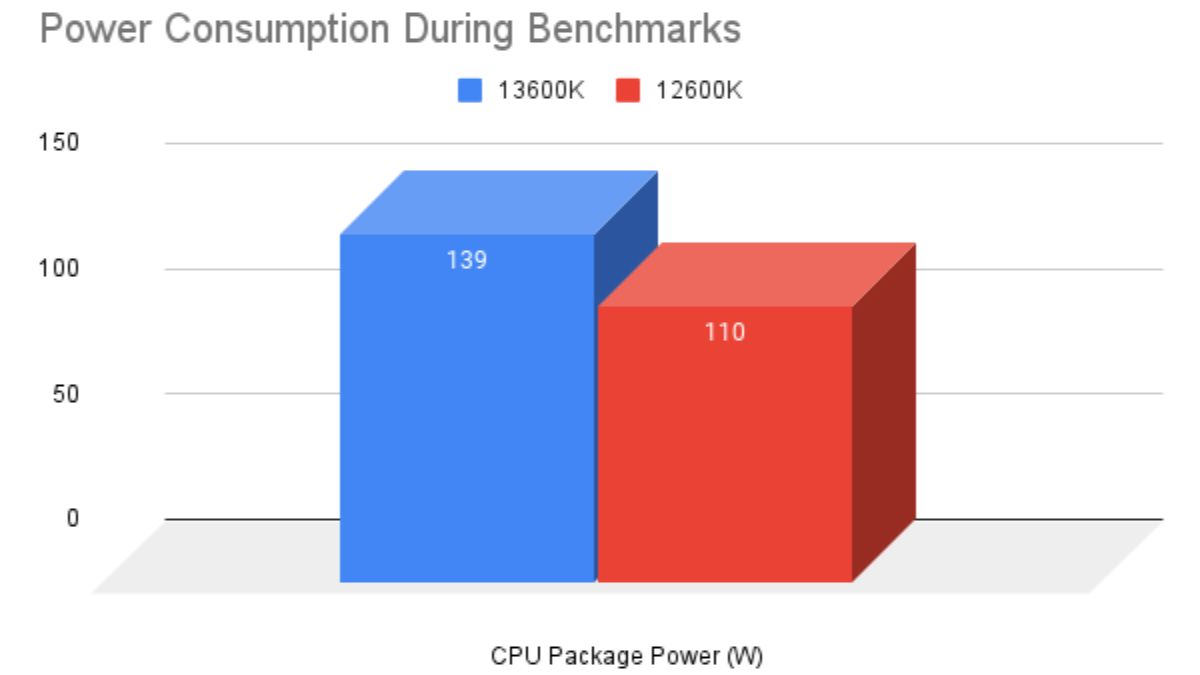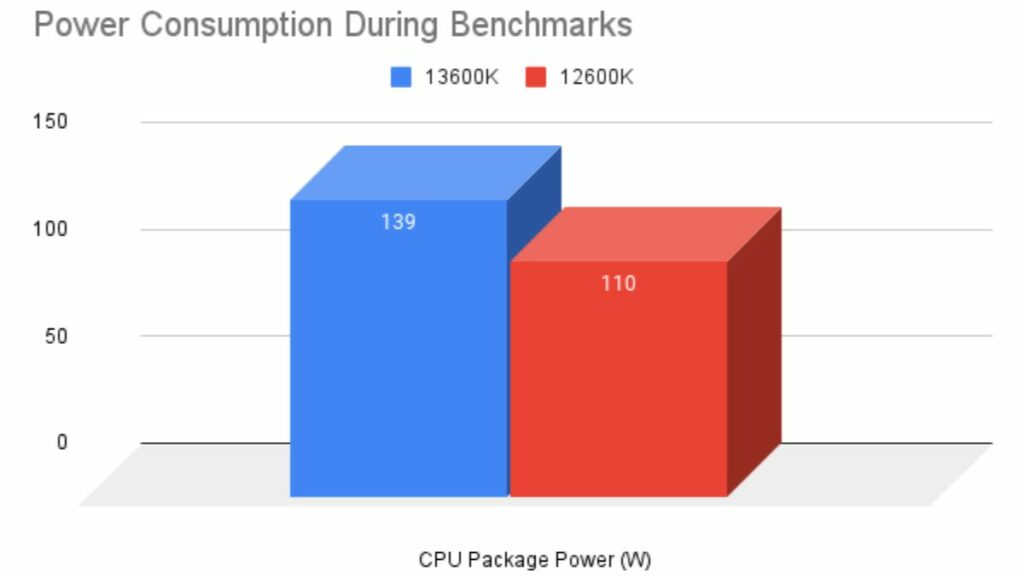 Intel Core i5-13600K Vs 12600K: Gaming Benchmarks
We tested these chips across five different games at 1080p resolution and ultra-high graphical settings. From the graph, the biggest difference can be seen in Borderlands 3. Meanwhile, in other games like Red Dead Redemption, Cyberpunk 2077, and Battlefield 5 the performance increase isn't too high. Granted that a spectrum of five games isn't enough to chart out the exact performance difference but it does give us a small idea of how capable these chips are.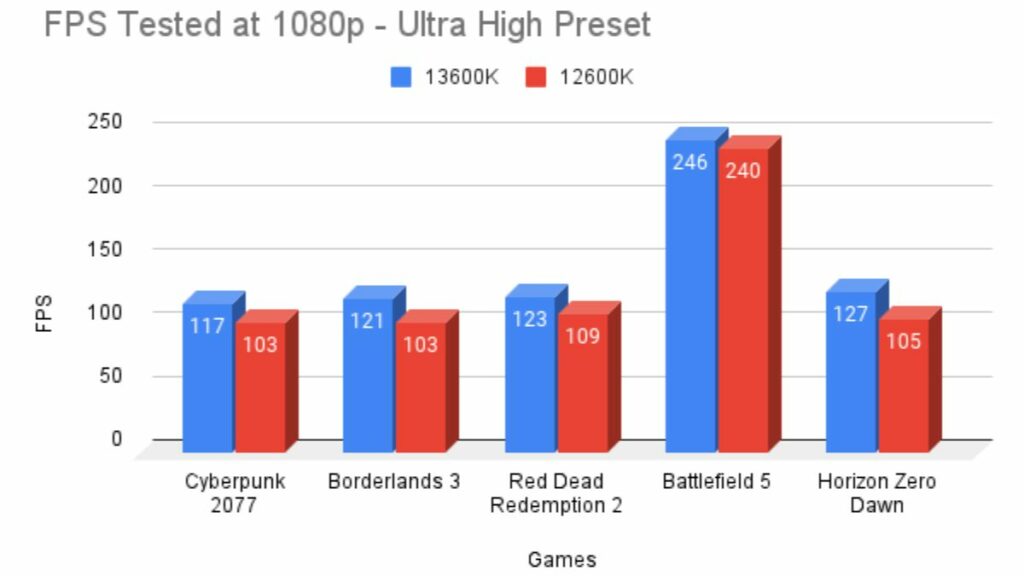 While an extensive gaming comparison awaits, it is easier to see that even the users can't go wrong with either of these chips. Meanwhile, in terms of efficiency, I noticed a maximum power draw increase of around 10W in the 13600K. In most games mentioned above, the 13600K stayed between 90-105W during tests.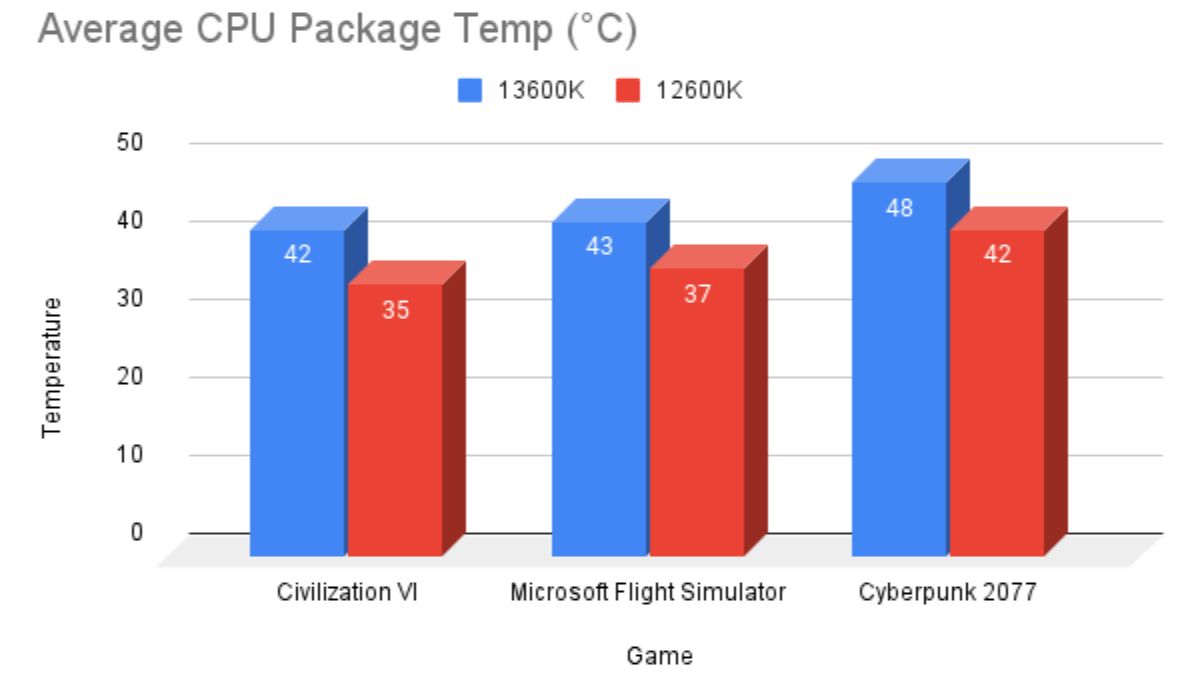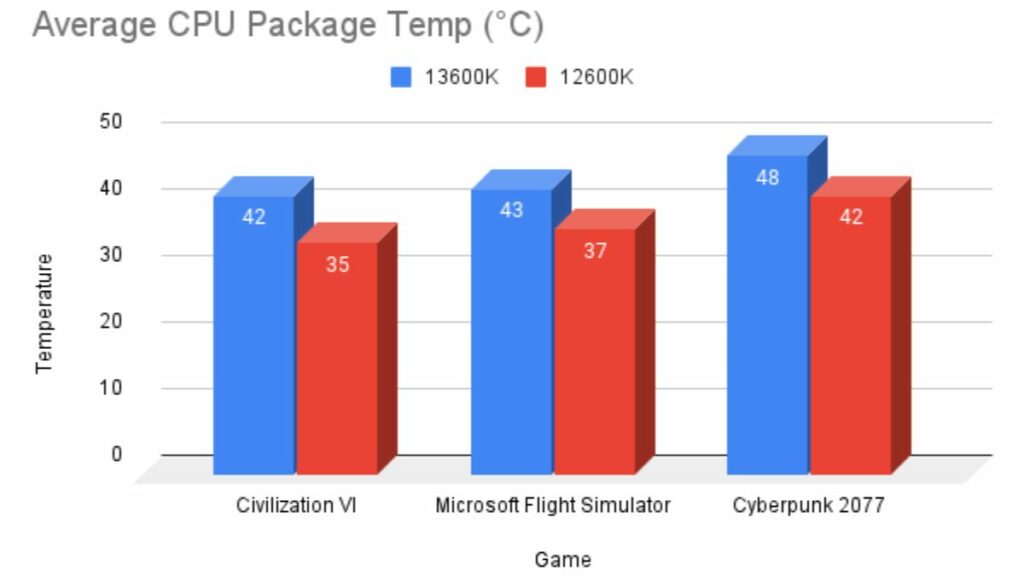 13600K's thermal performance also remained very solid. In a few games that are notorious for stressing out the GPU, we found the 13600K only slightly warmer than the 12600K, whilst delivering higher performance. Furthermore, the 1% low in these games is higher with the 13600K compared to the 12600K.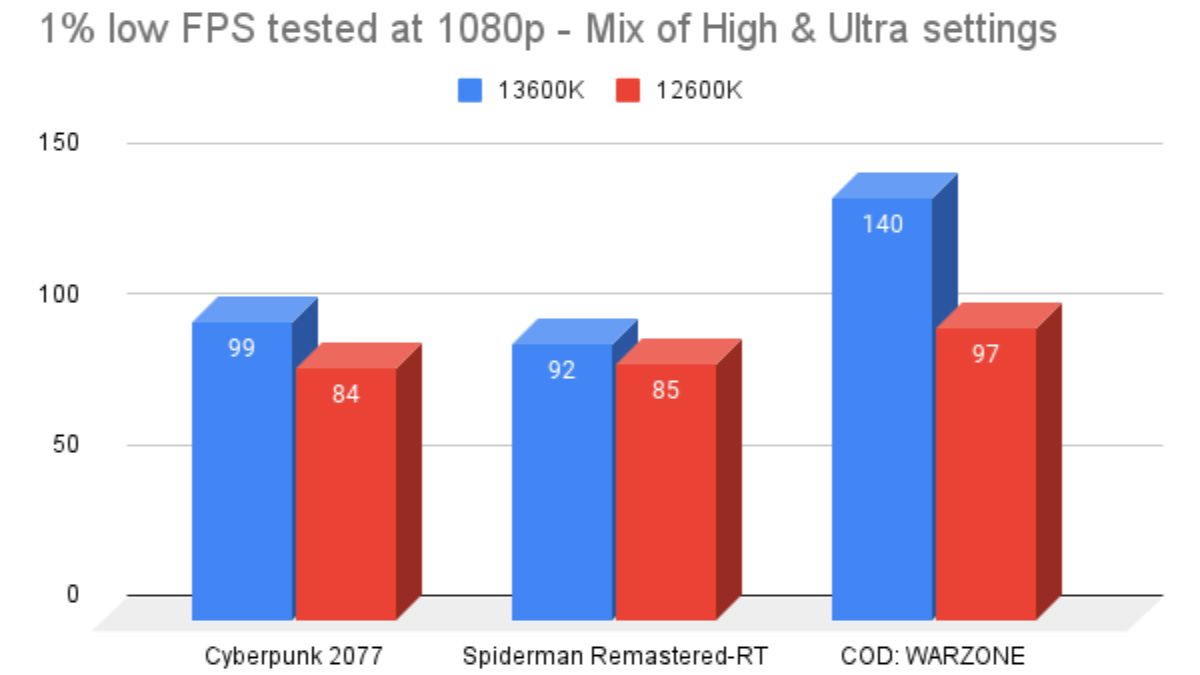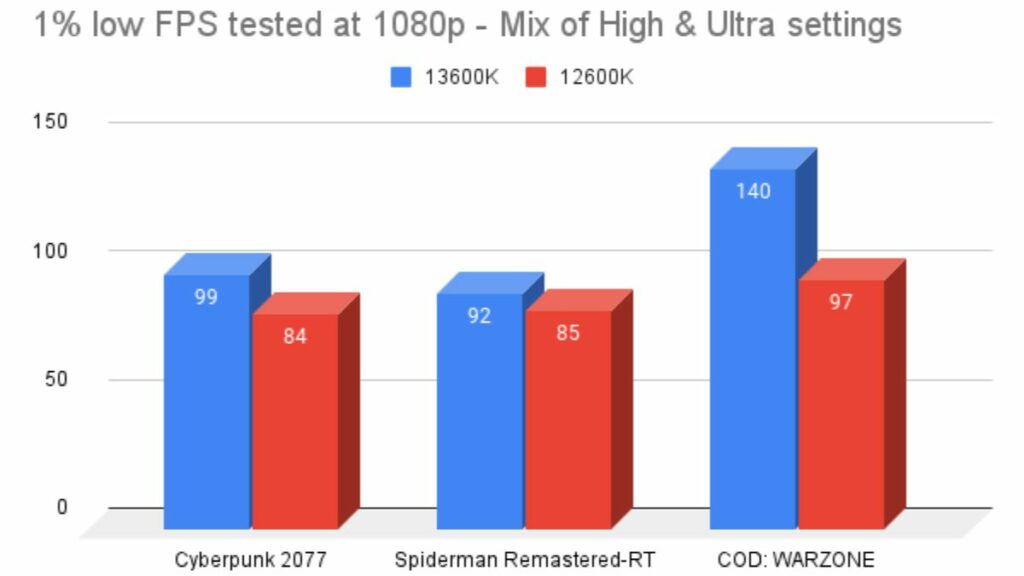 Intel Core i5-13600K Vs 12600K: Verdict
For new PC builders, I recommend going with the Intel Core i5-13600K for its improved performance in productivity and higher efficiency. If you're specifically looking to build a gaming rig then 13600K serves as the more future-proof option. However, if you plan on saving up for a GPU instead, then going with the 12600K is a good option as well. And while the 13600K does beat out the 12600K in gaming, you still need a powerful GPU like the MSI Nvidia RTX 3080 to do so. So go with the Intel Core i5-13600K if you want a more future-proof gaming PC with relatively higher performance in productivity tasks like video and photo editing otherwise go for an Intel 12600K.