Short Bytes: After AMD's Ryzen and Threadripper threat, Intel has finally answered back with the announcement of its Kaby Lake Refresh processors, followed by Coffee Lake chips and these will eventually be replaced with the company's Cannonlake family. Does the Coffee Lake lineup present a formidable list of features and upgrades that will encourage you to make a future upgrade? Here's a detailed comparison of the entire family announced by Intel.
I
ntel has a habit of releasing chip updates that end up presenting model name confusions for potentially millions of consumers. To separate fact from confusion, the company has announced three processor families that you ought to know about:
Kaby Lake Refresh processors
Coffee Lake processors
Cannonlake processors
All of them have been placed on the 8th-generation processor list, with the Kaby Lake Refresh among them. In total, the first lineup will include a total of four chips with a TDP of 15W.
Core i7-8650U: 4 cores, 8 threads, 1.9GHz Base Clock, 4.2GHz Boost Clock
Core i7-8550U: 4 cores, 8 threads, 1.8GHz Base Clock, 4.0GHz Boost Clock
Core i5-8350U: 4 cores, 8 threads, 1.7GHz Base Clock, 3.6GHz Boost Clock
Core i5-8250U: 4 cores, 8 threads, 1.6GHz Base Clock, 3.4GHz Boost Clock
No other processor is going to be present in the Kaby Lake Refresh models other than the ones listed above. Now here is where the differentiation starts. You should understand that while there are no architectural changes on Kaby Lake Refresh processors, each chip comes with twice the number of CPU cores and threads compared to the last generation, along with a faster graphics engine, with everything placed in a 15W TDP package.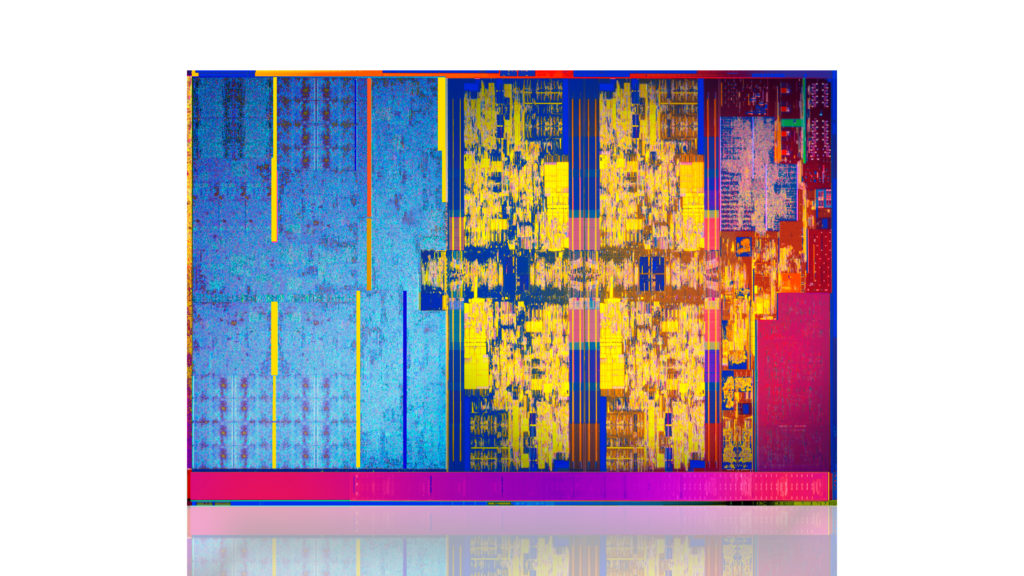 Portable notebooks featuring the processors mentioned above will be able to handle tasks rapidly as a result of the increased cores and threads, and the reduced TDP also means that they will be able to facilitate extended battery backup for the user.
As for the integrated graphics processor that comes along with the main chip, Intel has updated its engine to UHD 620 in all models. Compared to HD 620, the updated version provides support for 4K content playback. While it will not be able to deliver the performance you desire when playing the latest generation of games, it shows that the iGPU (short for Integrated Graphics Processing Unit) will be capable of handling media and content playback.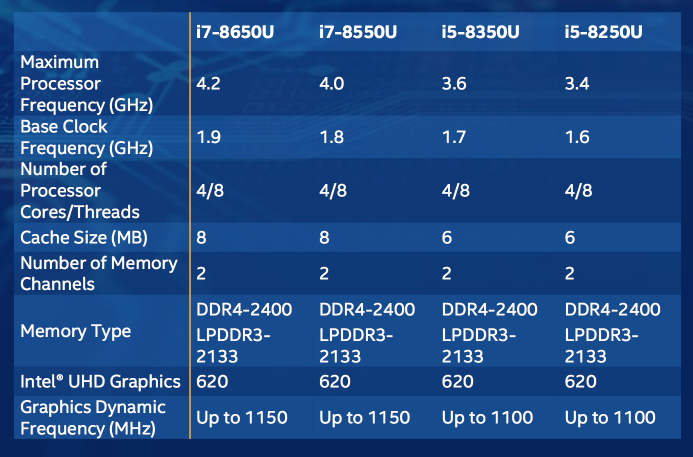 Intel claims that the newest processors will be able to deliver up to a 40 percent improvement in performance when compared to the previous generation.
There are also other examples that we'd like to highlight:
Editing photos or creating a slideshow can be improved by up to 48 percent when comparing to the previous-gen processor family.
Editing video footage now being up to 14.7 times faster compared to a 5-year old computer.
4K UHD content viewing will be more accessible.
Attempting to try out new features such as Windows Mixed Reality or experiencing performance gains via Thunderbolt 3 external graphics connections will become better as a result of the extra cores
Where do the Coffee Lake and Cannonlake families fit?
Coffee Lake processors will be targeting ultra-low-powered notebooks, high-end gaming laptops, and desktop computers. These processors will be using Intel's 14nm architecture while the Cannonlake series of chips will take advantage of the efficient 10nm process.
Due to an improved chip design, it is quite obvious that Intel chose to stick with its Coffee Lake and Cannonlake processors because, with a TDP that can go down to 4.5W, it will result in tremendous energy savings, not to mention machines that will exhibit impressive battery backup.
Looking at how Intel's Kaby Lake processor series was just an iterative update over Skylake, and because AMD had yet to introduce its Ryzen or Threadripper family, Intel's previous-generation processors did not have much of a performance difference with one another.
Now that the competition has heated once again, customers could be compelled to make a purchase because the Kaby Lake Refresh represents a huge performance gain.
Here are some of the chip models that will be released once Coffee Lake processors start getting introduced later in the year.
Core i3-8100: 4 cores, 4 threads, 3.6GHz Base Clock
Core i3-8300: 4 cores, 4 threads, 1.9GHz Base Clock
Core i3-8350K: 4 cores, 4 threads, 4.0GHz Base Clock
Core i5-8400: 6 cores, 6 threads, 2.8GHz Base Clock
Core i5-8600K: 6 cores, 6 threads, 3.4GHz Base Clock, 4.2GHz Boost Clock (for all 6 cores)
Core i7-8700: 6 cores, 12 threads, 1.9GHz Base Clock, 4.2GHz Boost Clock (for all 6 cores), 4.40GHz (Max Boost Clock)
Core i7-8700K: 6 cores, 12 threads, 1.9GHz Base Clock, 4.3GHz Boost Clock (for all 6 cores), 4.70GHz (Max Boost Clock)
This could mark the first time that Intel will stop producing processors with two cores, as the base model Core i3 chip now features four cores and four threads.
The company will also be introducing a new socket alongside these processors, so yes you will have to purchase a new motherboard if you do not want to run into compatibility problems down the road. When these new chips are finally released, it will be interesting to see how they stack up against AMD's Ryzen family, so we will keep you posted in the future.
If you have something to add, drop your thoughts and feedback.