Short Bytes: The specifications for Intel's upcoming 8th Gen desktop processors Coffee Lake-S were leaked online last week. The details include two Core i7, two Core i5 chips and a CPU-Z snapshot of an unknown processor. The new processor family is expected to launch sometime in August.
S
imilar to the story that
happened
to Intel's recently new
Core i9 chips
, released in May, the specifications for a bunch of Intel 8th Generation Core processors have leaked online.
The new desktop chips, known by their alternate alias Coffee Lake-S, are the first in Intel's processor lineup to feature 6-core CPUs. Moreover, the Core i3 Coffee Lake chips would see a bump in the number of processor cores, going up to four cores.
According to Wccftech, claiming multiple sources, the specification leak comes straight out of an Intel manifesto and includes details about the upcoming Coffee Lake processors.
Four 6-Core Coffee Lake-S desktop processors, according to the leak: Core i7-8700K, Core i7-8700, Core Core i5-8600K, Core i5-8400. You can check out the assumed specifications in the original post.
The new Coffee Lake chips are based on Intel's 14nm fabrication process. They would arrive with support for DDR4 2400MHz Dual Channel Memory, LGA Socket 1151, and Intel 300 Series Chipset among various other features. The new Coffee Lake chips support a TDP (Thermal Design Power) up to 95W.
Intel Coffee Lake 6-Core CPU Benchmarks
In another leak, Videocardz has published a CPU-Z snapshot of a new Intel chip which is not a part of the leak published by Wccftech. The processor in the snapshot is another Coffee Lake chip featuring 6 cores and 12 threads.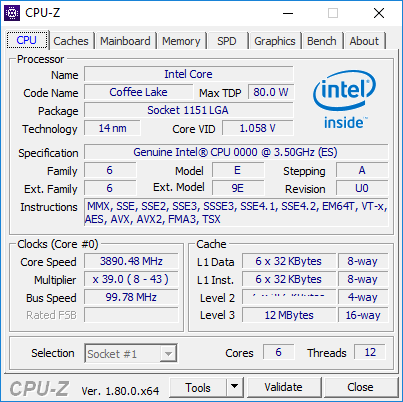 It's a low power chip for which the TDP maxes out at 80W. It comes with a base clock frequency of 3.5GHz which might go up to 3.9GHz or higher when turbo boost is enabled.
Intel Coffee Lake S family of desktop processors are expected to launch sometime in second half of 2017, most probably, at the Gamescom 2017 which is scheduled to happen in late August.
Got something to add? Drop your thoughts and feedback.