TL; DR The Mac lineup offers limited choice but the options available have something for everyone. In the desktop space, Apple offers the iMac, Mac Mini, and the Mac Pro. So between the iMac and the Mac Mini, you can get a system that is ready to go as you unbox it or a system which you can build upon. Then, there's the Mac Pro, Apple's crown jewel, and the only Mac that you can keep updating as you go.
If you're buying a Mac and want to know which one you should go for, check out our Mac buying guide for a better idea. If you're confused between the Mac Mini and iMac, this article should give you some clarity.
iMac Specifications
Features
iMac
Display
24-inch 4.5K Retina display
Support for 1 billion colors
500 nits brightness
Camera
1080p FaceTime HD camera
Processor
Apple M1 silicon with 7 or 8-core GPU
RAM/ Unified Memory
8GB/16GB
Storage
256GB, 512GB, 1TB, (2TB for select models)
I/O
2 Thunderbolt (USB-C) ports (base model)
4 Thunderbolt (USB-C) ports (higher end models)
3.5mm Headphone jack
Optional Gigabit ethernet
Colors
Blue, Green, Pink, Silver, Yellow, Orange, and Purple
Box contents
iMac, Magic Keyboard, Magic Mouse, power adaptor and cord, USB-C to lighting cable
The 24-inch iMac got a colorful update for 2021. It now packs the Apple M1 chip and comes in 7 colors. It gets a 24-inch 4.5k Retina display with support for 1 billion colors and a peak brightness of 500 nits.
You can choose between a 7-core or 8-core GPU just like with the MacBook Air. The base model is upgradable with up to 16GB RAM and 1TB storage. Higher-end models are configurable with up to 16GB RAM and a 2TB SSD.
The new iMac is equipped with a high-fidelity six-speaker system with support for Dolby Atmos. You also get studio-quality mics with noise-cancellation. In terms of I/O, the M1 iMac base model has 2 Thunderbolt / USB 4 ports in the base model. Higher-end models get 4 ports, and you also get Gigabit ethernet baked into the power cable on the higher-end iMacs.
Why Should You Get An iMac?
Reasons to get an iMac are all about the specifications you get when you buy one. It is a ready-to-go system as soon as you unpack it. The 4.5K display, the M1 chip, and the sleek build make it the perfect desktop system. Apple has cut corners with the bottom variant with a 7-core GPU, but most users won't even notice the difference.
Another reason to get the iMac is the price. Starting at $1,299, the base iMac would make a good desktop with all the processing power you need. So if you're someone who wants a ready-to-use desktop, the iMac is a good choice.
Mac Mini Specifications
| | |
| --- | --- |
| Features | Mac Mini |
| Display | N/A |
| Camera | N/A |
| Processor | Apple M1 silicon with 8-core GPU |
| RAM/ Unified Memory | 8GB/16GB |
| Storage | 256GB, 512GB, 1TB, 2TB |
| I/O | 2 Thunderbolt (USB-C) ports, 2 USB-A ports, HDMI 2.0, Ethernet port, 3.5mm headphone jack |
| Colors | Silver |
| Box contents | Mac Mini, Power cord |
The Mac Mini was among the first Mac computers to get the M1 chip. It packs an 8-core GPU and you can get up to 16GB of RAM. You can spec up the Mac Mini with up to a 2TB SSD. Coming to I/O, the Mac Mini has an ethernet port, 2 USB-C (Thunderbolt) ports, a full-size HDMI port, two full-size USB-A ports, and a 3.5mm earphone jack.
The Mac Mini starts at $699 for the base variant and goes up to $1,799 for the top variant with 16GB RAM and a 2TB SSD.
Why Should You Get A Mac Mini?
If you're someone who wants to build a system, the Mac Mini is the powerhouse that lets you do it. It starts at $699, which is $300 cheaper than the base MacBook Air. So with the money you save, you can get yourself a good setup that you can upgrade with time.
The M1 Mac Mini is also a better choice if you're into custom keyboards and mice. You can build a full desktop system with the Mac Mini in a set budget. For instance, you can get a 24-inch 4K gaming monitor for around $300. Throw in a Logitech MX Keys keyboard and Mice for another $200. Then, you can also get a good set of speakers for under $200. All in all, for roughly $1,300, you can build the system you want.
Mac Mini Vs iMac
Here are some parameters to compare the iMac and the Mac Mini.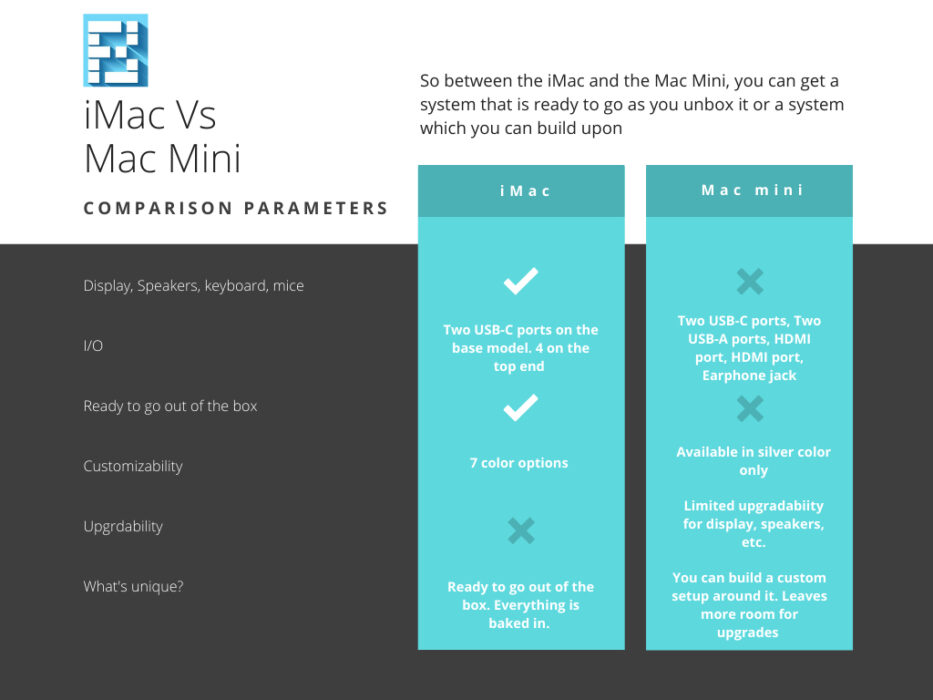 When it comes to comparing the Mac Mini vs iMac, you have to consider the price and what both devices have to offer for it. On one hand, the iMac would cost you $1,299 and you get everything that comes with it. On the other hand, the Mac Mini would cost you $699 upfront but you'll have to pay more to build a system.
You can add another display to the iMac, or get separate custom keyboards and mice if you like. With the Mac Mini, you can connect a bigger panel depending on your usage. In terms of I/O as well, the Mac Mini beats the iMac. While the iMac comes with just two ports on the base model, the Mac Mini has an I/O that is much more comprehensive. You can connect more gadgets without dongles as the Mac Mini has USB-C, USB-A, HDMI, and even a headphone jack.
The iMac's advantage is the value for money. Apple has thrown in a good display, speakers, mics, the works. The Magic Keyboard now comes with Touch ID and is as precise as other Apple keyboards. The Magic Mouse still remains an acquired taste and users stay divided over the Magic Mouse experience.
Concluding
The Mac Mini is a robust and well-priced option for those who want a barebone system around which they can build the perfect computer. iMac, on the other hand, is a sleek and minimal setup that you can place just about anywhere and it'll look good. Both systems perform equally well, but the iMac triumphs the Mac Mini in terms of what it offers for the package. However, the Mac Mini makes a rebuttal with portability.
Yes, the iMac is also slim and light, but the Mac Mini is manageably portable. If you're traveling someplace where you have a display with an HDMI port, you can connect your Mac Mini to it, take out your keyboard and mouse and get to work. For people who have multiple rooms with displays at home, you can just carry the Mac Mini from one place to another and work wherever you like.
So which system do you think is the best for you? Let us know in the comments.