Morgan Garages (MG) is having a great time in India courtesy of its offering the Hector SUV, which received a great number of pre-bookings. The company is also planning to invest a hefty Rs 2,200 crore in India so far. Despite India suffering from an economic slowdown, its audience in the country responded quite well with the MG Hector SUV.
The Chinese owned British company – Morgan Garages – has received around 28,000 bookings for its Hector SUV till date. The company has already delivered 4,000 units with a plan to deliver 3,000 more units by September.
To duplicate the success of MG Hector and march with India's move towards electrification of the transport fleet, the company teased its next product ahead of its official launch, the MG ZS Electric SUV.
https://www.facebook.com/MGMotorIN/photos/a.474400132957327/843449719385698/?type=3
The MG ZS EV was also spotted testing with a Gujrat-registered number plate recently. The electric SUV looked in launch-ready conditions.
As you might have guessed, the MG ZS EV is an electric car based on the company's ZS SUV. Both the conventional and electric versions of the MG ZS SUV are on sale in countries like the UK.
Now, the company is planning to launch only the ZS EV in India at the beginning of next year. However, the MG India Facebook page teased the upcoming electric SUV on its platform.
MG ZS EV Spied Ahead of Launch
Earlier, the MG ZS eSUV was spotted testing with heavy camouflage conditions. But this time the electric SUV is looking almost production-ready.
The MG ZS electric SUV was also spied with a Gujrat registration number plate. The MG India manufacturing plant is also based in Halol, Gujrat.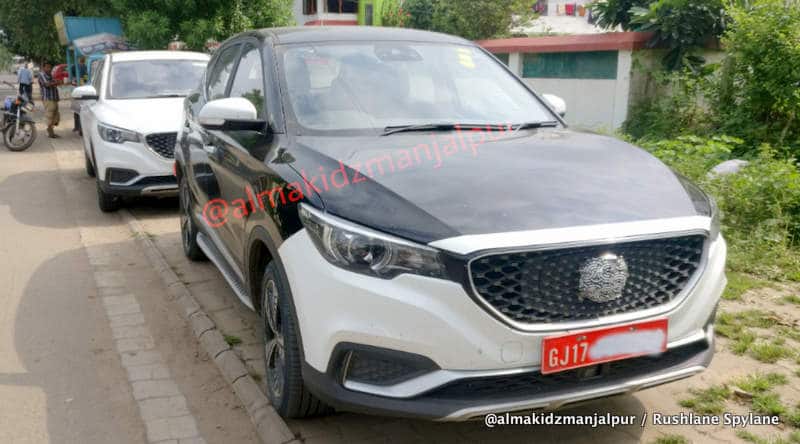 A spy pic of the MG ZS eSUV was snapped by Krishnapalsinh Virpara. In terms of interiors, the MG ZS EV features an 8-inch screen with the option of Apple Car Play and Android Auto.
Just like MG Hector, the MG ZS eSUV will also have connectivity features. This technology is powered by iSMART technology and allows the owner to get access to a voice assistant that can perform a number of tasks including managing calls to update about traffic.
Geo-fencing features in the iSMART will be really helpful in the case of an electric SUV. It will alert the user whenever they'll venture beyond the set limit.
MG ZS EV Specs, Details, and Launch Date
The specs of the MG ZS EV are as follows:
| | |
| --- | --- |
| MG ZS EV Specs | |
| Battery Size | 44.5 kWh water-cooled lithium-ion battery |
| Battery Range | 262 km |
| 0-50 km/h time | 3.1 seconds |
| Horsepower | 143 HP |
| Torque | 353 Nm |
| Electric Motor | Asynchronous Motor |
| DC Fast Charging Time | 0-80% for 40 minutes via 50 kW charging |
| Standard charging | 7 hours to full charge via 7 kW charging |
| Expected Price | Rs 25 lakh ex-showroom |
As we can see from the specs above, the MG ZS EV is made to compete with the recently launched Hyundai Kona electric SUV.
The price of both these electric SUVs is almost the same as MG ZS EV coming in at Rs 25 lakh ex-showroom (est.) while Hyundai Kona is priced at Rs 23.50 lakh ex-showroom.
The latter is cheaper and performs better as well. Hyundai Kona, despite having a 39.5 kWh battery, delivers a 451 km of range. On the other hand, MG ZS EV offers a 262 km range on a single charge with a bigger 44.5 kWh battery.
However, we do need to note that the range of Hyundai Kona electric SUV is based on ARAI certification while that of MG ZS EV is based on the European WLTP cycle. On average, both these certifications inflate the value of battery miles by around a certain percentage. Whatever the WLTP cycle predicts as the range of any vehicle, its real-world range will be 25% less.
The ARAI is also quite generous with its fuel-efficiency numbers and does tend to inflate them. We'll have to wait and see what ARAI certifies as a range of MG ZS EV to get a better idea.
Moving on, until now, there's no detail regarding creature comforts on the MG ZS EV, whereas we know that Hyundai Kona comes with seat warmer/cooler, an immersive infotainment system and much more.
Will Charging Be A Problem?
According to Autocar, the Indian-bound MG ZS EV will be a pre-facelift model. The difference between the conventional MG ZS and the electric ZS EV is that of the front grill. There is no air grill on the front of ZS EV because it has no IC engine.
Replacing the engine is a charging system that houses an AC and DC charging port.
Speaking of charging, MG ZS EV will take around 40 minutes to charge from 0-80% using a 50 kW CCS/CHAdeMO DC fast charger. With an 80% charge level, the car will likely travel 209 km. These fast chargers will be available at the MG India showrooms.
MG India has partnered up with Finland-based energy company Fortum to set up fast-charging stations across its dealerships in Delhi, Hyderabad, Mumbai, Bengaluru, and Ahmedabad.
The company will also provide a 7kW standard charger capable of charging the MG ZS EV completely in about 7 hours.
MG ZS EV Expected Price
The MG ZS electric SUV is currently on sale at a price point of £21,495-23,495 in the UK. This equates to Rs 18-20 lakh.
Also, with the FAME-II subsidies from the Government and the recent Union Budget catering to electric vehicles, we can see a price reduction in the MG ZS electric SUV when it finally launches in early 2020.