As per the latest figures revealed by the analyst firm Canalys, the Chinese company Huawei has now become the world's biggest smartphone manufacturer, outperforming Samsung and other brands. Huawei has reached the top position for the first time, and the success comes amid the US ban that the company has been facing for quite some time now.
Huawei managed to sell around 55.8 million devices in Q2 2020, which comes with a 5% year-over-year (YoY) decline. On the other hand, Samsung shipped about 53.7 million devices during the same quarter, with a 30% YoY decline.
If it wasn't the US ban, Huawei might have tasted success months earlier. The Chinese smartphone giant has lost over 27% of its overseas shipments but regained 8% in mainland China.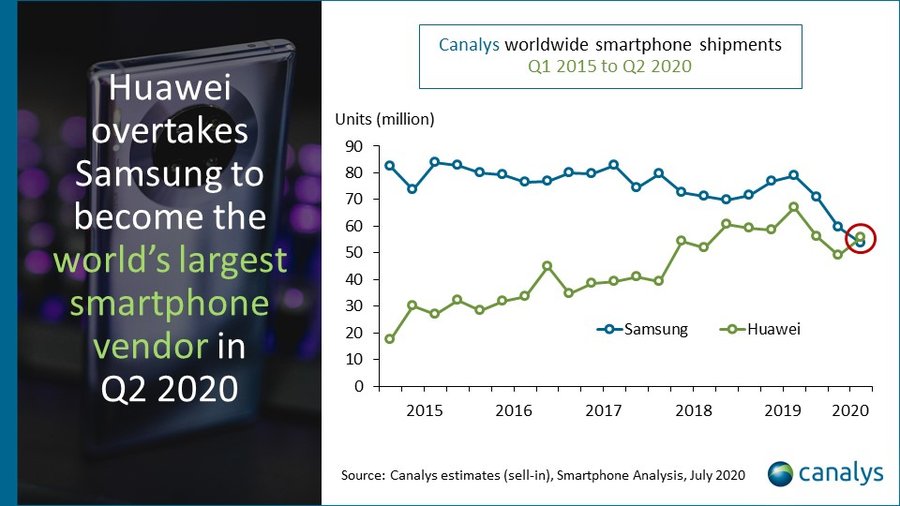 A big aid for Huawei has been the quick recovery in the Chinese market after the Coronavirus lockdown. Although the pandemic has its rooted in Wuhan, China, the nation has managed to get back on its feet and reopen factories.
As of Q2 2020, around 70% of Huawei's sales now come from China. Meanwhile, Samsung barely has a 1% market share in China and faced sales drops in its markets, including Brazil and India, due to the lockdowns.
In other words, Huawei's success is more because of Samsung's decline than the increase in sales numbers, as it's visible from the graph. Still, being in the No. 1 position is bound to boost Huawei's moral, and the company could use it to lure the investors.
However, Canalys analyst Mo Jio suggests that the top position would be hard to sustain once the global economy recovers if Huawei only relies on the home market. The race is already harder for the Chinese smartphone giant as it can't preload Google services on its devices — a major deal-breaker for many users.