After banning 59 Chinese apps, the Indian Ministry of Electronics and Information technology (MeitY) is now scanning 275 more Chinese apps for any potential security threats. Unfortunately, this time, PUBG Mobile is also under the Indian Government's radar. That's because the battle royale game is published by Tencent, a Chinese Conglomerate.
So, it's understandable why mobile gamers are worried about PUBG Mobile ban in India. However, Tencent recently updated its Privacy Policy specifically for Indian users which could be an attempt to escape the ban in the country.
PUBG Mobile Updates Its Privacy Policy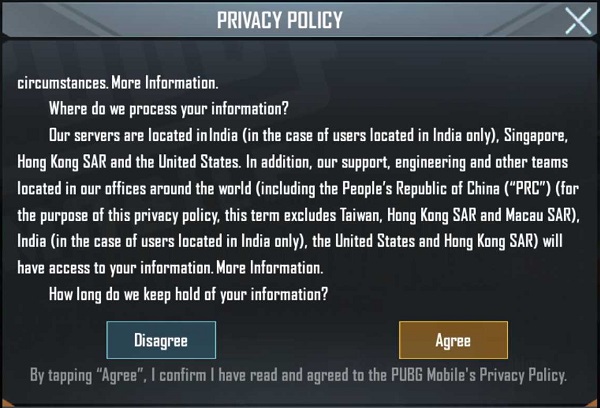 Just a few hours ago, PUBG Mobile started giving a popup notification to its Indian users to inform them about their 'Updated Privacy Policy.'
In the message, the PUBG Mobile team states that their servers are located in India, the USA, Hong Kong SAR, and Singapore. And according to the updated privacy policy, all the personal data of Indian users is stored in Indian servers only.
By banning Chinese apps, MeitY wants to protect citizens' data from the hands of the Chinese Government. The major reason cited behind the ban is storing user data outside the country poses a threat to the security of the nation.
So, by ensuring that the personal data of Indian users will be stored in local servers, PUBG Mobile might just be able to escape the ban in India. And I must say this was a smart move which would seem reassuring to PUBG fans in India.
But there is a caveat!
The Privacy Policy also states that PUBG Mobile's support, engineering, other teams located around the world, including the People's Republic Of China, Singapore, and "India (In the case of users located in India only), the United States, and Hong Kong SAR have access to your information.
From the above statement, PUBG Mobile wants to make it clear that for Indian users, PUBG Mobile has local support and engineering team. However, the fact that "only" PUBG Mobile team from India could access the Indian user's information has been kept quite ambiguous and it depends on how the government interprets it.
We reached out to the PUBG mobile team to get more clarification on what this actually means, however, their response was still vague.
Fossbytes: We wanted to know if the support and engineering team located in India will have access to Indian user's data, or will the support teams from the other locations be able to access data of Indian users as well?

Tencent Games: We are always committed to maintaining the privacy, integrity, and security of users' personal data, and comply with applicable data protection laws and standards in the jurisdictions in which we operate. Data collected are processed in accordance with our Privacy Policy.
So, the answer to our pretty straightforward question was still another vague statement, which makes you wonder whether Tencent Games intends to answer that question at all. All this statement says is that we should refer to their updated Privacy Policy to find an answer to our question, which isn't very clear in the first place.
Not to forget the data collection…
Meanwhile, PUBG Mobile has mentioned it is still allowing third parties to collect and use the personal data of users. Tencent promises to take 'reasonable measures' to ensure that the third parties do not further disclose any personal information. But we don't know how 'good' those measures are.
However, if users are concerned about their collected data, then they can contact PUBG Mobile to access, or erase their personal data.
Right now, it's hard to say for sure if PUBG Mobile will get banned in India or not. However, shifting Indian user data to servers in the country and being more transparent in its Privacy Policy might help PUBG Mobile escape the impending ban.