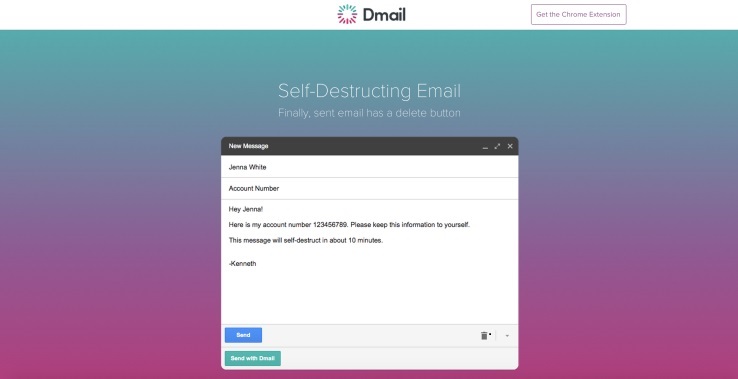 Admit it, you have wanted this for a long time. There must have been instances when you regretted sending an email with confidential information, or personal pictures, and hoped later that only if you could unsend it, or the message self-destructs itself. Gmail already comes with an in-built undo send option, but it has a time constraint of 30 seconds. So, you have only 30 seconds to assess if you did something regrettable.
D
mail is the one web browser extension that you should install. Dmail allows you to reverse your sent email at any time you want that means the Gmail would have a self-destruct email option inside it.
How Dmail "Self Destructs" Emails?
Well, Dmail is a Chrome extension so you just have to install and then leave the destruction process to it.
After you had installed the Dmail extension, you will notice your Gmail compose interface has an additional toggle button and you'll have the option to send the mail with Dmail.
Now, just click to switch on Dmail and you can choose from the given options as in how much time would you want to set off the self-destruct email mode.
If your email seems harmless and you send it normally, but later you have a change of mind, do not worry. You will still have an option via Dmail with "Revoke Email" button that enables self-destruct email mode.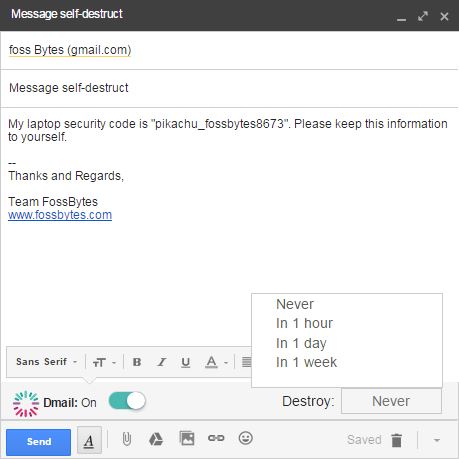 You can relax because the recipient need not to have Dmail for the process to work. If the receiver doesn't have Dmail installed, then the message on their screen will state that "This secure message was sent using Dmail. To view this message, simply click the button below." 
If the recipient has Dmail loaded, then they can simply see your message within Gmail.
But, if the message has been on self-destruct mode and it occurred before the recipient could read, then they will see a message on their screen stating "This message has been destroyed and is no longer available".
This "Self-destruct email" process works through the encryption of the email on the user's device that is sent via Dmail. The encrypted copy is then sent to the Dmail database. The recipient gets the email with a decryption key via Dmail and thus sees the protected message.
You need not to worry about the privacy of your email because neither Gmail, nor Dmail servers have the access to the decryption key.
The idea of self-destructing email, or may be in future self-destruction of any file, or data is being duly appreciated by the big companies. Any confidential report or an important file that is to be protected and needs one-time access, but is already sent via email could be now revoked.
Get the Chrome extension for Dmail here.