As much as people like to count the advantages of buying an Android device over an iPhone, they have to admit one extremely useful feature in iOS, and that is AirDrop.
For those who don't know, AirDrop allows iPhone users to share files and media wirelessly at ridiculous speeds. Think of it as SHAREit, only minus the obnoxious ads and the fact that you need a third-party app for it.
Smartphone brands running Android have previously tried competing with AirDrop; however, they are nowhere close to the AirDrop's classic cross-device file sharing feature, thanks to the multiple Android versions and manufacturers into play.
Xiaomi, on the other hand, has now managed to bring an AirDrop-like feature in its latest Android update MIUI 11.
Xiaomi 'Mi Share' To Allow Sharing Files With Non-Mi Devices
Touted as one of the biggest features of MIUI 11, Mi Share allows users to send files [images, photos, music, applications, etc.] to the nearby compatible devices.
As of now, the compatible devices only include Xiaomi and Redmi devices. However, the Mi Share will shorty enable cross-device file sharing with devices from Oppo, Vivo, and Realme. Xiaomi has also asked other manufacturers to join the Inter-Transfer Alliance group.
How to use Mi Share?
The hiccups in the process should not undermine the brilliance of Mi Share that can share files up to 20 Mbps per second. Here is how to use Mi Share in Xiaomi/ Redmi devices:
Before I move ahead, it is important to note that Mi Share is only available to users who have updated their Xiaomi device to the latest MIUI 11 update.
Go to Xiaomi/Redmi device settings
Tap on Connection and Sharing
Open Mi Share and toggle it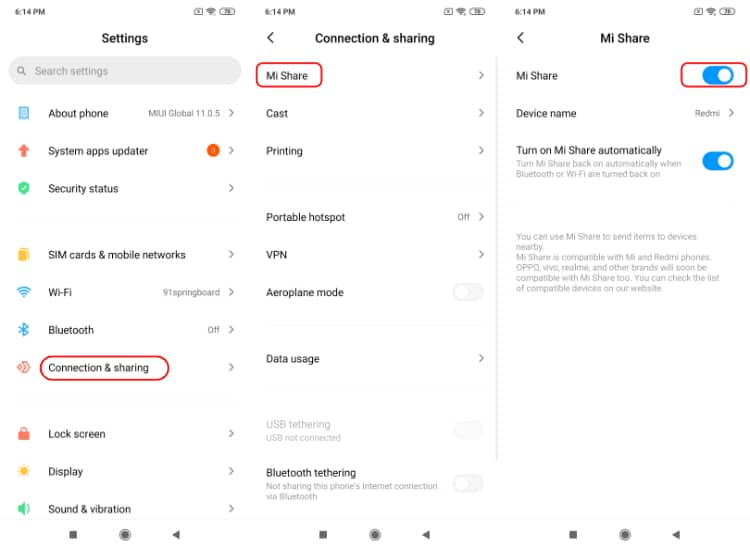 Select a file on the Mi file manager and tap on Send
Wait for the other device to appear under the "Send items to." Make sure the Mi Share and WiFI are turned on the second device, as well.
On the other device, tap on "Accept" in the pop-up window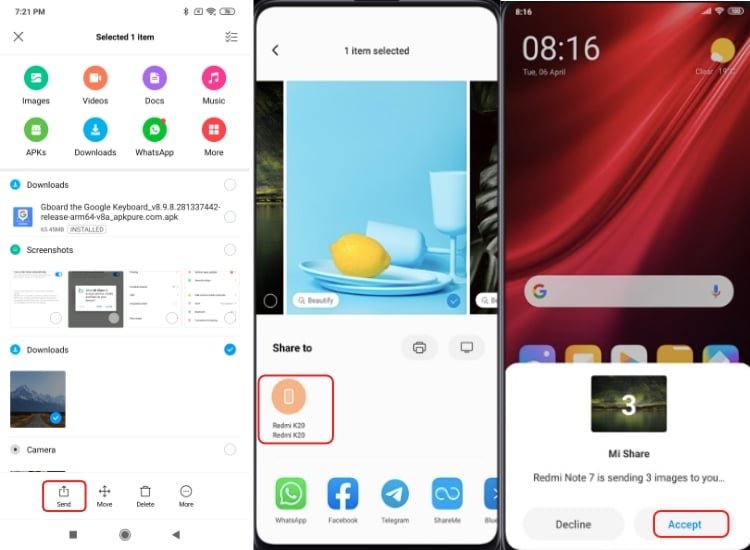 Mi Share for PC/Windows
Before you get your hopes high, unfortunately, Mi Share is not available for PCs. This is quite disappointing since AirDrop enables iPhone users to share files with the MacBooks.
Alternatively, several useful apps allow wireless transfer of files between Android and desktop.
List of Xiaomi devices not supporting Mi Share
Please note that not all devices running MIUI 11 offer support for Mi Share. Here are a few Xiaomi/Redmi devices that do not support Mi Share:
Redmi 6 Pro, Redmi 6, Redmi 6A,
Redmi 7A, Redmi 7
Redmi Y2/S2