OxygenOS is undoubtedly one of the cleanest Android skin offering the closest Stock Android experience to users. OnePlus has made a name for itself in the industry by offering regular OxygenOS updates.
However, the company releases stable updates at a sporadic pace. If you're someone who wants to test unreleased features, you can opt for OxygenOS beta program.
OxygenOS beta updates allow you to test features that are currently in the pipeline of the company but not available to the general public yet.
It goes without saying that since most of the features included in OxygenOS beta updates are in the experimental stage, you might have to deal with occasional bugs in your day-to-day usage.
Below, we've detailed the steps to download OxygenOS beta and install it in your OnePlus smartphone.
How to download OxygenOS Open Beta?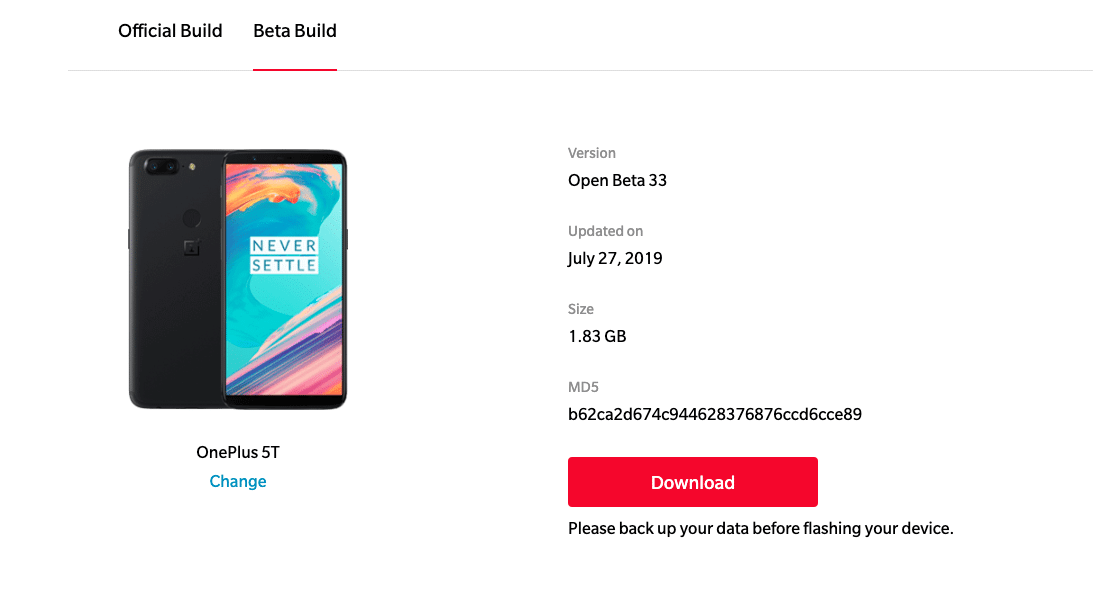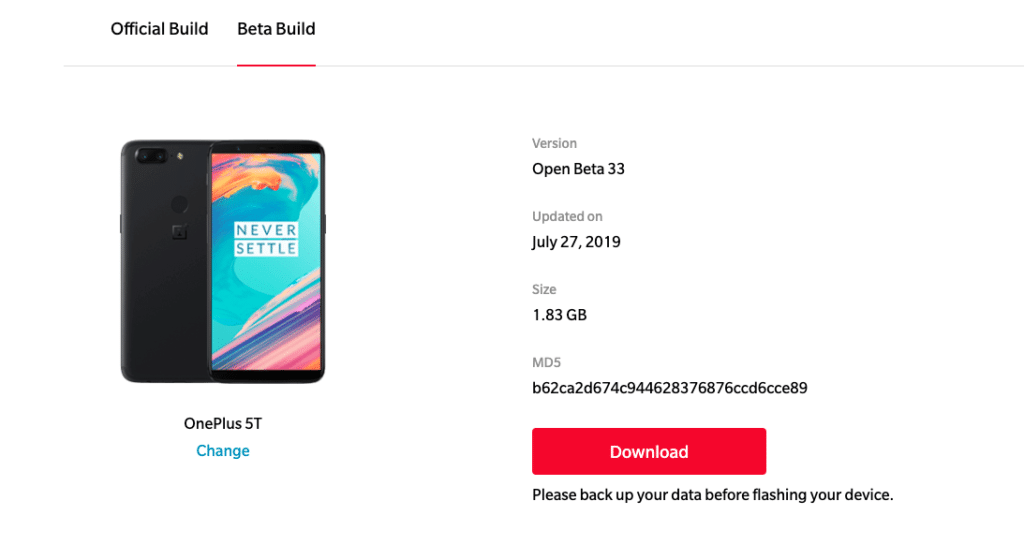 Now that you've decided to download OxygenOS beta to get your hands on unreleased features, here are the steps to do it:
The first step is finding the right OxygenOS open beta for your device. Thankfully, OnePlus provides beta updates for its all recent smartphones. You can download OxygenOS beta for OnePlus 6T/6, OnePlus 5T/5 and even for OnePlus 3T and 3.
Sadly, OnePlus does not offer OxygenOS beta updates for OnePlus X, OnePlus 2, and OnePlus One as they have become obsolete now.
For demo purposes, I will install OxygenOS open beta on OnePlus 5T.
Go to the OxygenOS software upgrade page from your device by visiting this official link.
Choose your device from the list of devices on the webpage.
Select the 'Beta Build' option available on the top of the page and click on the big red 'Download' button.
A zip file named something "OnePlus5TOxygen_43_OT_…" will start downloading.
Now that you've downloaded the OxygenOS beta for OnePlus 5T or whichever device you're using, the next step is to install it. Here's how you can do it:
How To Install OxygenOS Beta?
To install the downloaded OxygenOS open beta:
Go to the "File Manager" app on your OnePlus device and open the downloaded open beta file by visiting the Downloads section.
Tap and hold on the zip file and you'll see a checkbox appear in front of the file name.
Next, tap on the three dots on the upper right corner of the screen and choose the 'Cut' option from there.
You'll automatically land on the parent directory of your smartphone.
Click on the internal storage option and then tap on the 'Paste' option.
To install OxygenOS beta, go to Settings> System> System Updates.
Click on the gear icon on the top right of the screen and tap on the "Local upgrade" option.
 Tap on the file displayed on the screen.
 A message box will be displayed, choose "Upgrade Now" option from it.
You'll be required to restart your smartphone and it will start updating automatically. After the installation process is complete, OxygenOS will be installed on your device.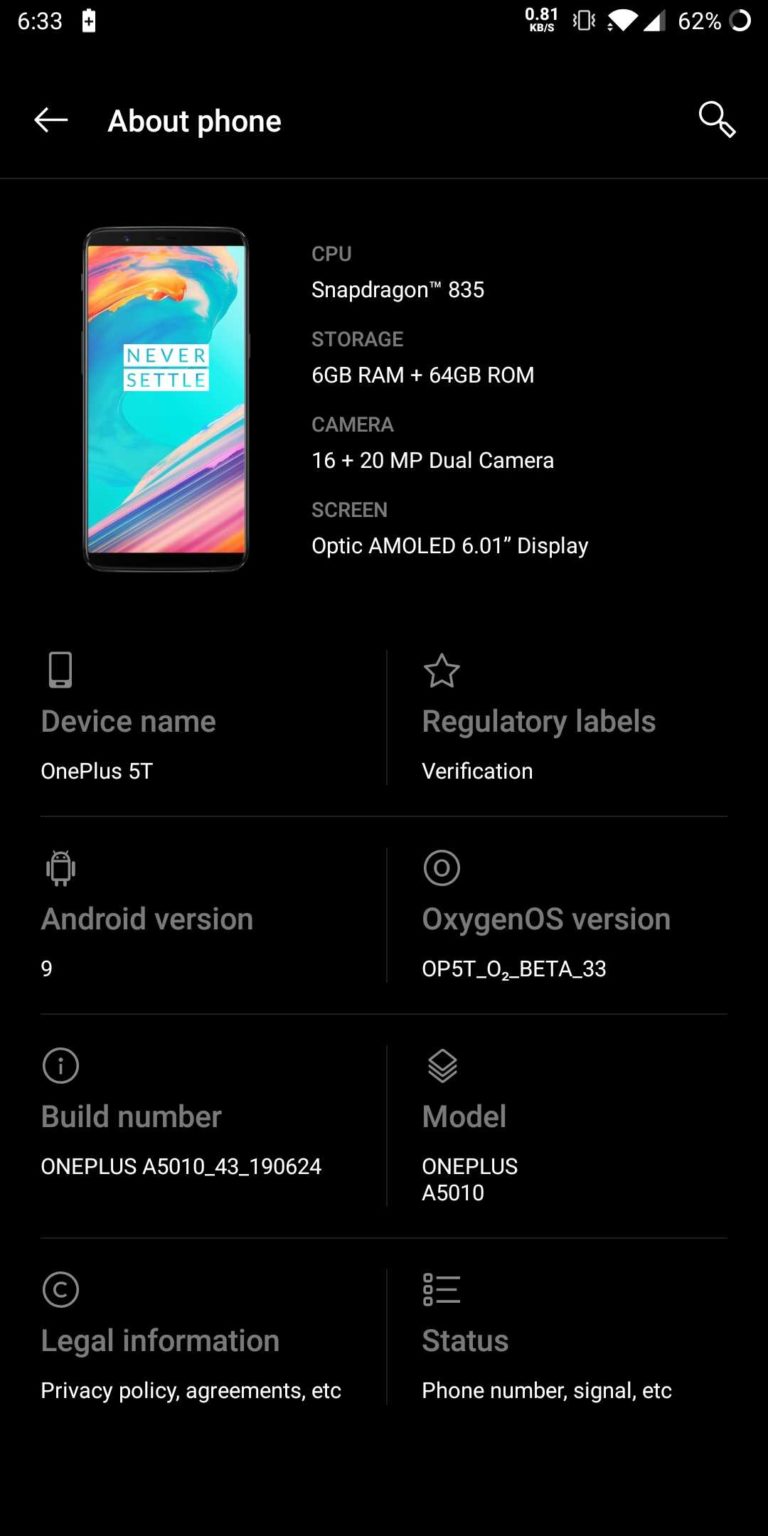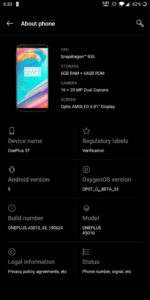 To check, go to the Settings app> About Phone and check the OxygenOS version. You will be able to see that now your OnePlus smartphone is running on OxygenOS beta.
Once you've installed beta version of OxygenOS, you'll receive beta updates with new and unreleased features.
However, you must keep in mind that beta updates are buggy and your smartphone might malfunction at times.
We hope that this guide would prove beneficial to you if want to install OxygenOS beta in your device. If you're facing any difficulty, you can drop a comment below.