Xiaomi recently launched ultra variants of its flagship lineups at its 10th anniversary — Xiaomi Mi 10 Ultra and Redmi K30 Ultra.
As the name suggests, both devices pack ground-breaking specs that can put most high-end smartphones to shame. For instance, the Mi 10 ultra has been ranked as the best camera smartphone as per DxOMark (a highly regarded camera benchmarking website).
But that's not the only best thing about the new Xiaomi Mi 10 Ultra; the device comes with a new Super wallpaper known as "Faraway Rings."
For those who don't know, Super Wallpapers is an MIUI 12 feature that brings 3D interactive live wallpapers on Xiaomi devices. The wallpapers give an aerial view of planets on the lock screen, and aesthetically zoom in to the surface once you arrive on the home screen.
There have only been two MIUI 12 Super Wallpapers showing Earth and Mars, but now there is a third one showcasing Saturn. Like previous super wallpapers, the Saturn one can also be ported for other Android devices.
How to get MIUI 12 Saturn Super Wallpaper?
It's pretty straightforward! First, download Saturn (Faraway Rings) Super Wallpaper port for your Xiaomi or Android device, and install it.
Now, try the default method of applying live wallpaper on your Android device. You can also apply it with the help of the Google Photos app if the Super Wallpaper doesn't show up in the default Live wallpaper section.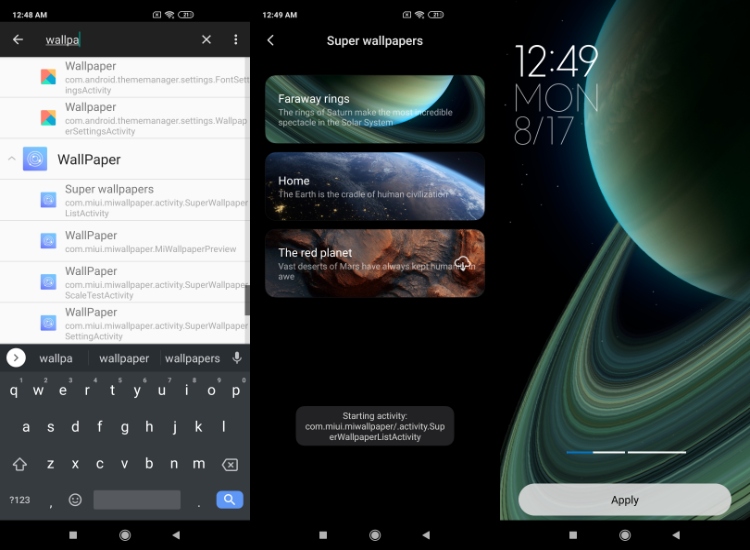 Alternatively, Xiaomi users can download the Activity launcher and run the "Super Wallpaper" activity under the "Wallpaper" section of the app.
While there are multiple ways to make it work, you need to make sure that the MIUI 12 Super Wallpaper feature is supported. According to XDA Developers, the feature will run on any device running Android 8.0 above.
Meanwhile, Xiaomi says the MIUI 12 feature is only supported by the following devices — Mi 10, Mi 10 Pro, POCO F2 Pro, Mi 10 Lite, Mi 9, Mi 9T Pro, Redmi K20 Pro, Mi 8, Mi 8 Pro, Mi MIX 3.