The once web titan Yahoo has faced over four data breaches to date. The biggest one so far was in 2013 which affected over three billion Yahoo email account holders.
Another one in late 2014 compromised data of over five hundred million users, the next one in 2016 where 200 million user accounts went for sale on the darknet, and the last one in 2017 where 32 million users accounts were compromised.
It won't be surprising if we see another data breaches at Yahoo. However, such data breaches can cost users their personal information such as account details, passwords, email content, bank account details, etc.
Since you have deliberately come here, we are assuming that you don't need to be convinced why you should delete the Yahoo email account. Therefore, without any further ado, let's take a look at the steps.
How to delete Yahoo account?
Note: It is important that you upgrade to the new Flickr login system before deleting your Yahoo email account
Open the terminate Yahoo account page.
Log in with the Yahoo account credentials
On the oath page, scroll down and click on Continue delete my account

On the last confirmation page, write your Yahoo email ID one last time and click on Yes, terminate this account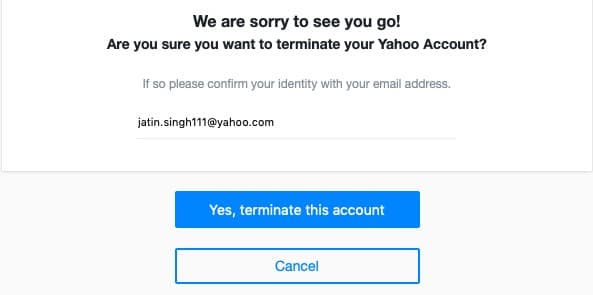 Pat on the back once you see the confirmation page.
What just happened?
At this point, you have officially terminated your Yahoo account. Yahoo provides a 90-day window before permanently deactivating your Yahoo email account in case you have a change of heart.
When you choose to close the Yahoo account, you will lose access to several Yahoo services such as the Yahoo email ID, email ID data, address book, profile data, photos, etc.
There are high chances that most of that information was probably stolen during the previous data breaches.
Nevertheless, you should pay attention to the last paragraph on the oath page that says some of your data might be stored in the archived records.
Get control of your data
Before deleting the Yahoo account, you have the option to download all your data spread across different Yahoo products. However, it can take up to 30-days following the request.
Here is how to download your Yahoo data:
Go to Yahoo Privacy Dashboard
Scroll down to the bottom and select Request a Download
 Select the type of data sets such as search history, comments, data used for personalized advertising, etc
Click next and enter an email address on which you'd like to be notified
Click on Request Download
↳ Download the Yahoo email data
Before deleting the Yahoo account, you also have the option of downloading Yahoo emails and data shared within the emails. Here is how to do it:
Go to Yahoo Privacy Dashboard
Under the Products section, click on Yahoo Mail
Click on Mail Download Manager adjacent to Yahoo Mail
Choose the type of data you would like to retrieve
Enter an email address on which you'd like to be notified
Click OK
In order to download Yahoo emails, you will have to use a third-party email client such as Outlook, or Mac Mail and use the Yahoo IMAP settings.
Yahoo Mail Alternatives
Closing the Yahoo email account leaves a wide gap for another email service. In my opinion, ProtonMail is one of the best alternatives to Yahoo.
Apart from the popular features of Proton Mails, the biggest benefit of using the email service is extensive security through end-to-end encrypted emails. Moreover, if you are looking for guide on how to deactivate instagram using the app and easy way for deleting clubhouse account, check out the linked article here!
The next best is Gmail, however, Google once admitted that third-party apps have access to the private emails of users. So you can choose accordingly.