A 500 HP Toyota Supra lost a quarter-mile drag race from a Tesla Model 3 Performance, despite the former botching up the launch every time. The latest video from YouTube Channel Drag Times shows the Tesla Model 3 competing against a 2020 Toyota Supra with downpipes.
Full disclosure here, the 1999 Toyota Supra is one of my favorite sports cars of all time. The car goes for no less than six figures in today's time. However, the Tesla Model 3 is easily one of the most popular cars of this decade. So the competition between these cars was a delight to watch.
Here's how the race went down:
Tesla Model 3 Vs Toyota Supra
As you can see in the video, Brooks says at the start of the video that the Toyota Supra has downpipes and it takes around 340 HP from the factory and an additional 100 horses from the tuning. This brings the total to 440 HP at the wheel. Mind you, this car still produces 500 HP at a crank, so some weight reduction mods can even pump up the horsepower.
Tesla Model 3 performance variant also makes around 475 HP at the wheel, which is quite similar to the 2020 Toyota Supra.
Another crucial metric to note here is weight. In the case of Tesla Model 3 Vs Toyota Supra, the former weighs close to 4,000 pounds (1847 kg) while the latter weighs less at 3,397 pounds (1,540 kg). So even in this case, the Toyota Supra had the edge.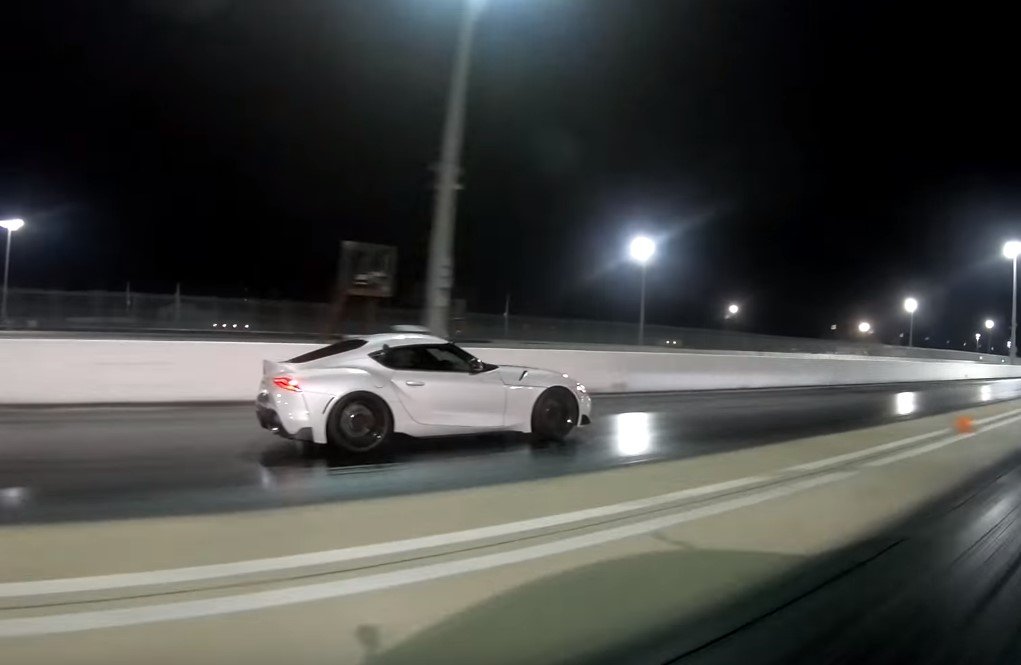 The video showcases two drag races with three rounds each. Surprisingly, the Tesla Model 3 performance started horribly during all the drag races. But the massive torque and dual electric motor were enough to catch up with the Toyota Supra and beat it by a margin of 2 seconds during both races.
At the end of the first three races, the Tesla Model 3 performance finished at 114.47 mph in 12.102 seconds, while the 2020 Toyota Supra crossed the fine at 112.72 mph in 11.765 seconds.
The results remained similar during the second round of races. Here the Tesla Model performance won by finishing at 114.72 mph in 12.071 seconds and the Toyota Supra lost by clocking in 112.38 mph in 11.787 seconds.
Tesla Model 3 Performance Upgrade
Very recently, Tesla upgraded the performance of the Model 3 performance by a margin of 5%. There is no mention of this increased performance in Brook's video, however, another YouTuber Jenny Walsh showcased this upgrade.
The Tesla software update 2019.36.2.1 upgraded the performance of Model 3 and also improved the navigation system. The new system automatically sets different end locations based on your current position. For example, if you're at home in the morning then it will set your office as the end location.