Smartphones are great at making our lives easier, but they're not very great at making it easier for you to let go of them when you get a shiny new Android or iOS smartphone. Manually transferring data could be a tedious task; hence we have a few apps that make the process easy for you.
At some point, we all go to Google and search for how to clone a phone and get confused due to the numerous options, more than half of which don't even work. Whether you're buying a new phone or carrying more than one phone, there are some built-in tools and third-party phone cloning apps you can use to keep your data on both devices.
Why Clone A Phone and Copy My Data?
One of the most common questions that come to mind when setting up a new phone is why you should do it. You can let go of social media and streaming apps as a majority of your data on them is saved on the Cloud.
The things you'd need to transfer to your new phone are—contacts, photos, calendars, and reminders to your new phone. While those are also saved on the cloud these days, the probability that you haven't enabled cloud save for photos and contacts is pretty high. So here are some apps to transfer everything from your old phone to your new phone.
1. How to clone Android devices
One of the best things about iOS that's yet to come to Android is how easy it is to move your data from one iPhone to another. It's quite the opposite if you're using an Android phone. Most user data on Android is saved in apps such as Google Drive, Gmail, Google Contacts, Phone, and Google Photos, and Google will back it up for you if you've enabled Google Drive backup.
Hence, if you're switching a phone or want to clone a phone, Google Drive is a quick option that works with every Android phone out there. There are two ways to do phone-to-phone transfer using Drive. Before we begin, you must have a Google account logged in on both the old and new phones. You can use this method to move data from Android to iPhone.
Transfer data locally from one phone to another
The first method requires you to have a cable. It can be a Type-C to Type-C or a micro USB to Type-C cable, depending on the ports on your old and new phone. Here's how to transfer data from one Android to another using a Type-C to Type-C or Type-C to Micro USB cable.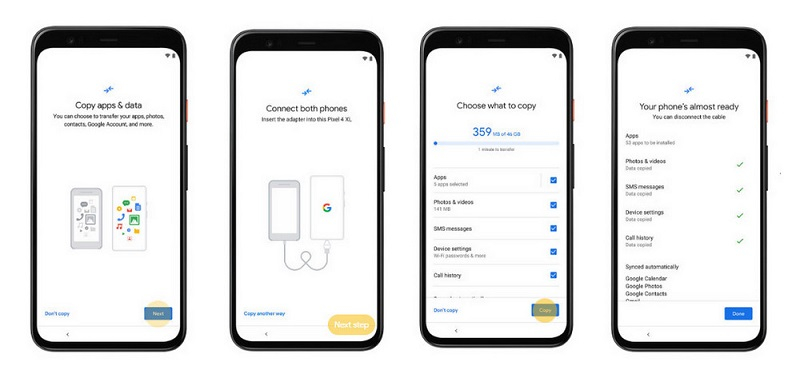 1. While setting up your new Android device, tap Start.
2. Select to copy apps and data from your old phone.
3. Connect both phones using the cable and follow the on-screen instructions.
This method will transfer nearly everything if you're doing Android to Android transfer. However, you might have to separately log into third-party apps like Facebook and Twitter again on the new device. Your passwords from Chrome and other Google apps will migrate to the new phone.
Using a cloud backup on Google Drive
On your old phone, go to settings and find your Google account. In Google account settings, tap on backup > Back up now. This will backup essentials like contacts, calendars, reminders, photos, and videos to your Google Drive. When you set up a new phone, tap Start > No cable > Ok. Now follow the on-screen steps to select the backup you took from an Android or iPhone.
Pros:
Easy and seamless transfer
Move third-party apps easily
Cons:
More suitable for Android-to-Android transfer
Requires a wired connection between two devices.
2. Move To iOS
Please note that this method requires you to reset your iPhone in order to copy data!
If you want to move data from Android to iPhone, this is your answer to how to clone a phone. To get started, download the Move to iOS app on your Android phone from the Play Store.
Now take the new iPhone while it is in setup mode. Look for the 'Apps & Data' screen and tap Move Data from Android. On your Android device, open the Move to iOS app. Grant the necessary permissions and tap on Continue.
You'll receive a six-digit code on your iPhone now. Enter this code on the Move to iOS app on your Android phone. In the next step, select the items you want to transfer and tap Next. Wait for the process to finish up, and then you can continue to set up your new iOS device. Contacts saved in your Google Account will then move to iOS.
Pros:
The best method to transfer data from Android to iOS
Data is securely transferred over a private WiFi connection
Cons:
Only works for Android to iOS and not vice versa
You need to reset your iPhone before transferring data to it
To move data from Android to iPhone after setup, you'll have to manually transfer everything. I recommend you use the Google Drive method if you don't want to wipe your iPhone to get the data from your Android phone.
3. Phone To Phone Transfer Apps
Almost all major manufacturers have their own phone clone apps for phone-to-phone transfers. To copy my data from one Samsung device to another, Samsung Smart Switch came in handy. Using Smart Switch is an easy method to clone your phone if you're switching to a Samsung phone.
Likewise, you have the OnePlus Switch app, Xiaomi Mi Mover, and OPPO Clone Phone, among others. Also, OPPO, Vivo, and Xiaomi have joined hands to introduce a peer-to-peer transmission alliance. This means if you're moving between any of these devices, it'll be a breeze to clone your phone.
Pros:
One-click transfer of files.
Comes in-built with most Android phones.
Cons:
Only inter-brand transfer is possible.
4. Third-Party Phone Clone Apps
Aside from Google, Apple, and other manufacturers, several third-party apps can help you transfer your phone data. You can clone a phone using one of these apps if none of the above options work for you.
Xender and Zapya are cross-platform file-sharing apps that you can use to transfer data between Android and iOS devices. You can use these apps to share videos and other media offline as well. Both Xender and Zapya have dedicated phone transfer functions that let you clone your contacts, SMS, photos, videos, and apps.
Another app you can use to back up your phone to your computer or clone it onto another phone is Dr.Fone. It is a paid tool and comes with added features like WhatsApp chat transfer, selective data restoration, and repair of iOS and Android bugs. You can check out the full pricing of different toolkits in Dr.Fone here.
If you want to clone an Android phone onto another Android phone, you can also use CLONEit. It is fast and transfers most of the data. However, some users have reported crashes and connection issues, so I'd recommend you use it only as a last resort.
The best part is that most of these apps have cross-platform compatibility, so you can also move data from Android to iPhone after setup. One of the downsides is that they're prone to connection problems, among other bugs.
Pros:
Access to several features such as batch transfer, duplicate file removal, and more.
Cross compatibility.
Cons:
Risk of data security.
Frequent connection problems.
Or just start afresh?
You can clone a phone and move data from old phones to new ones. Transferring data and syncing phones makes it convenient to switch between devices and saves you the trouble of starting from scratch. However, if most of the apps that you use already have a built-in backup option or are cloud apps, you may not need to clone your phone and start afresh.
Just make sure to note down all the apps you had installed on your phone or screenshot the app drawer and install them on your new phone. To make it easy for you, the Google Play Store stores a history of previously-installed apps. Go to the list by tapping your profile on Play Store > Manage apps, and device > Manage.
The methods of cloning described in the article are legal and safe to use on your phones. You can move music, photos, videos, contacts, messages, call logs, and almost everything else from one phone to another using these methods.
Other Things To Know About Phone Cloning
1. How does clone phone work?
When you clone a phone, you are basically copying all its contents and settings to another device.
2. Can you clone someone's phone?
Yes, you can clone someone else's phone, as cloning doesn't require you to be in physical possession of the device in most cases, and it can be done wirelessly only. However, it is illegal to clone a phone that you don't own.
3. Can you clone someone's phone without them knowing?
Yes, you can clone someone else's phone without them knowing because the procedure of cloning can be done online wirelessly.
4. How do you clone an Android phone?
You can clone an Android phone using Google backup, third-party apps, or peer-to-peer apps available for most smartphone brands.
5. Can you clone a phone without a SIM card?
Yes, you can clone a phone without a SIM card by simply transferring the data from one phone to another using Google backup or other third-party apps.