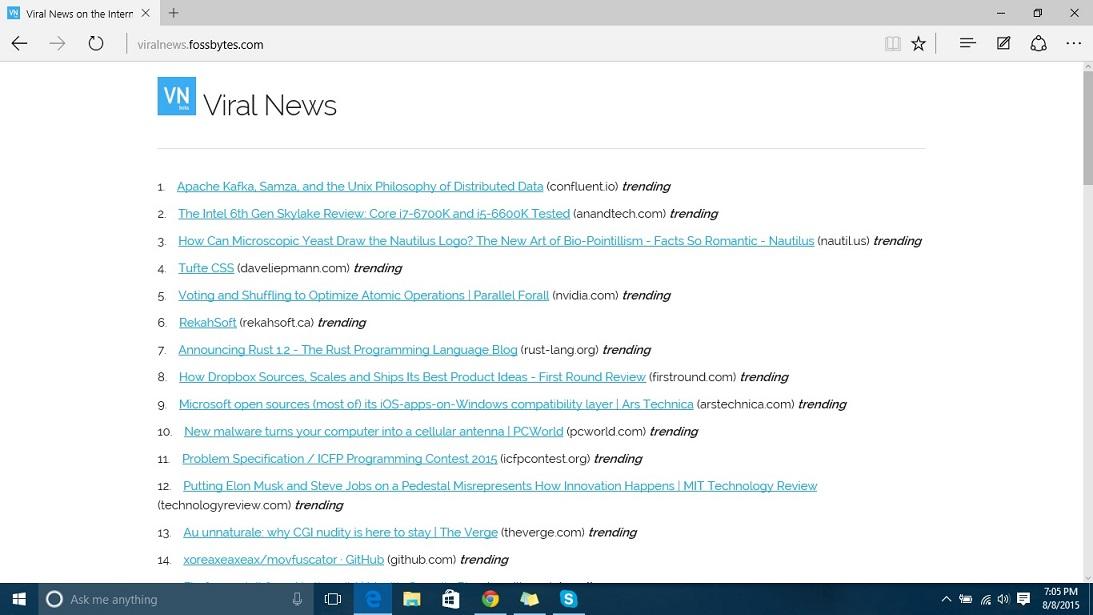 Short Bytes: On one-year completion of fossBytes, we introduced Viral News platform for discovering viral tech news on the internet. In this post, we are discussing how we designed our Viral News platform.
L
ast week we celebrated fossBytes anniversary. Yes, 
we just completed a year
and we would like to thank all of you for being a part of it. We are working on plenty of things to improve digital publishing industry. Our team not only has good writers but also passionate developers who do continuous improvement to our platform. We keep building stuff and in the same process we created 
Viral News –
 a discovery tool which we use at fossBytes to discover Viral News on the Internet. On 2 Aug 2015, we made Viral News available for all.
In this post, we are going to discuss how we built Viral News and what are our plans with it. Viral News front-end is dead simple and it lists out maximum 100 viral tech news on the internet. When I say maximum 100, it means if it doesn't find any news that it can classify as viral, it doesn't put that on the list. The news remains on Viral News list for a period of 24 hours if it isn't replaced by other news. New news which are discovered and classified as viral, takes the top position on Viral News with a tag "new" unlike Hacker News or Reddit where it all depends upon upvotes.
Any new viral news remains on the list for 15 mins before it becomes trending news, and if it fails to qualify as trending, the algorithm kicks that news out of the list considering it as false positive which is very less likely to happen. Now let's talk a bit more about how any news on the internet makes into the Viral News at the first place. Our news crawler mines popular news from various sources including The Hacker News, various sub-reddits, tech blogs etc. and puts them in the queue with a velocity factor. Velocity factor varies depending upon source for e.g. The Hacker News, velocity factor is upvotes; same for Reddit. But for tech blogs, the velocity factor is the number of shares on social media. Our velocity graph calculator calculates the velocity of any news in the queue based on below formula:
Velocity = Velocity Factor / Time
Velocity is calculated separately from various sources and then multiples to give the overall velocity of any news. When velocity reaches a threshold the news is qualified for Viral News list. We are also planning to get more categories in our next release which might include political news, entertainment news and few other categories.
Tell us your views in comments below. Also, give us your valuable suggestions and help us improve Viral News.