As I'm typing these lines on my laptop, in another tab of my browser, two more tabs are open. One is the homepage of our website fossBytes, and the other one is an analytics page showing the number of online users. At this very moment, on August 2, the number of online users on our website is 451, which is quite good given the fact that it's Sunday. Today, we are among the top 10,000 websites of the world. But, not all days were like this. We have seen our share of ups and downs, and today I am going to tell you the story behind fossBytes.
Did I forget to mention something? Well, today fossBytes has completed its one year and YOU, our readers, are the heroes of this story.
I, along with Arpit and Ananda, founded fossBytes a year ago. They are sitting right beside me working on a surprise for you.
I remember that fine day in the final year of my college, NIT-H, when Arpit called me and told about an idea of some website. Within few hours, he was knocking on my door and we ended up having a long chat about creating a technology news website. Actually, Ananda, his elder brother, had bought the fossbytes.com domain few weeks ago and suggested Arpit to start writing on something. We had known each other since the first year of college, and he knew very well I did nothing but watched movies all the time and texted, besides writing one or two poems in a week.
And then we talked some more, and some more. We opened various lists of top technology websites of the world, and we were surprised to see that there wasn't any Indian website. We asked ourselves – for reading technology news, which websites do we visit? And, still no Indian website were found.
Then, we opened the Indian technology websites and we ended up staring at the websites that wrote just about mobile phones. We decided to make fossBytes a technology website that will be a unification and intersection of the diverse interest of a person interested in technology. A person who loves mobiles phones is never confined to mobile phones, he/she wants to discover more. Same applies to a programmer, a space enthusiast, a hacker, and a gamer. Their interest intersect, and fossBytes aims to cater their needs by unifying these interests. Our tagline fresh Bytes of technology addresses the same diversity. Read more on our About Us page.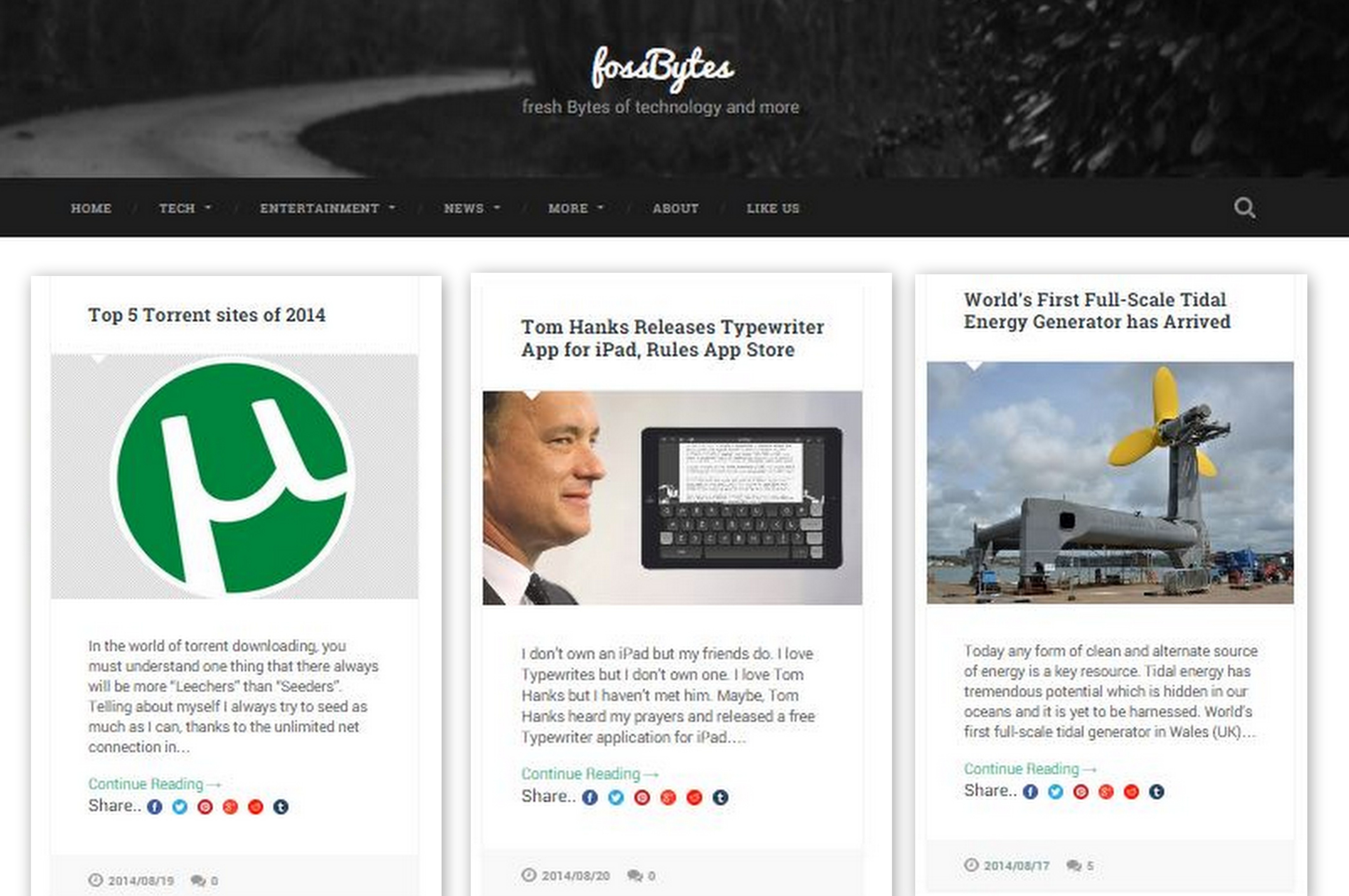 After few days of brainstorming over the WordPress theme, categories, logo, tagline, writing style etc., we published our first article "Apple iPhone 6 – Bigger? Better?" on August 2, 2014.
Knowing the importance of Facebook as a platform to promote and share content, we decided to write as much as we can in the upcoming one week before launching our fossBytes Facebook page. Drones, VR, and 3D printing were one of the first technologies were covered in the beginning, and slowly and gradually, we spread our reach to other topics. Below is the first post we shared on our Facebook page:
Since that first tiny little article, we have made great progress. We have seen our stories getting viral on Reddit and Hacker News, we have seen dry days with very few visitors, and we have seen some okay days too. We have seen problems like server overload, monetary problems, frustration and the biggest discouraging factor – no visitors.
Today, I remember our last few months of college and this fills me with tons of emotions. Back then, our days were spent attending the classes, and our evenings and nights passed working on fossBytes. We saw our friends and classmates living a different kind of life. We were the ones who were always inside the room no. CS-14, and they were the ones enjoying their last months of college. And, on some very low days, we would discuss our chances of getting a placement and leaving all the hard work behind just for the heck of it.
Usually, people compare writing and blogging side-by-side. But, they forget to consider the fact that when you are running a website, no matter how better and how much you write, it means nothing without readers. Our readers, their appraisal, and their criticism- this is our motivation. So, this one-year completion is a celebration of YOU – our readers, who made fossBytes what it is today.
In particular, the year 2015 has been lucky for us. Currently, fossBytes is receiving about 60,000 page views per day. In past one year, we have received about 8.16 million page views and it's a huge amount of traffic to generate in one year. Our majority of readers belong to India (29%) and the United States (20%) – followed by United Kingdom (5%), Pakistan (4%), and Canada (3.5%).
As we have discussed with you on many occasions on fossBytes, mobile is the future of the web. This is affirmed by the fact that our users on smartphones, outnumber the ones on the desktop. We get our 48% visits from the desktop computers while the remaining 52% readers visit fossBytes using their smartphones.
Overall, in last one year, we have received about 8.16 million page views. Take a look at fossBytes' page views graph for past one year: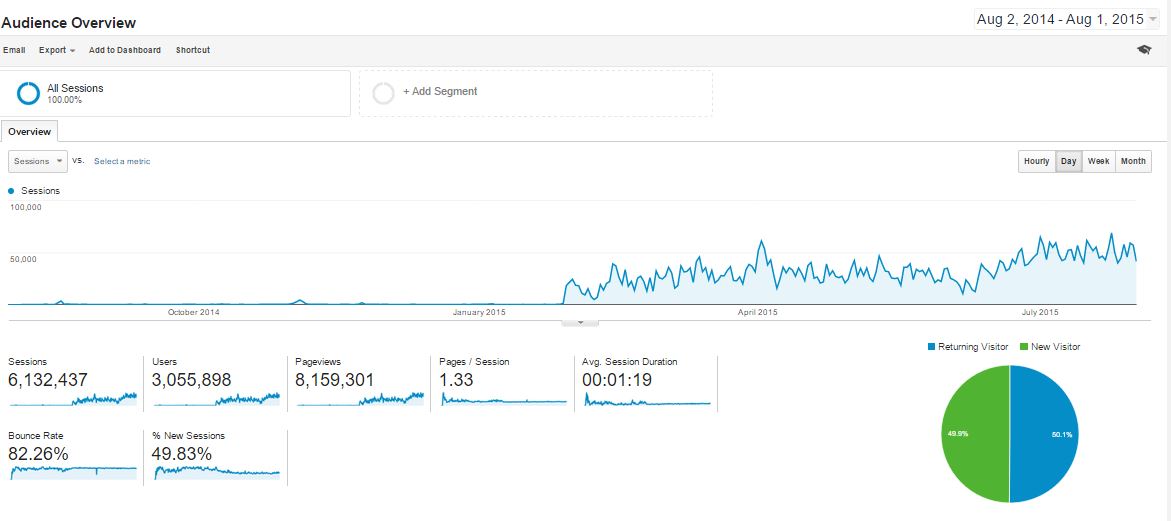 We spent our nights working in college and our classes got over looking at the number of visitors and the Alexa ranking of fossBytes. These numbers, that depend solely on you, and a desire to build something big- these are the driving forces behind fossBytes.
Talking about the progress, today, at this very moment, we are ranked among the top 10,000 websites of the world with an Alexa rank of 8,992. Alexa Ranking is an Amazon-owned company that is recognized as a measure of a website's popularity. This growth from 10 millionth rank to 10,000 is phenomenal in this one year's short period of time.
In the upcoming 3 months, we are eyeing a global rank under 5,000 and a rank under 500 in India. With your constant love and support, we are confident to achieve this target.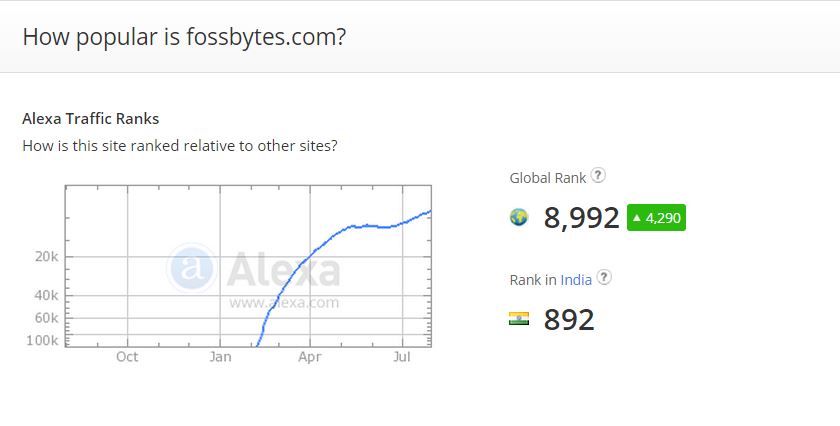 Apart from the Google search results, some of you would have come to this page via Facebook. Yes, Facebook, Twitter and other social media do play an important part in fossBytes' growth. We have a Facebook page with about 40,000 followers and this number is increasing with a rate of 100-200 followers per day. This is a very positive number. But, getting visitors via Facebook is not an easy task as Facebook constantly changes its algorithm- and Facebook pages suffer the most. Our posts are buried deep in your News Feed and the decade-old pictures of your friends that are liked by some third person, are floating at the top.
If you want to see more from us in your Facebook News Feed, you can choose any of the two marked options below by heading over to our Facebook page.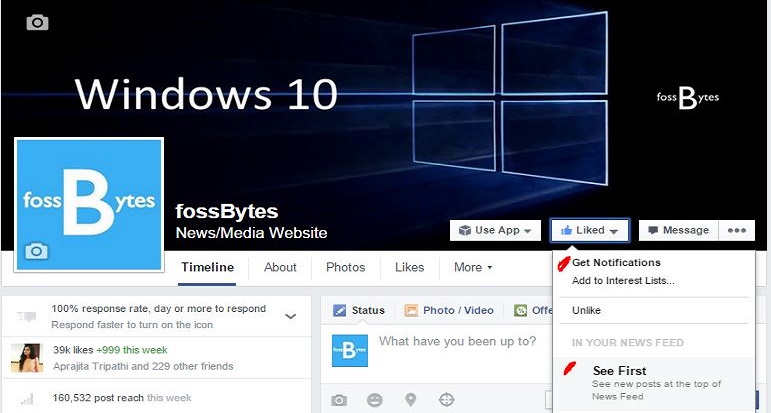 Our friends, the ones in college, and the ones outside- everybody has helped us in this journey. We have a small and loving team of juniors at the college, who are our regular contributors. Their constant support and feedback is invaluable to us.
Today, we have completed the first year of our journey and we are launching a tool called "Viral News". This tool will mine the top content generating websites on the Internet and curate the most viral stories from them. This tool curates the top 100 viral news from past 48-hours and brings the "top of the top news" for you. It is a dead simple discovery tool and we would request you to have a look and give us your feedback.
Along with this tool, we are also working on our mobile apps, browser extensions, News discovery engine and other tools to bring better experience and more relevant contents for our users.
On our website, we've added another new feature called Short Bytes. With this, you can read the entire story as a 3-4 lines summary just before the starting of the article. Below is the picture of how it looks. If you like this feature, or some suggestions, please let us know in comments.

We have achieved a lot in past one year and a lot more is still undone. We, the founders of fossBytes, share a common dream of making fossBytes a top technology website of India.
Stay tuned as a part of the fossBytes family and be with us on more birthdays of fossBytes.
Lots of love from team fossBytes. Thank you. :)