After weeks of leaks and rumors, Google has finally announced the Pixel 5 at its Launch Night In event. Alongside, it has also launched a 5G variant of the Google Pixel 4a.
Google Pixel 5
The new Google Pixel 5 comes with a 6-inch FHD+ OLED display with support for HDR 10+ and 90Hz refresh rate, and a punch-hole camera cutout in the top left corner. The screen is protected by Gorilla Glass 6.
As expected based on the leaks, Google is not going with a flagship chipset; the device is powered by the Snapdragon 765G. On the bright side, the Pixel 5 comes with a whooping 4,080mAh. Users can expect good battery life on the Pixel 5, thanks to a combination of Google's on-device machine learning and the lower end chipset. The smartphone supports 18W charging, wireless charging and reverse wireless charging.
Now let's talk about cameras — the square-shaped module holds a dual-camera setup. The primary one is a 16MP ultrawide lens, while the other one is a 12.2MP lens. The configuration is different from the Pixel 4, which had a 16MP telephoto lens instead of the new ultrawide lens. On the front, it's still the same 8MP shooter.
Again, it's a single variant; however, Google has decided to go up with 8GB RAM and 128GB of storage space. There are two colors this time — Just Black and Subtle Sage Green. The Google Pixel 5 is priced at $699, and it will start selling on October 15.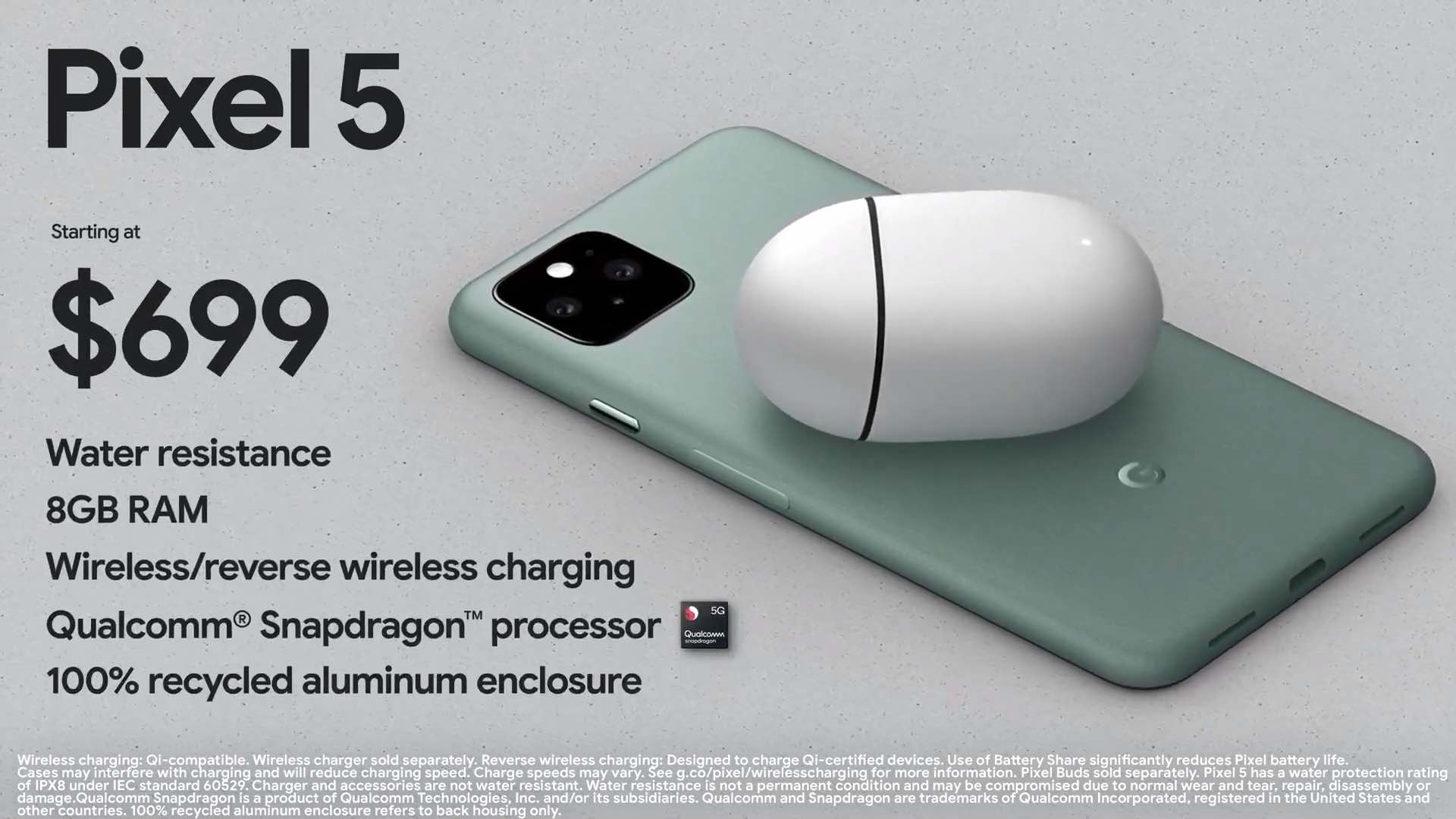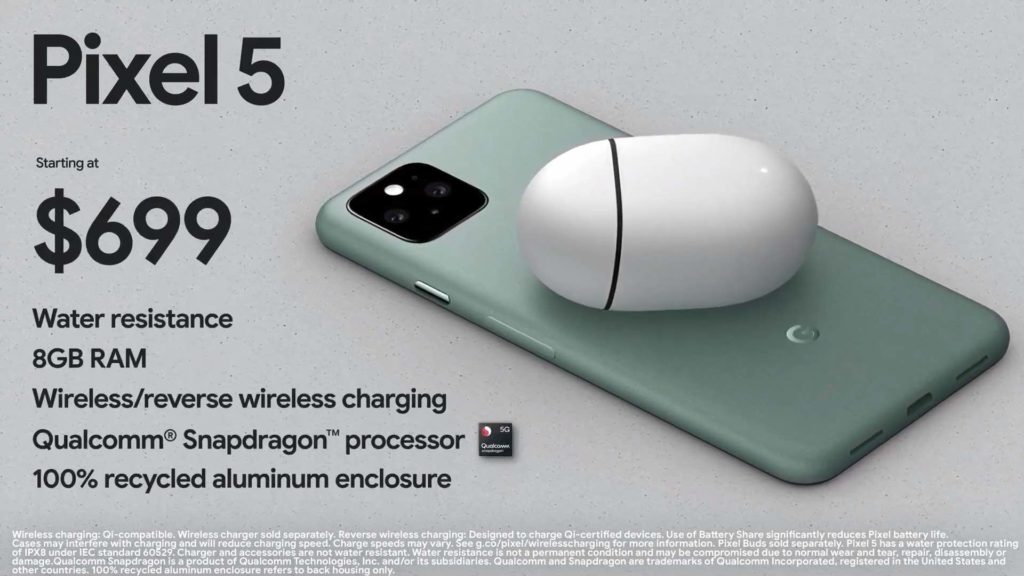 Google Pixel 4a 5G
Google's Pixel 4a has got a solid upgrade in the form of the new Pixel 4a 5G. First of all, the device has the same SoC as the Pixel 5 i.e., Snapdragon 765G.
The 5G variant of Google's Pixel 4a will also come with a larger 6.2-inch FHD+ OLED display. The best part about the Google Pixel 4a 5G is that it offers the same camera module as the Pixel 5, i.e., a 16MP ultrawide and a 12.2 MP camera.
The device comes with a 3,885 mAh battery, a small jump from the standard variant. Apart from that, everything else is the same — plastic body, fingerprint sensor on the back, 6GB RAM along with 128GB storage space, and, best of all, a headphone jack.
The Google Pixel 4a 5G is priced at $499. The phone goes on sale in Japan starting October 15 and will roll out to eight other countries in November.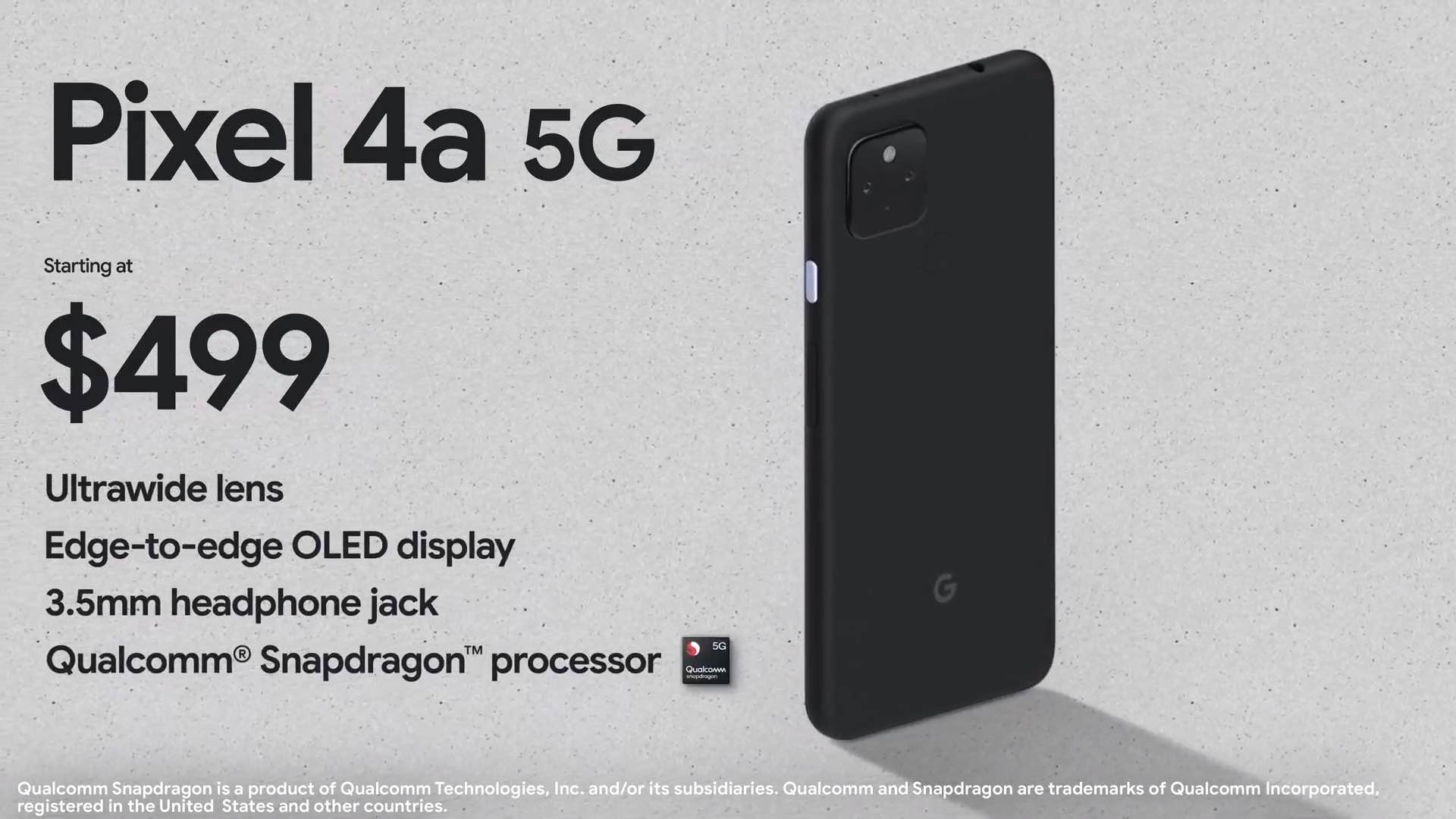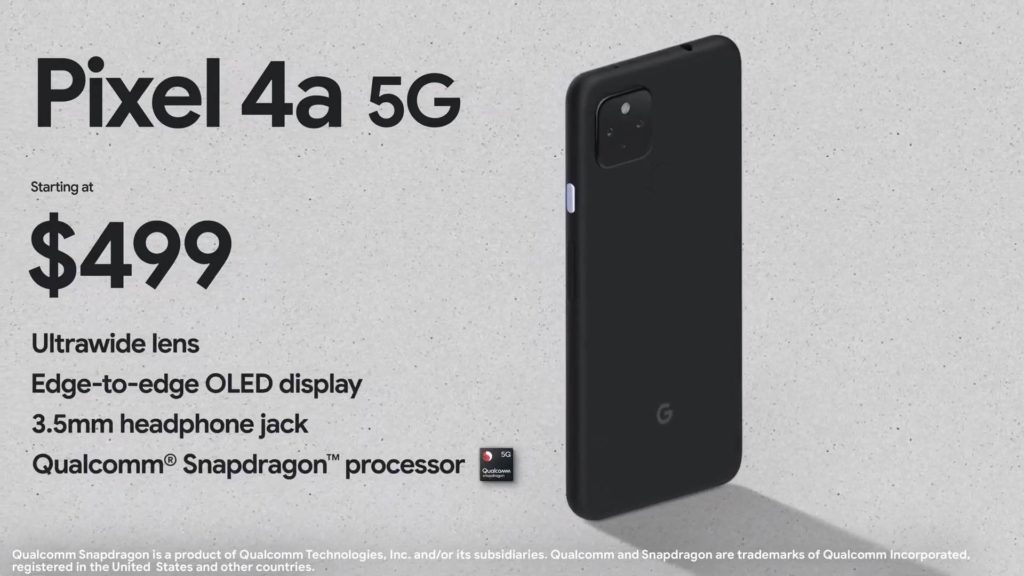 Furthermore, both devices come with Android 11 out of the box.
Buying the new Google Pixel 5 or Pixel 4a 5G will get you three months of Stadia Pro, as well as a YouTube Premium subscription. Apart from that, you will also get free 100GB Google One storage, Google Play Pass, and Google Play points.