Ford F-150 Lighting recently made its first global appearance, and we can say it managed to impress everyone. Interestingly, apart from the specs and features, the automaker kept the F-150 Lightning price similar to the Tesla Cybertruck.
This gave EV enthusiasts one more reason to compare these upcoming electric pickup trucks. Tesla is currently the leading EV maker in the industry due to its value for money electric cars.
Although there are other upcoming electric trucks like GMC Hummer EV and Rivian R1T their starting price is way too high than that of Cybertruck. Hence, masses were eagerly waiting for an affordable electric pickup truck like F-150 lightning. Let's see how it stacks up against Cybertruck.
Ford F-150 Lightning Vs Tesla Cybertruck: Specs Comparison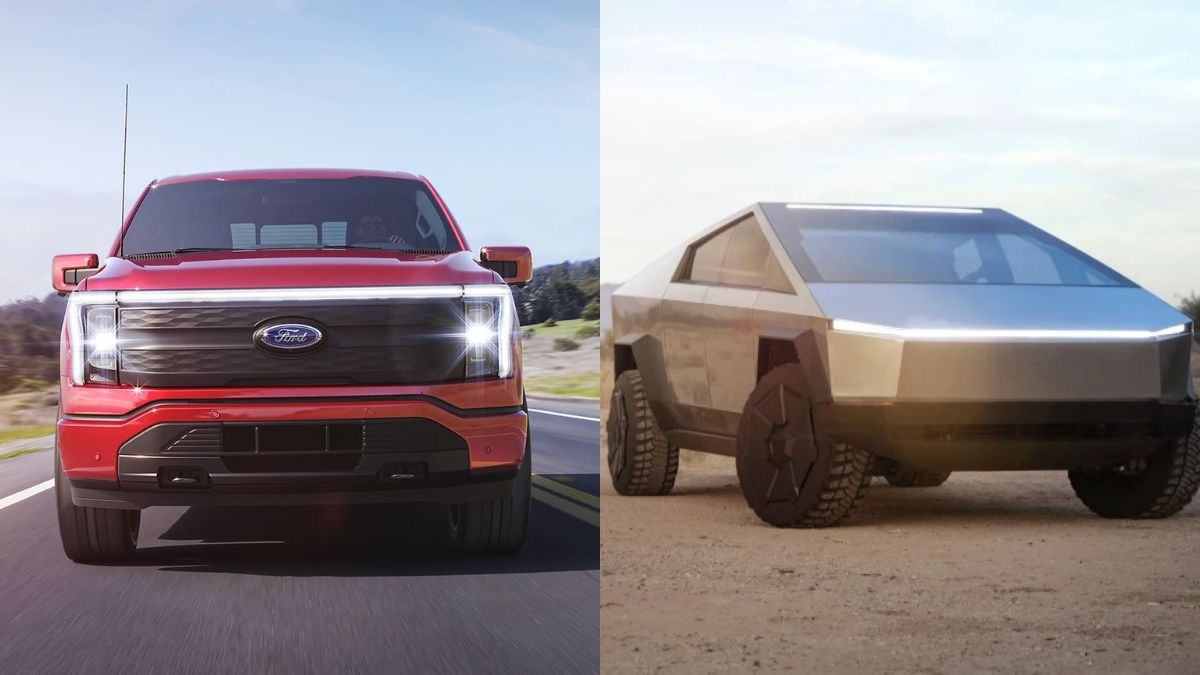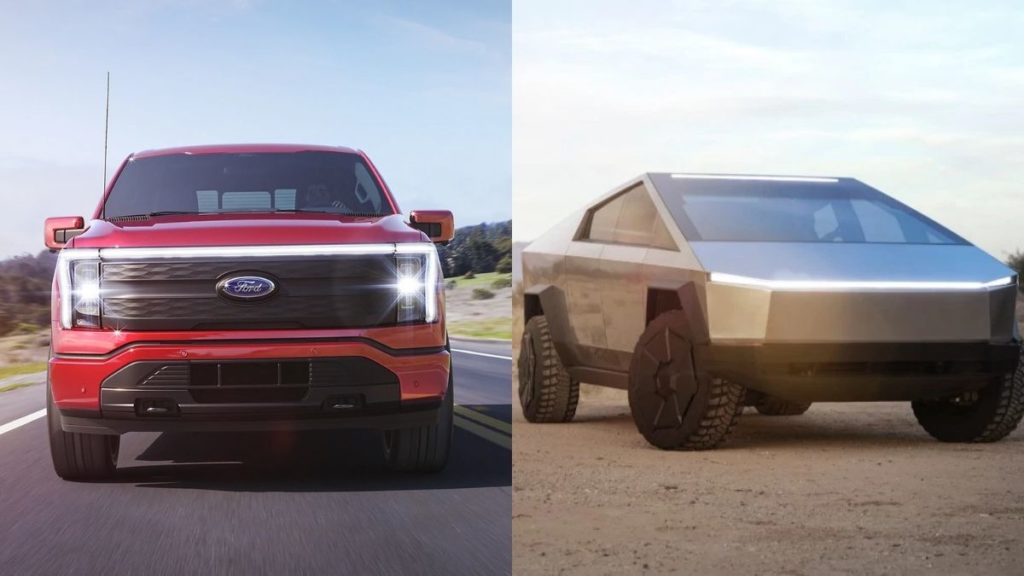 Before I begin with this battle of American electric trucks, let me give you a brief overview.
2022 F-150 Lightning is the first electric pickup truck from the U.S. auto giant, Ford. It will be available in four different variants and will arrive on the market sometime in 2022.
On the other hand, we have Tesla Cybertruck, which is considered the most uniquely designed mass production pickup truck ever. Cybertruck will be offered in three variants and is expected to go on sale by the end of 2022.
Dimensions And Cargo Space
| | | |
| --- | --- | --- |
| Specifications | Ford F-150 Lightning | Tesla Cybertruck |
| Length | 5,911 mm | 5,885 mm |
| Width | 2,438 mm | 2,029 mm (without mirror) |
| Height | 2,004 mm | 1905 mm |
| Ground Clearance | 226 mm | Up to 406 mm |
| Bed | 1,676 mm | 1,981 mm |
Size-wise, the electric Ford F-150 Lightning is slightly bigger than Tesla Cybertruck. It also has this massive front trunk with 14.1 cu ft of cargo space.
Meanwhile, Cybertruck has a larger vault with a 6.5 ft length that contributes to a total cargo space of 100 cu ft. In addition, it has an impressive ground clearance of up to 406mm which is almost twice what you will get in F-150 Lightning.
Electric Range And Battery Capacity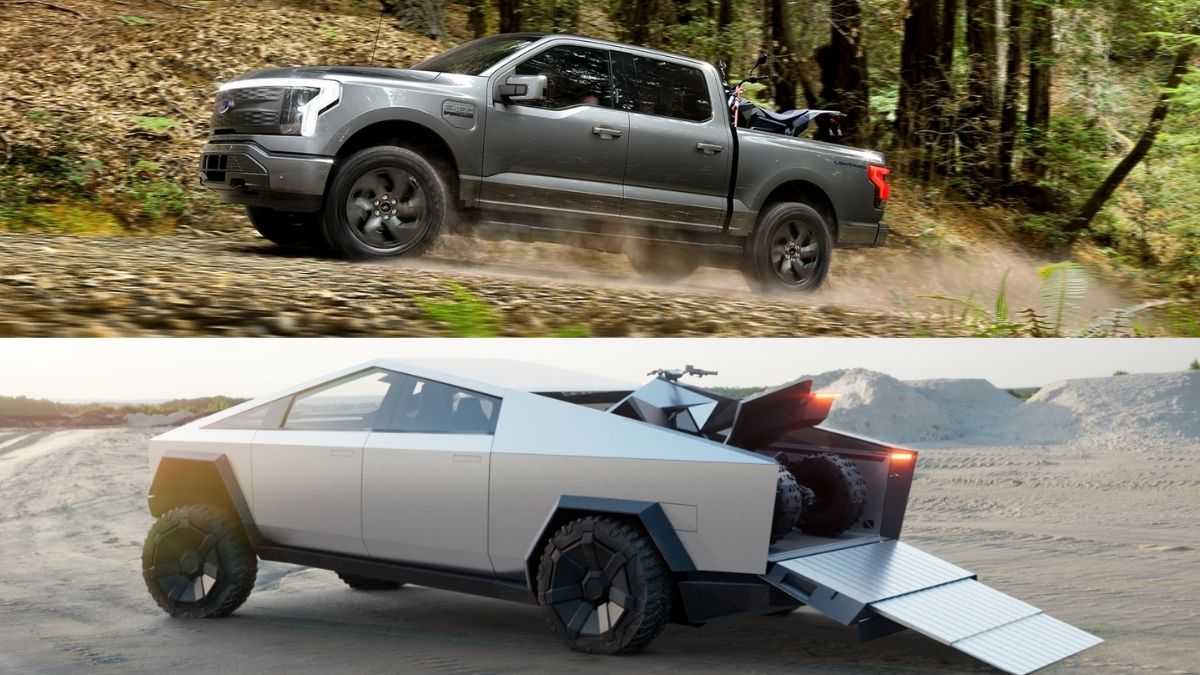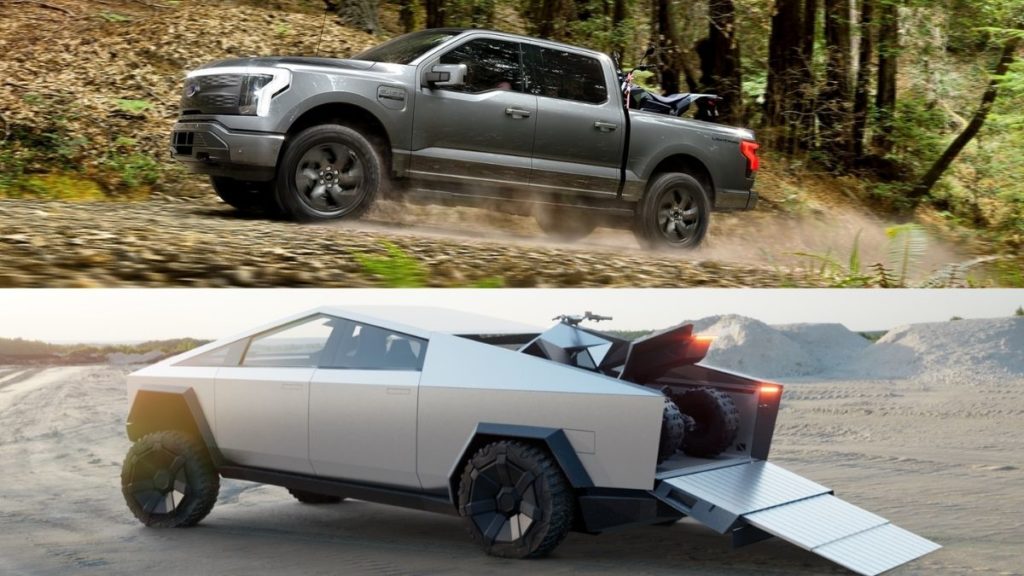 | | | |
| --- | --- | --- |
| Specifications | Ford F-150 Lightning | Tesla Cybertruck |
| Battery Capacity | N/A | N/A |
| Electric Range | Up to 300 miles | Up to 500+ miles (est.) |
| DC Fast Charging | Yes | Yes |
Though none of the automakers have revealed the battery capacity, it is crystal clear that Cybertruck outnumbers F-150 Lightning by a huge margin.
The standard range variant of the Ford F-150 Lightning offers an electric range of 230 miles and an extended range of 300 miles.
On the other hand, Cybertruck has three variants that can deliver 250 miles, 300 miles, and 500 miles of driving range.
In terms of fast charging, the electric F-150 supports a 150 kW DC fast charger, whereas, for Cybertruck, Tesla is yet to announce its charging specs. However, the Supercharging stations of Tesla have DC fast chargers of up to 250 kW.
Performance
| | | |
| --- | --- | --- |
| Specifications | Ford F-150 Lightning | Tesla Cybertruck |
| Acceleration (0 to 60 mph) | mid 4 seconds | <2.9 seconds |
| Max. Power | Up to 563 HP | Up to 800 HP (est.) |
| Drivetrain | Dual Motor (Standard) | Single/ Dual/ Tri Motors |
Tesla's electric cars are famous for their blistering acceleration and its Model S is currently the quickest accelerating production car in the world. Maintaining the same reputation, Tesla Cybertruck is made to sprint like a beast irrespective of its bulky design.
Cybertruck also has in its portfolio a tri-motor configuration that is suitable for high-end performance-loving drivers.
However, Ford provides a dual-motor setup as standard across all its variants, which will allow even the base variants to offer superior ride quality.
Furthermore, the overall handling and the ride quality cannot be calculated on the basis of on-paper specs only as there are other factors associated with it.
Towing And Payload Capacity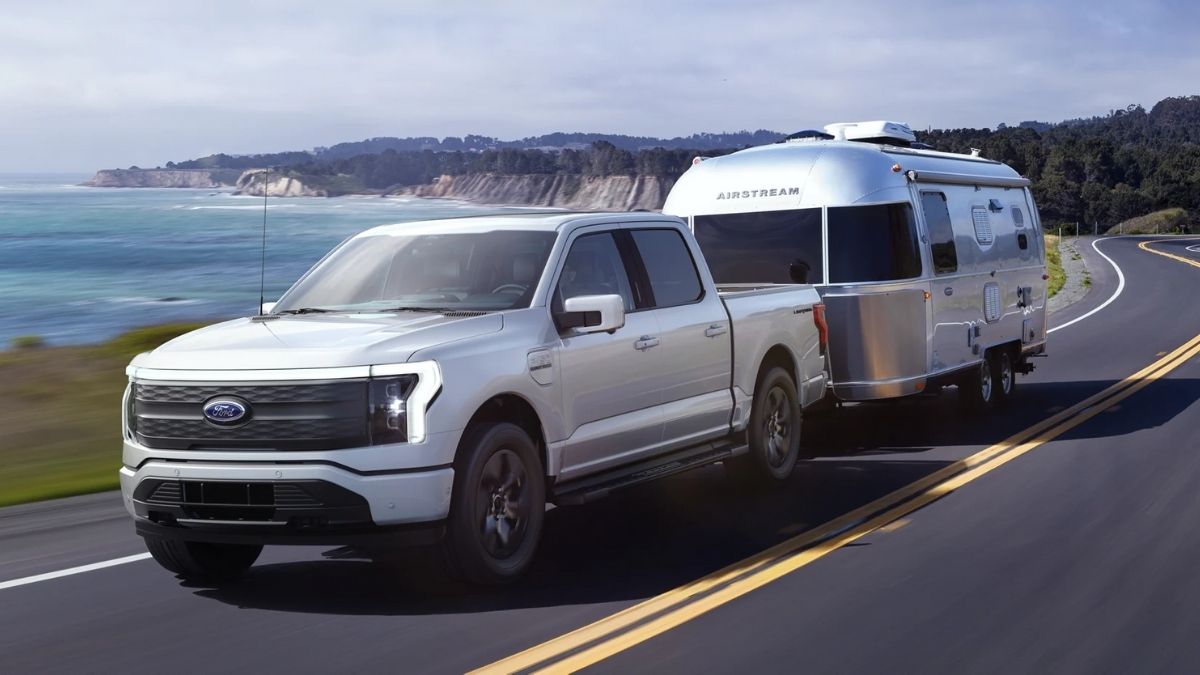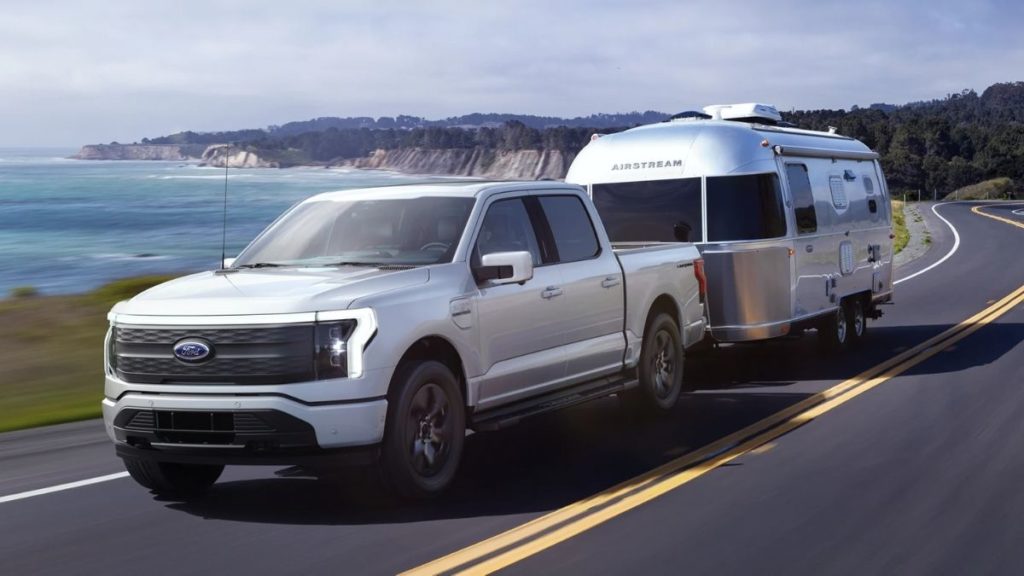 The Ford F-150 Lightning can tow up to 10,000 lbs and has a maximum payload capacity of 2,000 lbs.
However, Cybertruck can pull up to 14,000 lbs of weight while having a payload capacity of up to 3,500 lbs.
Clearly, Tesla Cybertruck can carry heavier loads than Ford's F-150 Lightning.
Features
Ford F-150 Lightning really turns the table when it comes to features. The 2022 F-150 Lightning is equipped with modern features like Intelligent Backup Power, Enhanced Pro Power Onboard, driver assistance suit BlueCruise, FordPass, Intelligent Range Calculator, Trailer Hitch Assist, and much more.
Tesla Cybertruck, on the other hand, is not far behind in terms of features. It's also equipped with innovative features like Tesla Autopilot, a massive center screen integrated with all necessary functions and details, Camp mode, Boombox, and over-the-air updates that will keep on improving the system.
Cybertruck is also built with 30X cold rolled steel and Tesla Armor glass that makes it robust and scratch-resistant.
Price
The base model of the Ford F-150 Lightning is priced at $39,474, however, that's for the commercial-oriented model. With that said, the price of a more equipped mid-series starts at $52,974 and goes as high as $90,474.
Speaking of Tesla Cybertruck, its price starts at $39,900 while the top-variant will cost you around $69,900.
Final Thoughts: Which Is A Better Pickup Truck?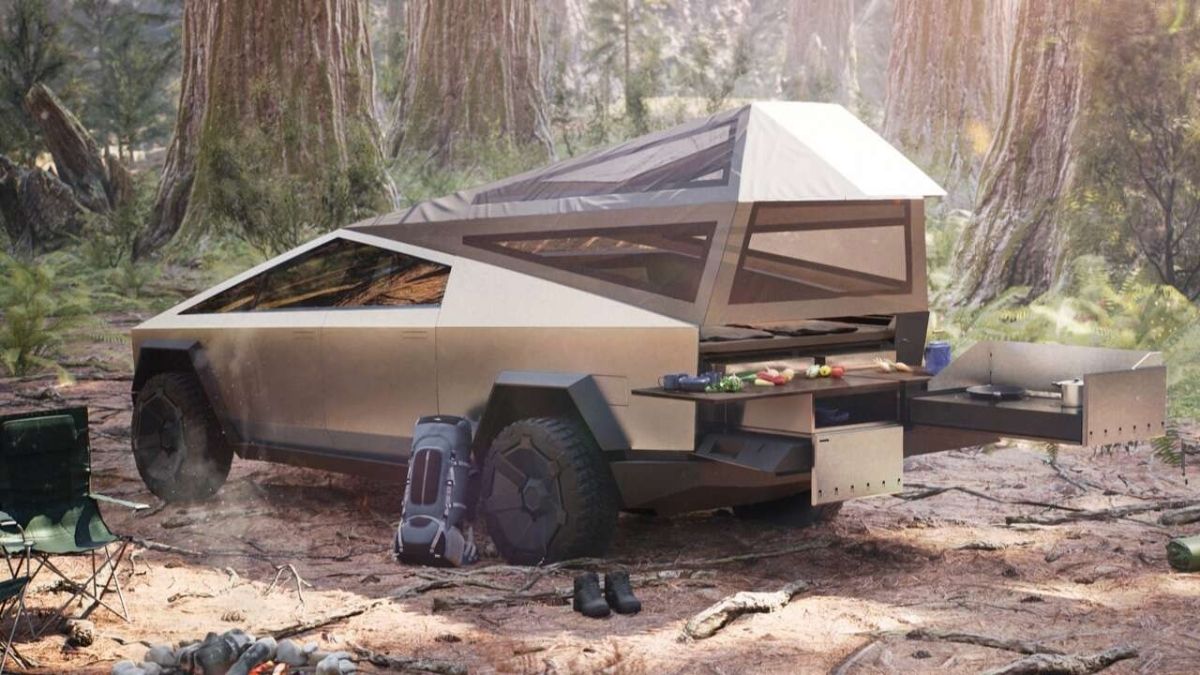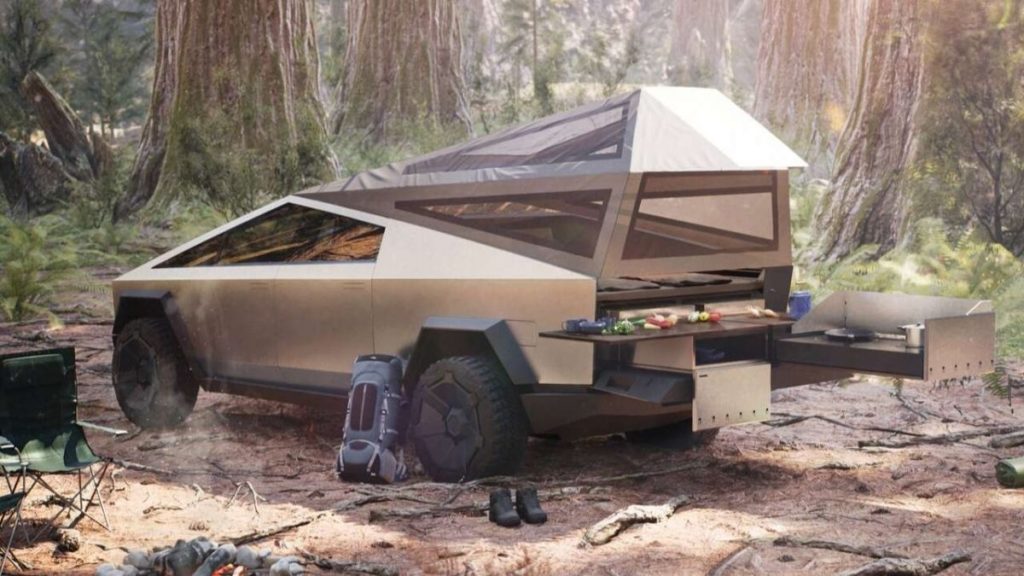 Well, in terms of electric range, performance, and even pricing, it's hard to beat Tesla Cybertruck.
However, if you widen the scope and take into consideration other factors then there are a lot of Ford F-150 Lightning offers. For reference, Ford offers an extensive range of features that somewhere lacks in Cybertruck.
Furthermore, when it comes to design, Cybetruck has a separate fanbase, many people call it futuristic design. However, it won't affect those who prefer the conventional design.
Anyway, considering the driving range, which is a crucial factor when it comes to EVs and capabilities of a pickup truck like towing and payload capacity, we think Cybertruck seems to have an edge over F-150 Lightning.
What are your thoughts on this? Share your views in the comments section below.