Short Bytes: The Everlast notebook by Rocketbook can be a great utility for the ones who don't want to take the burden of multiple notebooks. It is a reusable notebook having its pages made of synthetic polyester. It comes with a companion app which is used to scan the text and share it over connected cloud services like Google Drive. 
W
e are slowly moving towards a paperless world. Environmental reasons aside, going digital has empowered us to carry more information than before. Obviously, if there was no Kindle or iTunes books, there is no chance you would be taking that many books in your backpack.
Still, if not for reading, most of us prefer pen and paper for our writing needs, rather than using some smart pen or pencil on a tablet device. The Everlast Notebook by Rocketbook is an effort to reduce papers from your life, but it doesn't eliminate them altogether.
As the name suggests, Everlast is a notebook that can be used any number of times. You can write or draw anything on it using a pen and erase it later. But that's not the only reason that I am telling you about Everlast notebook. It comes with a companion app that is used to scan the content on the pages and save it digitally. Moreover, the content can be shared directly over various internet mediums like email, and cloud services like Google Drive, Dropbox, etc.
Now you might be thinking, page scanning apps are already available for smartphones. Well, they are, but Everlast has something more to offer. The creators of the app say it uses a patent-pending technology based on machine learning.
What's more fascinating are the set of symbols present at the bottom of each page. Using these, you can transfer what's written on the page directly to the desired services. For instance, just put a cross on the Star symbol and the text written will be sent to your connected Google Drive the moment you scan it using the app.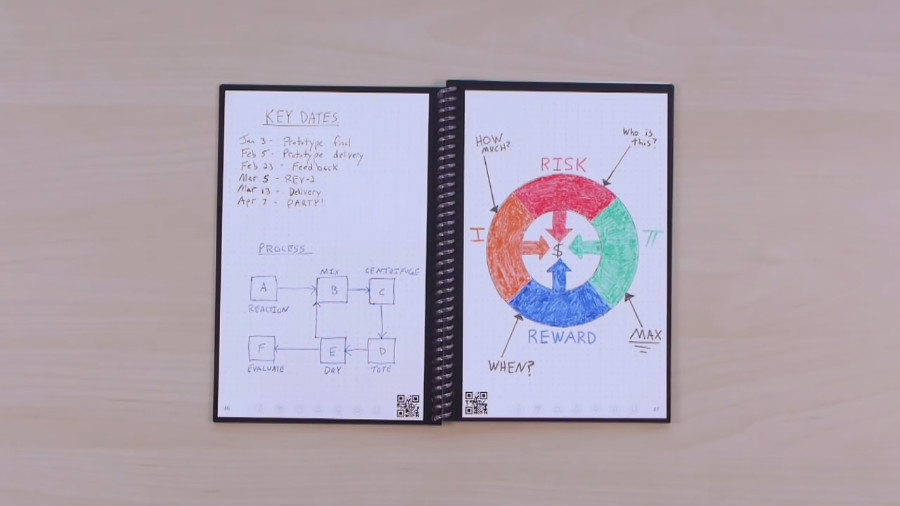 You can change the function of these symbols as per your will. Also, a QR code is also present at the bottom of the page; it helps the Rocketbook app to detect the serial number of the page and automatically sort the scanned images.
You can remove the text written on the page by wiping it with a wet tissue paper. It will remain intact if you try to rub it with your hands or even a dry tissue. The makers say that removing the ink many times doesn't develop smudges on the page made up of synthetic polyester. You can use a pen and ink of your liking, but the makers recommend the use of Pilot Frixon pens. These pens are known for their erasable inks.
https://www.youtube.com/watch?v=FL2aOGwm3Ak
Everlast is the next reusable notebook from Rocketbook. Earlier, they came up with 'Wave' which could be erased by putting it in a microwave. But, it had its limitations and could be reused around 20 times. In the case of Everlast, it can go up to 1000 counts.
Th Everlasting notebook is available on Kickstarter. For the ones who have the project, it is expected to ship by April 2017. You can check out the details here.
What do you think about Everlast notebook? Drop your thoughts in the comments below.
https://www.youtube.com/watch?v=E-o9Gogrp_4
Also Read: MACNETO: Just 1 Cable To Connect Your Android, iOS, Computer, Camera, And Other Things