An Elon Musk fan page on Facebook with more than 155,000 followers recently got verified by Facebook. Violating its terms, the company provided verification to nothing short of a fan page. Musk is not on Facebook, and it's quite evident he doesn't want to be because "it's lame."
The best part about Elon Musk's Facebook page is that it acknowledges that it is a fan page, and not Musk himself. However, there's room for confusion as the page has "ElonMuskoffici" as its username. This might lead some people to think that it's a legit account with a verified account badge on top.
Elon Musk arrives on Facebook

The About section of the fan page highlights the bio set for the page. Likewise, its last line reads that it is a fan page that uploads Elon Musk's tweets.
Musk owns a Tesla Roadster car in 0001 (the first one off the production line) from Tesla Motors, a company in which he is an early investor. The Roadster is a battery-electric sportscar with a 220 mile range.

This is a fanpage, uploading tweets etc from him
Also, it's not an active page either. There isn't more to look around for with 11 posts, including some photos of Elon and cryptocurrency memes. It appears that the page owner is a cryptocurrency enthusiast.
The Page Transparency feature by Facebook reveals that the page was created back in 2019. Its initial title was "Kizito Gavin," which represents the athlete Gavin Kizito. Also, the page history reveals that it went through six name changes with repeat name changes (no idea how).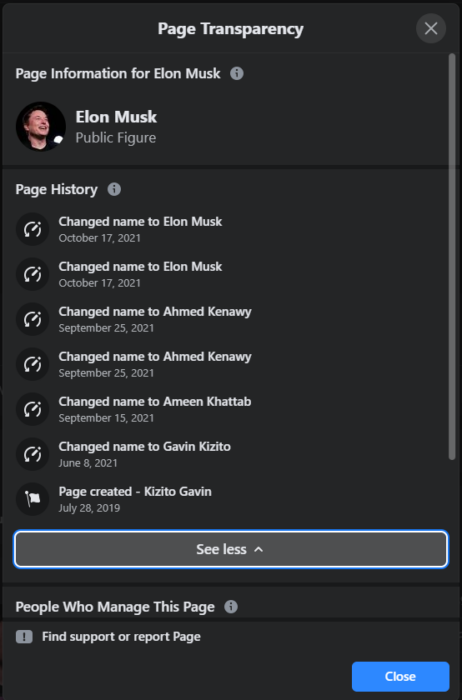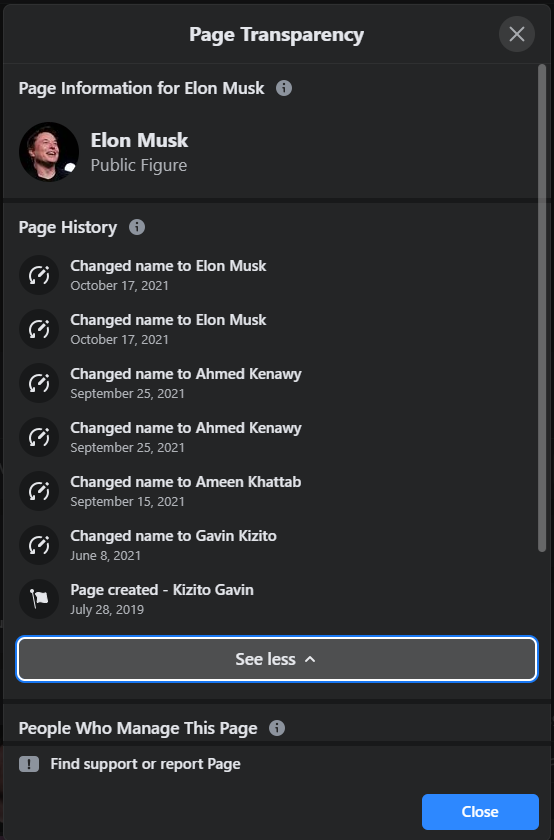 Getting verified on Facebook is not as easy as it seems. The tech giant requires users to submit their identity and proof that the profile has an authentic presence of a famous personality. However, some users find a workaround to get a verified badge without filling out any forms that require various proofs of identification.
Social media platforms have been making the rules for verification stricter by the day. However, users are still finding ways to bypass the restrictions easily.