Chuwi is a company known for its value for money products. We recently reviewed the Chuwi GBox Pro, a portable bite-sized Windows PC, and gave it high scores. The Gbox Pro offers great build quality, a healthy selection of I/O and a fairly decent performance.
Now, there's another computing product from Chuwi that seeks to target the dominance of Apple iPad Air and Microsoft Surface Pro series. The product we're talking about is called Chuwi UBook Pro and it is a 2-in-1 Windows PC available at $499.
The project started life similar to other Chuwi products on the crowdfunding site Indiegogo. The project had an initial goal of Rs. 9,08,121 or around $12,700 and managed to collect almost Rs. 1,33,10,017 or $1,87,207.
This is partly due to the fact that Chuwi UBook Pro checks almost all the right boxes in terms of 2-in-1 tablet PC. Although there are several variants of iPad and Surface Pro devices, Chuwi manages to offer its hybrid tablet PC at a very competitive price.
Here are our initial impressions.
Chuwi UBook Pro Specs, Price, Features, And Details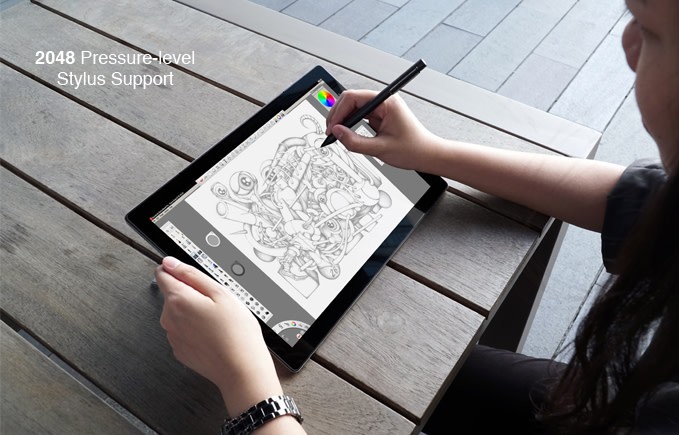 In terms of design, Chuwi UBook Pro looks similar to Microsoft Surface Pro 6. The only visual difference between them is the different I/O ports and thicker bezels on the UBook. The Chuwi UBook comes with a keyboard and a stylus inside the box.
The Chuwi UBook pro manages full-day battery life. This is partly due to the 12.3 inch IPS display and the Intel Core m series processor. For the uninitiated, the Core m series of chips are super-efficient and offer a great blend of performance and battery life.
The Chuwi UBook Pro uses the Core m3-8100Y CPU which has a Geekbench score of 3731 and 6115 in single-core and multi-core performance respectively. This dual-core chip belongs to the Intel Kaby Lake processor family and has four threads.
It is based on Intel's 14nm process and has an ultra-low TDP of only 5 watts, which can also be tuned up to 4.5 watts for extra power saving. The chip runs at 1.10 GHz base frequency and 3.40 GHz of max turbo clock speed.
Chuwi UBook Pro claims that it is capable of playing several e-sports titles. This is owing to the inbuilt UHD Graphics 615 inside the Core-m3 chip. This integrated GPU has support for OpenGL, Direct X 12 and a maximum clock speed of 900 MHz.
The graphic performance of this integrated GPU is still less than what the AMD Ryzen GPU offers, but it still gets the job done.
If you want a little extra juice then Chuwi also offers Intel Celeron N4100 as an option. It does have a higher TDP but features 2 additional physical CPU cores for better performance.
Now some other notable specs of the Chuwi UBook Pro now include 8 GB LPDDR3 RAM, along with up to 256 gigs of SSD storage. The I/O port selection includes an SD Card slot, a USB Type C port, 2 x USB Type-A ports, 3.5 mm headphone jack, and even a mini HDMI slot.
The 12.3-inch screen I mentioned earlier supports up to 1080p resolution and features 10-point multi-touch capabilities. Chuwi uses a 3:2 aspect ratio for its screen and claims that it is the best for using Windows in tablet mode.
In addition to the tablet mode, the Chuwi UBook Pro can be used in laptop mode or workstation mode with the help of a stylus.
The detachable keyboard on Chuwi looks great and also offers a number of features. It is backlit, which is great and has a polyurethane coating for protection from water or coffee spillage. Also, it comes with a big trackpad made of glass.
The Chuwi tablet weighs 780g and is merely 9 mm thick. The tablet also comes with inbuilt hinge support which can be set up at any angle ranging from 0° to 145°.
Chuwi UBook Pro Initial Impressions Conclusion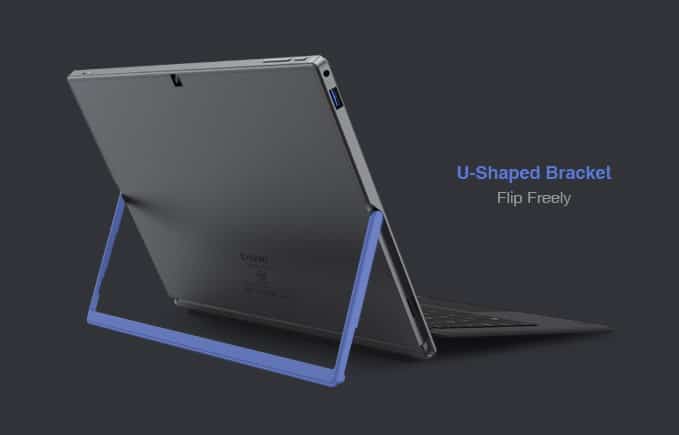 Having tested a Chuwi product in the past I am quite confident in the build quality of UBook pro. However, I'd still like to hold my final thoughts until I don't get my hands on the final product.
However, if you're interested in buying Chuwi UBook Pro then you can order one using our special link and get 10% off on the final price. The offer is valid for the first 10 customers, so make sure you don't miss it.
For a complete review of Chuwi UBook Pro, stay tuned to Fossbytes.