When I was chosen to write the Chuwi GBox Pro Review a week ago, I immediately knew that it was no ordinary device. At first, I was surprised by its super small form factor, its build quality and its healthy collection of I/O ports.
However, as I used the CHWI Gbox Pro, several of its shortcomings also became apparent. Quite often, I struggled with its average CPU performance, while other times I absolutely praised its versatility and portability.
Here's my review of the Chuwi GBox Pro —
Chuwi GBox Pro Review: Looks Black And Runs Stealthily
The only sound which comes from the GBox Pro is of the power button which I click on it. Other than that, Chuwi's fanless computer is dead silent. My mates at the office use Macbook Air most of the time and Chuwi's stealthiness filled my work desk with dead silence. I usually work on a desktop PC running a Ryzen 7 and an Nvidia GTX 1080, so such a silent aura during my working hours surprised even my co-workers.
Talking about the design and built quality of the Chuwi GBox Pro, both of them are exceptional, especially at this price point. The casing of the GBox Pro is solid, neatly laid out and absolutely immune to any kind of flex. The red accent on the top of the case can easily be used in a compact gaming PC and I wouldn't even know the difference.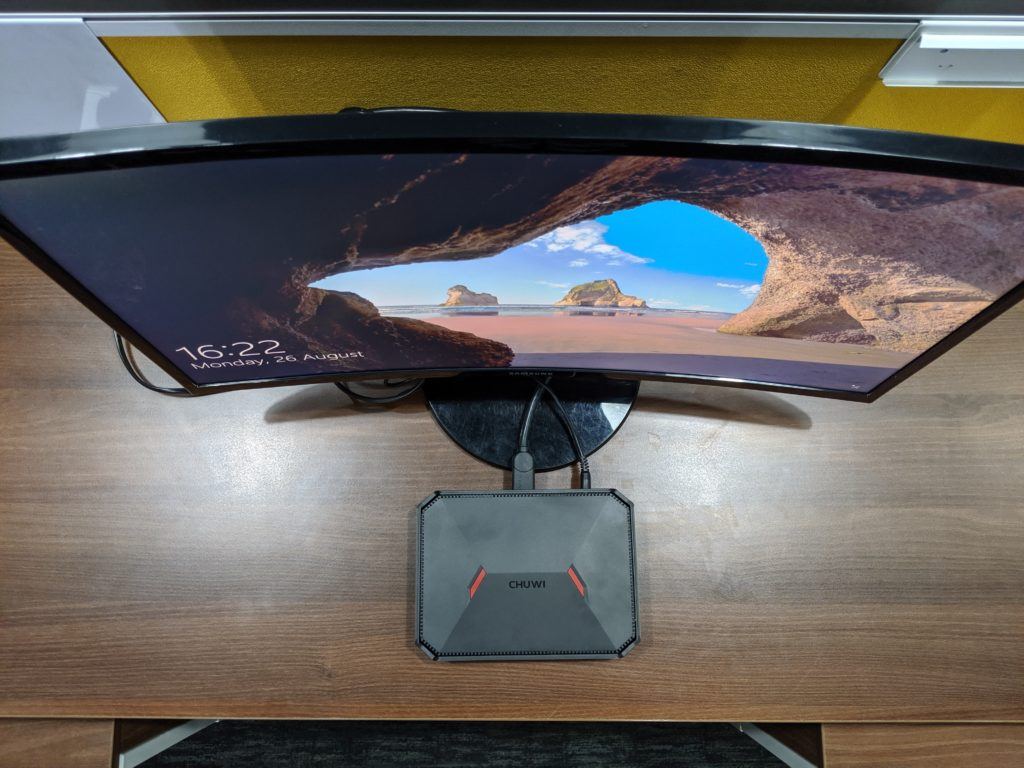 To make work easier, USB 3.0 and USB-C are given in front of the box, so you can quickly connect your accessories and your hard drives or smartphones for easy data transfer. This seemingly little design element is quite useful when I have transferred a lot of data from different devices.
At the back of the device, you'll find 2 x USB 2.0, an HDMI slot, and a VGA slot and a 3.5 mm audio jack. A 12-volt power socket is also present at the back along with a LAN cable slot.
GBox Pro is small enough to fit anywhere and you can even hide in easily somewhere on your desk to get that iMac look. GBox Pro is only available in black however I'd be really happy to see a white color option for the same.
Chuwi GBox Pro Is Jack of All Trades Master of Few
The Chuwi Gbox Pro I tested had the following specifications:
Chuwi GBOX Pro Specs
CPU
Intel Atom E3950 @ 1.60GHz
Apollo Lake 14nm Technology
GPU
Intel HD Graphics GW2780
Memory
64 GB EMMC
Ports
2 X USB 3.0, 2 X USB 2.0, USB-C, Micro SD, HDMI, LAN, VGA, 3.5mm Audio Jack
Connectivity
802.11ac Wi-Fi, Bluetooth
Dimensions
Size: 187.6 x 138.3 x 37.3mm
Before testing the Chuwi GBox Pro for a week, I was using a desktop PC with a Ryzen 7 1700, Nvidia GTX 1080 and 16 GB of DDR4 RAM. So using the Chuwi GBox Pro was obviously a downgrade for me.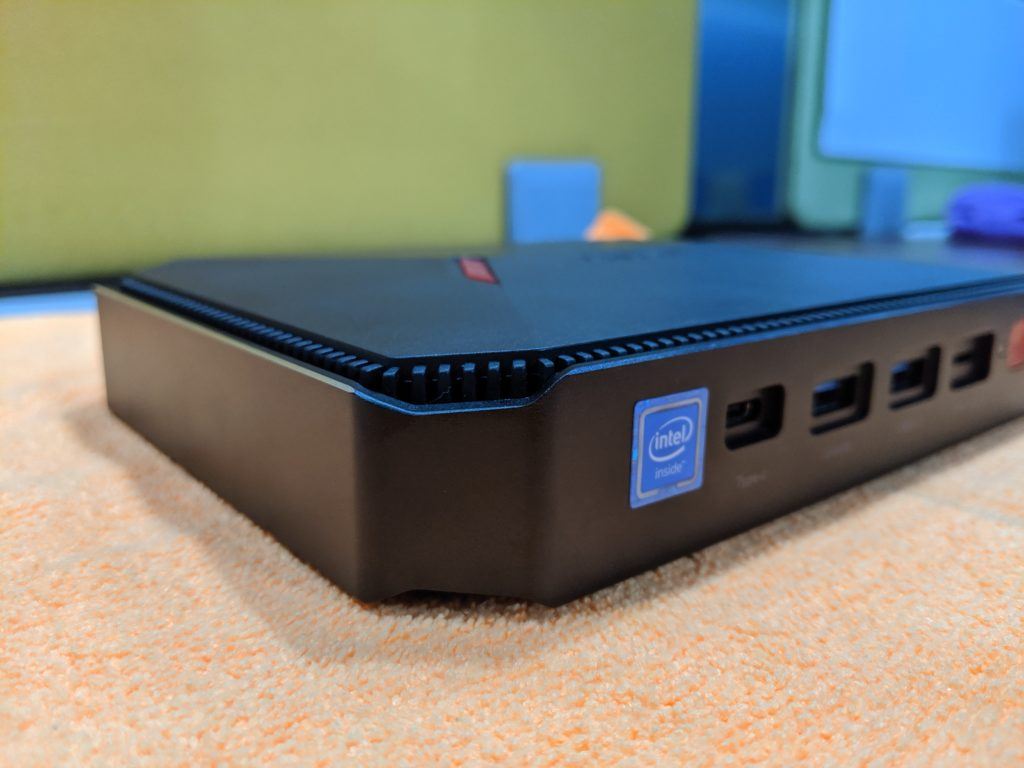 My usual workday consists of using Chrome, Slack, editing apps like Vectr and Canva, a bit of Google docs and a lot of YouTube. Most of the time there were around 8 to 10 Google Chrome tabs open on my screen and quite surprisingly Chuwi GBox Pro remained absolutely silent throughout.
The Fanless GBox Pro was able to maintain 60-degree Celcius during most of my workloads. However, the performance did take a serious hit as my system started to lag while moving across different Chrome tabs. Typing on Google Docs also became an issue as the workload increased.
Chuwi used an Intel Atom X7-E3950 in the GBox Pro. It is a quad-core unit with four threads clocked in at 1.60 GHz. It does not support Hyper-Threading which is a bummer.
Intel is known for its single-threaded performance and since Hyper-threading is already unavailable, I'd love to see either an Intel Pentium or an Intel Dual-Core Celeron Chip in the GBox Pro. I fear that the 12V charging socket might not be enough for a powerful chip.
Chuwi also ships a version of GBox Pro with an Intel Celeron Dual Core processor. I'd suggest this is the version to go for if you want a little extra oompf.
Chuwi GBox Pro comes with a 64 GB eMMC storage which is common in netbooks and ultra-portable devices. You can expand the storage even further using the SD card slot located on the front of the GBox Pro. Internal storage is quite slow and struggled a lot while accessing video files. This struggle was never apparent because the GBox always remained totally silent, even when it was being choked with workloads.
The system comes with Windows 10 Home Edition pre-installed but users also have the option to go for Linux. I'd recommend the former due to its ability to handle low spec computers in an efficient way. I didn't get a chance to use Linux on the Chuwi GBox Pro, but I have used Linux Mint to revive my 4-year-old laptop, thus I am pretty sure Chuwi can handle it as well.
The available free space on the Chuwi GBox Pro is around 40 GB after the Windows 10 Home edition installation. Thus, it'd be wise to use an external hard drive via USB-C port if you want to get some work done.
The USB Type-C also means that you can attach an external GPU on the Chuwi GBox Pro. However, the Intel Atom Quad-core processor would prove to be a major bottleneck. I'd recommend using an entry-level Nvidia card like GTX 1650 due to its low power requirement in case you want to game on this thing.
Speaking of gaming, Chuwi GBox Pro is really not up for it. Don't even think of running any new games on it or else the whole thing would just crash and burn (silently, I reckon). GBox Pro is great if you want to use retro games emulator OS like Retroarch, MEmu, etc.
The Intel HD 600 series graphics aren't good for anything besides light photo editing and video streaming. Chuwi claims that GBox Pro can play with 4k files. Well, it can do so but the entire system is strained during the operation.
Chuwi GBox Pro Review: Verdict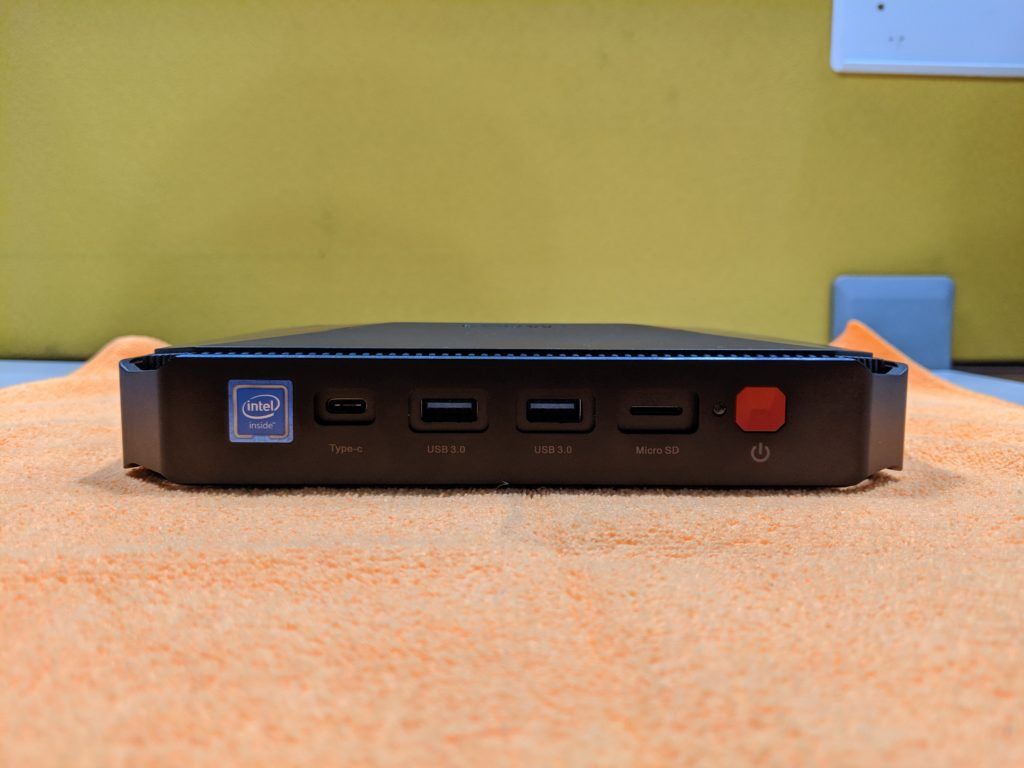 GBox Pro is an average performing PC wrapped in a beautiful casing which performs silently — all the time. Chuwi GBox Pro is a machine with outstanding build quality and design; however, it is held back due to its CPU performance. I would wholeheartedly recommend GBox Pro if Chuwi can upgrade its processor. Until then, I'd only advise this product to all those people who are die-hard fans of compact PCs but can't afford to spend more than $250.