Apple's annual iPhone launch event is just around the corner, and we already know a lot about what's going to happen September 12. Different leaks have also suggested that the new iPhones will follow the Apple's traditional naming style and will be called iPhone XS and iPhone XS Max or XS Plus.
Out of all the three upcoming devices, the most interesting one is the cheaper iPhone with an LCD display. A new leak has suggested that it will be called the iPhone XC.
This leak comes from a Chinese carrier's marketing presentation. The pictures from the slide are circulating on the Chinese social media site Weibo; it also shows a table with the Chinese prices of the devices.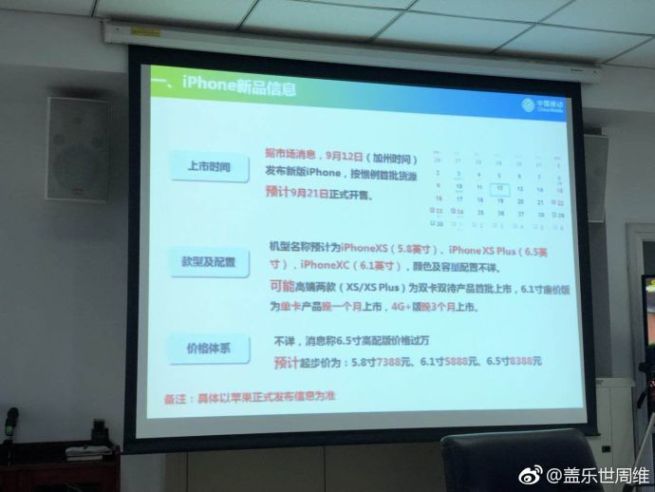 As per 9to5Mac, the leaked pricing is $900 for iPhone XS, $1,000 for iPhone XS Plus, and $699 for iPhone XC. These are the prices for the base models with 64GB storage.
Given the multiple color options coming for iPhone XC, it makes sense for Apple to go for the C suffix. The slide also tells that the high-end, 6.5-inch device will be called iPhone XS Plus.
While leaks like these have been becoming increasingly common these days, it goes without saying that they should be taken with a grain of salt. The Apple's annual event is just a couple of days away, and it'll be interesting to see what the company has to offer.