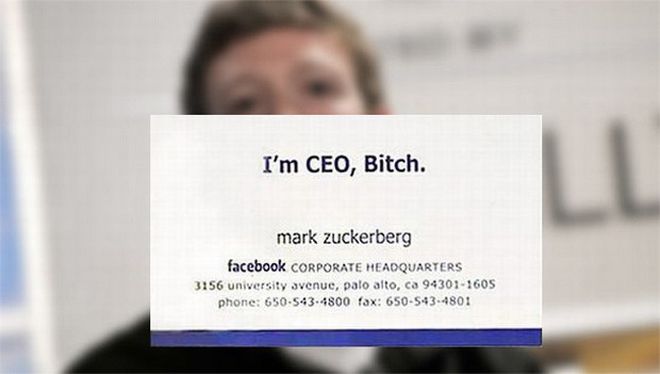 Short Bytes: Mark Zuckerberg's "I'm CEO, bitch." business card story still manages to get the limelight, even after 6 years following the launch of the book, The Accidental Billionaires. Bryan Veloso, the interaction designer at Facebook back then, recalled his experiences in a Quora reply.
O
ne of the many
Zuckerberg stories
is about his legendary business card, "I'm CEO, Bitch".
The Social Network
story is very real and the screenwriter Aron Sorkin took the original transcript from Zuckerberg's LiveJournal blog which was used word-by-word, except the name of his girlfriend which was changed to Erica Albright in the movie. But that doesn't play any of the roles in Zuckerberg's "I'm CEO, Bitch" story.
"I designed the original Facebook business cards" – wrote Bryan Veloso in his Quora reply, who currently titles himself as Partnered Broadcaster at Twitch. "It's been almost 10 years since I designed them, so I'll recall this as best as I can."
Bryan was the interaction designer at Facebook in 2005. He, along with Aron Sittig, was assigned the task to make business cards for the team, comprised of a handful of nerds back then. He could easily recall the talks he had with the "aggressive" Mark. Like Steve Jobs, the Chinese-speaking Facebook CEO was quite honest with his admirations about Jobs.
"It was during one of those meetings where I remember him first uttering the phrase, "I'm CEO, bitch…"
These business cards were designed right after Facebook saw a name-change from "TheFacebook". Bryan referred such designs as "happy accidents" and thanked his close relationship with Zuckerberg that made him comfortable to use the phrase – "So, quite simply, it was a phrase I typed in that stuck."
However, The Social Network has shown an entirely disparate version of the story. In the movie, Napster founder Sean Parker, played by Justin Timberlake, was the one who gave that idea to Zuckerberg – "This time you're gonna hand them a business card that says, 'I'm CEO, bitch!' — that's what I want for you," Parker says in the movie. A few minutes later, Zuckerberg was occupied with a box of "I'm CEO, bitch." business cards.
The two versions of the story might have faced a cross-over at some time. Conceivably, it was a knee-jerk reaction that Zuckerberg uttered the phrase "I'm CEO, bitch." in front of Bryan after hearing it from Sean Parker. The Social Network was an adaption of "The Accidental Billionaires", penned down by Ben Mezrich, who sourced the content from the conversations he had with co-founder Eduardo Saverin as Mark Zuckerberg refused to make any contribution.
According to Bryan, these cards were a felicitous portrayal of the culture of a company led by a hoodie guy, back then. Eventually, the cards retired and then there were new ones, representing a more matured version of Facebook – "Their replacement reflected the changes a young Facebook needed to go through in order to be where it is today." – wrote Bryan.
When you give everyone a voice and give people power, the system usually ends up in a really good place. So, what we view our role as, is giving people that power.
Mark Zuckerberg
What's the tagline on your business card? Write in the comments section below.
Also Read: Here's Why Developers Are Angry Over Facebook's Decision To Shut Down Parse