This article covers the method to follow all the pages, people, and groups you have unfollowed on Facebook in the past. This eliminates the need to visit the individual Facebook page for each one of them.
T
here are times when you don't want to get your News Feed flooded with annoying posts. You unfollow pages and people who post useless content every now and then. Sometimes, you just don't want to see updates from a specific person for a while.
Now, one day you feel the need to get updates from the pages and people you've unfollowed. One simple procedure would be visiting the Facebook profile for each page unfollowed on Facebook and clicking the follow button. That would be a tiresome job if you have hundred such people in the unfollowed list. What if you have forgotten names of the people you've unfollowed on Facebook. This method will allow you to follow all such pages, groups, and people in a single shot.
Here are the steps:
Following all unfollowed people on desktop: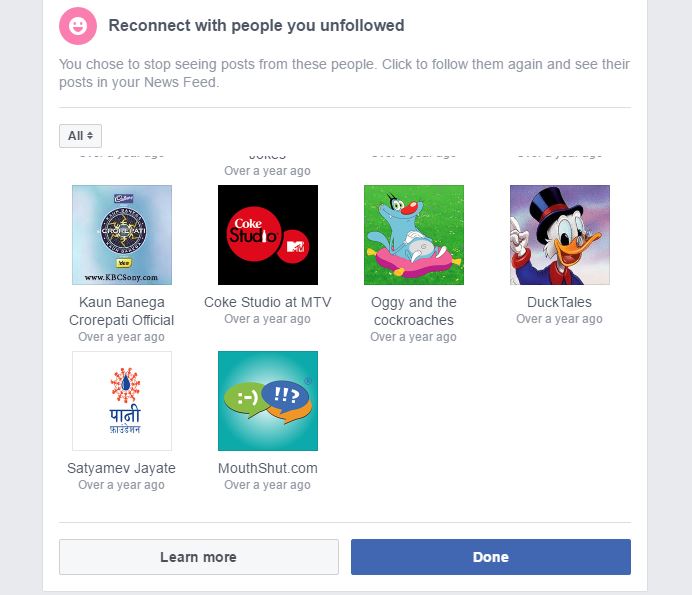 Sign-in to your Facebook account.
On the Home page, hover your mouse on News Feed on the left-hand side.
Click the small Settings button visible on the left side of the News Feed.
Click Edit Preferences.
Click Reconnect with people you unfollowed. It will display all the pages, groups and people in a thumbnail-style view.
Click on the picture to follow/unfollow that person. You can filter the entries by pages, groups, or people by clicking the All drop-down list.
Click Done to save the changes you have made.
Following all unfollowed people on mobile app:
In the Facebook App, tap Settings tab (three horizontal lines).
Scroll down and tap News Feed Preferences.
Tap Reconnect with people you unfollowed.
Tap on the picture to follow/unfollow people, pages, and groups.
The updates from all the people you have followed will be visible in your News Feed from now on. This method saves your valuable time that you may have wasted in visiting the individual Facebook profile. You can use this bonus time to read more of our content.
Check out these articles about Facebook: