Short Bytes: Bitcoin, the world's most popular cryptocurrency has hit an all-time high, surpassing the symbolic $2,000 mark for the first time. This year bitcoin has surged more than 100% and it currently sits at $2,177. Various factors like favorable conditions in Asian markets and a positive hype has helped bitcoin achieve this feat.
T
he price of bitcoin has surpassed $2,000 for the first time. This has pushed the world's most popular cryptocurrency to a new and remarkable height. According to
CoinDesk's Bitcoin Price Index
, at the moment, bitcoin sits at $2,177.
This new valuation has put the total market cap of bitcoins in circulation at $32.92. This year, the price of Bitcoin has surged more than 100% since hitting an annual low of $891.51 in the last March.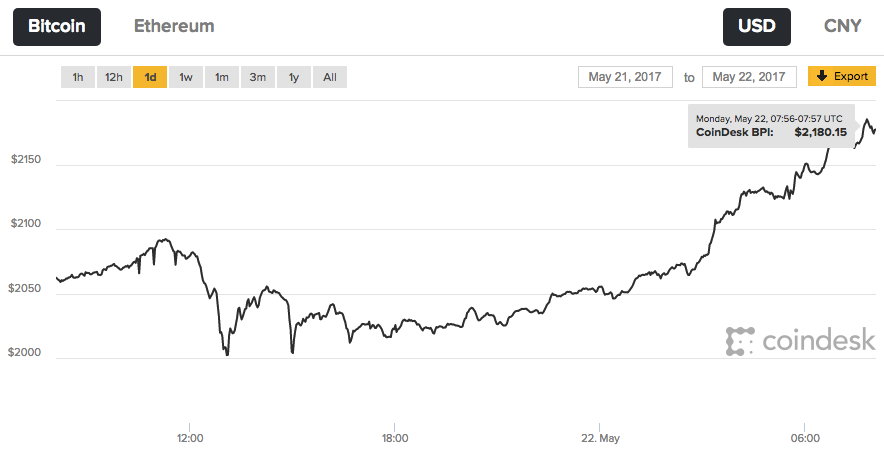 Reasons behind the explosive growth of Bitcoin
In recent past, digital money's popularity has become mainstream. People are seeing it as a gold-like asset that can hold value in times of instability. The fast growth in other cryptocurrencies like Ethereum, Litecoin, and Lumen has also make bitcoin more popular.
Another important factor helping in the rise of Bitcoin is the new set of rules that were introduced in Japan to treat bitcoin like a part of the banking system. Similarly, in China, bitcoin investment has become less risky.
Apart from these developments, there is a lot of good hype at the moment. We all know that bitcoin is prone to sudden crashes but things are looking more positive at the moment. More people are now knowing about bitcoin and others are learning its importance.
Did you find this spectacular rise of bitcoin interesting? Don't forget to share your views with us.