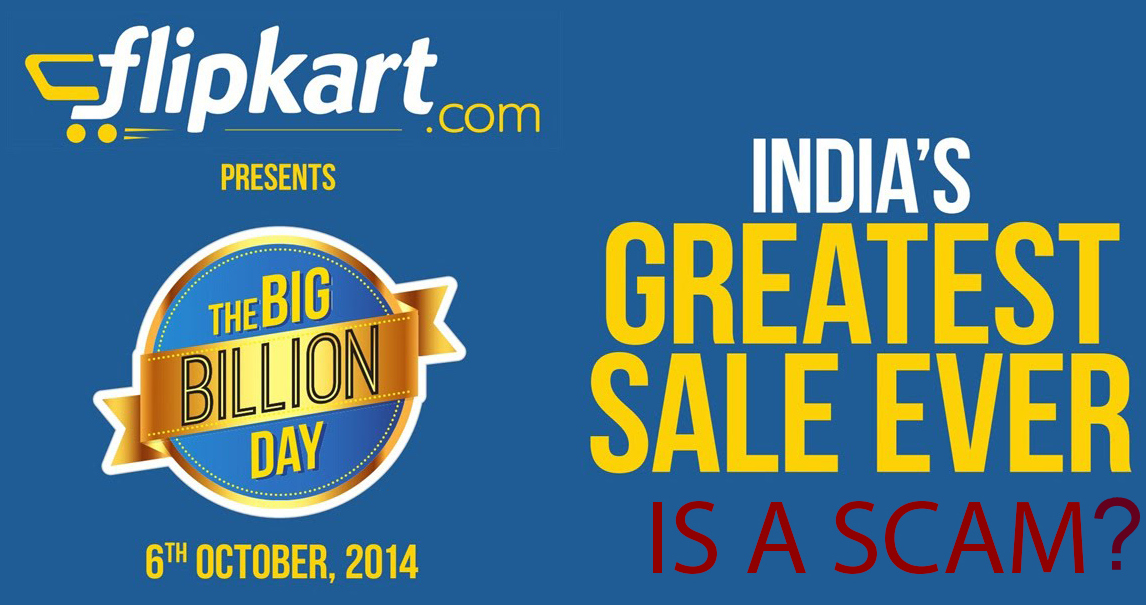 Yesterday online retailer Flipkart's Big Billion Day created a havoc on internet and social media. Ultimately website crashed many times during the day. I tried to buy a couple of products early in the morning but was unable to do so. Later in the day, many products ran out of stock.
The buzz created soon turned out to be an unpleasant one and the website got criticized big time on social media. There were problems of limited stock, error messages and user felt like being cheated when they came to know that same product was priced at a lower price a few days ago. Increasing the prices and then offering huge discounts is a general practice of online retailers and the users got annoyed when they found same products at a lower price on Snapdeal, Amazon and other websites. Ultimately it was labelled as a flipkart scam on social media.
See Also : Flipkart in News : Fear of 1000 Crore Penalty, 400 'Crorepati' Employees
The only products I found genuinely discounted, were Motorola and Nokia Lumia products. Moto E was being sold at Rs 5,499 while Nokia Lumia at Rs 4,999. Nokia 1020 was sold at Rs.20,000, almost 60% less than its launch price. A couple of other electronic items were also being sold with good discounts.
Whole day #Flipkart was trending on twitter along with Snapdeal's #CheckSnapdealToday. #AsliDealsOnEbay was also a trending topic. Flipkart and Snapdeal sold products worth Rs.600 crore each.
Image : Twitter
Snapdeal said it witnessed a record-breaking day of sales on Monday. "We witnessed sales of over a crore rupee a minute, with lakhs of products being sold in a single day," Kunal Bahl, Co-Founder and CEO of Snapdeal.com, said in a statement. "The best part of the day: we didn't really spend much to bring customers to Snapdeal.
Amazon is also running a similar 3 day campaign but didn't reveal their exact numbers. "Today (Monday), on the last day of our 'Mission to Mars' campaign, we have witnessed a 100% increase in sales since yesterday," Amazon India said in a statement.
See also : Flipkart and OLX Announce a Distinctive Partnership
The Flipkart founders Sachin and Binny Bansal seemed satisfied with the sales and said, " It was an unprecedented day for us…we got a billion hits on our site today and achieved our 24 hour sales target of $100 mn in GMV in just 10 hours. We are truly humbled by the immense faith our customers have shown in us." Flipkart may consider it a success but it was a failure, with Snapdeal and Amazon emerging as victors. I think the profit Flipkart earned yesterday, was diminished by the negative feedback it received.
---
Also Read : Top FossBytes of the Month – September 2014
---