While listening to songs and writing this very article, I realized that music has the ability to wake up a lazy ass like me and make me work the way I should be working. Us music lovers know how awful a day it gets when we forget our favorite earphones/headphones during the commute. While we love listening to songs all the time, there are times when we just can't get the song lyrics we are listening to and get stuck or feel a bit embarrassed.
To keep listening to songs without facing a roadblock, all we need is the right song lyrics finder, for which I am here to help you.
Therefore, today I will be presenting you with a list of best song lyrics finder apps so that you don't have to feel weird when you are jamming, and you don't know the lyrics to the Hardwell song you heard, by heart.
Note: The appearance of the song finder app on my list is as per their rating on the app stores.
7 Best Song Lyrics Finder Apps In 2019
1. Lyrik – Instant Lyrics Search
When I want an app to find me a song by lyrics, I expect an easy-to-use app with the right music lyrics at my disposal. And that's exactly what the Lyrik lyric finder app does. The app has a really simple UI wherein lies a search box in the middle.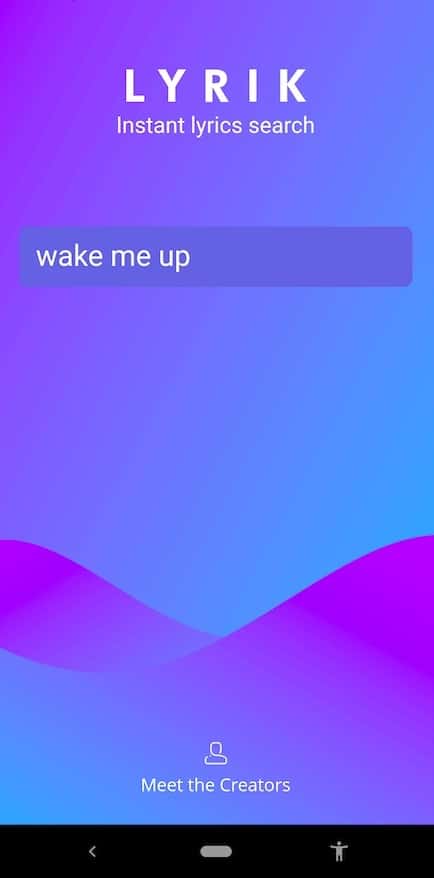 To find songs by lyrics, all you have to do is type in any line of the song or its name (simple keywords would work) and search. The search results include a lot of song options based on the keywords provided, and you just have to select your desired song.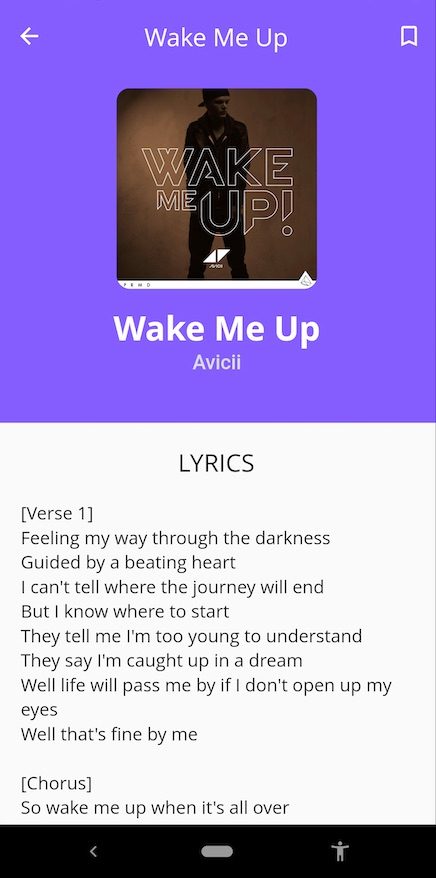 While I made my lyrics search, I was easily able to find lyrics to whatever song name I entered. In fact, the other song options available were also displayed, which helped me know about new songs if I didn't know about them already.
Pros: Simple app
Cons: Serves no additional feature
Availability: Android
2. SoundHound 
When I decided to conduct my song lyrics search, the SoundHound lyrics finder app helped me big time. When you open the app, you just have to allow it access to the microphone and just start looking for song lyrics.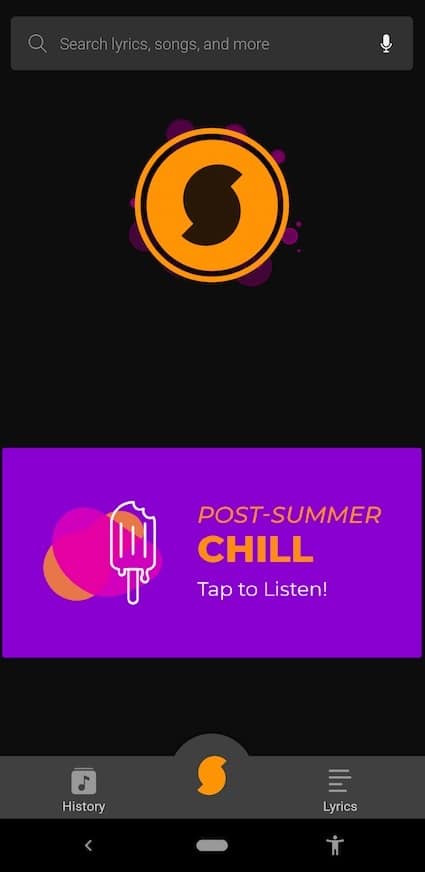 The app has three options to choose from: History (you have to log in for this), the app's logo in the middle for song identifying capabilities, and Lyrics to look for lyrics to the songs you need.
During my usage, the app was able to find free song lyrics to most of the song names I entered (both Hindi and English). An additional feature is that you can look for songs using the app's inbuilt voice assistant. However, I wasn't really able to recognize the song names I asked for.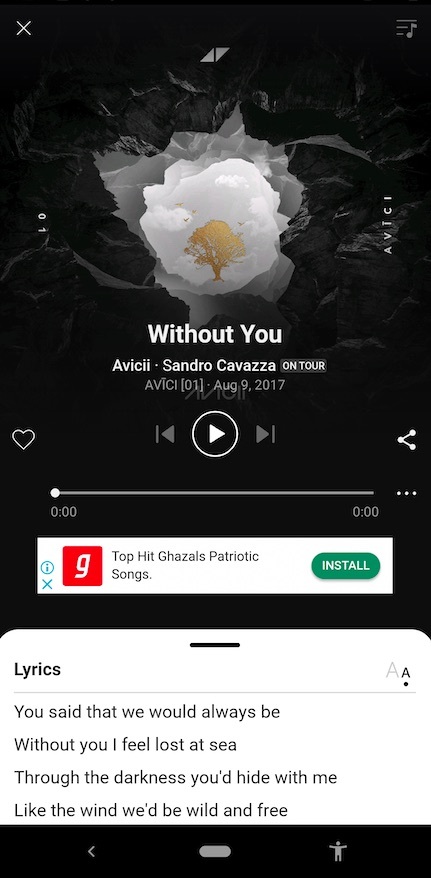 One more advantage of this song lyrics finder app is that it plays the songs then and there along with the display of the lyrics. This makes SoundHound more efficient as you don't have to open up two different apps for this purpose.
Pros: Plays music alongside lyrics.
Cons: Voice assistant not that helpful
3. MusixMatch
The MusixMatch lyrics search app offers various functions similar to the SoundHound app; there's a presence of a song identifier tool to identify any song, along with the mandatory lyrics search.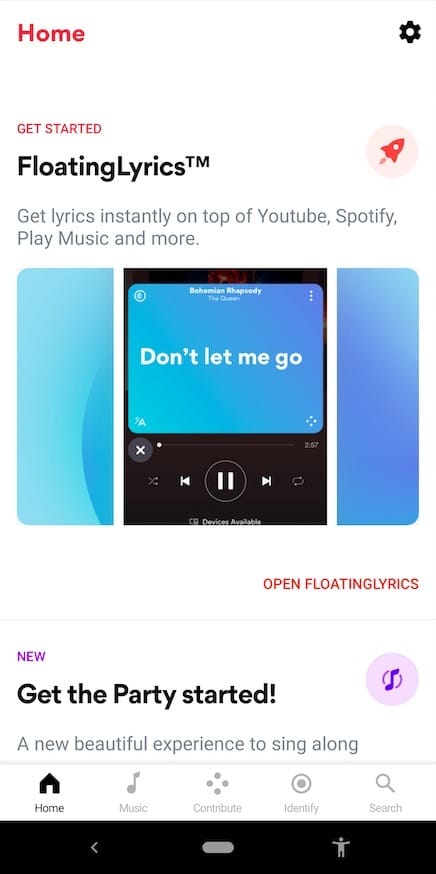 Divided into five major sections (Home, Music, Contribute, Identify, Search), the app also allows you to play music from other music-streaming apps installed on your phone.
While looking for lyrics to my favorite songs (be it Hindi or English), I could not come across any difficulty, and the songs could be played along with the lyrics. Furthermore, the Home section of the app provides you with various options such as floating lyrics options, a sing-along experience, lyrics translation into 60 languages, and various trending song options.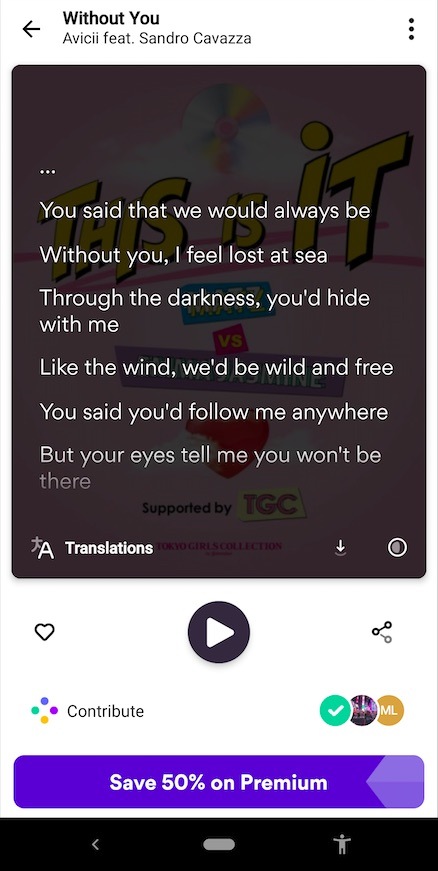 While the app is a complete package, the lyrics search wasn't really a smooth one. There were times when the app wasn't able to show the best results, and I had to type the exact name to get the song lyrics.
4. QuickLyric
When you open up the QuickLyric app, the app gives an overview of its features. While the app primarily finds lyrics, it also plays music from other third-party apps on your device, upon giving access. This will ensure that the songs and lyrics are under one roof, which counts as its advantage.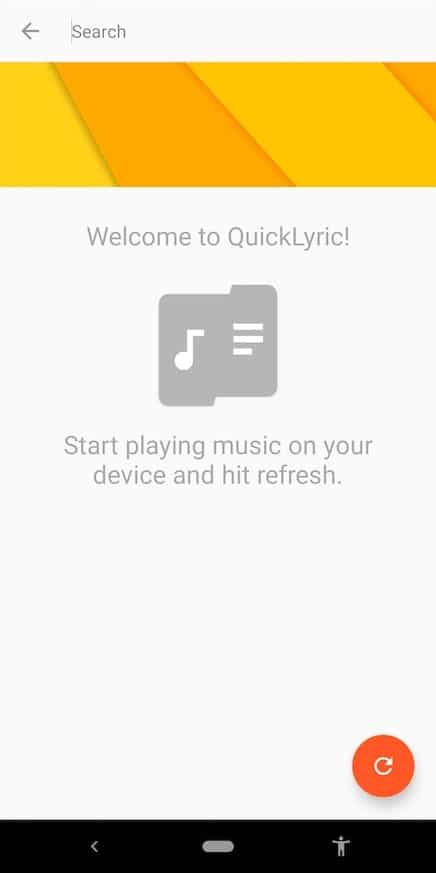 You just have to go about the lyrics search for the song you desire and the app enlists the various songs associated with the same name. While I used the app, the lyrics got searched pretty easily and quickly. Furthermore, there's a refresh button to start the search again.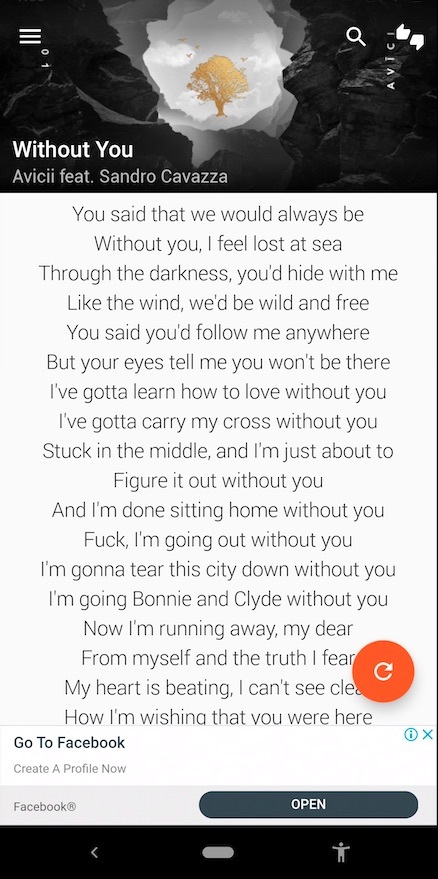 There is also a hamburger menu to access various options such as recent tracks, saved lyrics, or identify lyrics, settings, and more. For added benefits, you can opt for the premium version of the song lyrics finder app, which is currently up for free trial.
Pros: Easy lyrics finding
Cons: Doesn't have Hindi songs
Availability: Android and iOS (soon)
5. Lyrics Mania
Upon opening the Lyrics Mania app for music lyrics, the app tells you about what it does and asks you to login with either Facebook or Google, which could be a hassle for many. Of course, once you do so, the app has access to your data.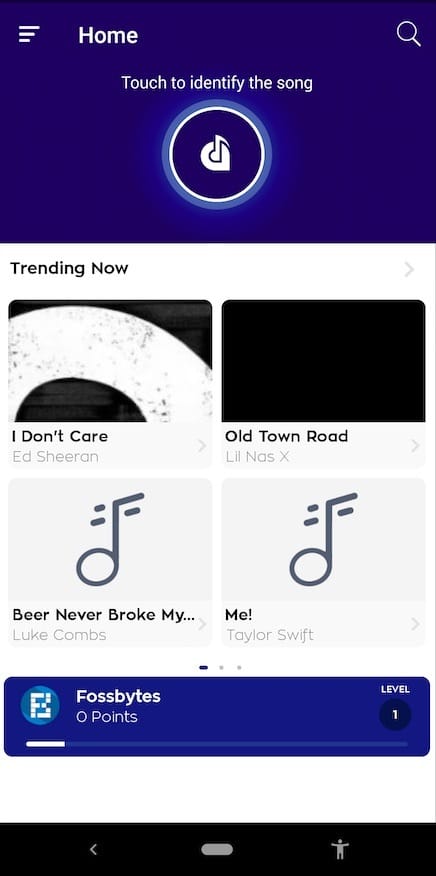 The app allows for song identification with the MusicID feature, song lyrics search, shows trending song options, and even trending searches. It easily helped me find a song by partial lyrics, wherein it also gave me the option to translate into other languages.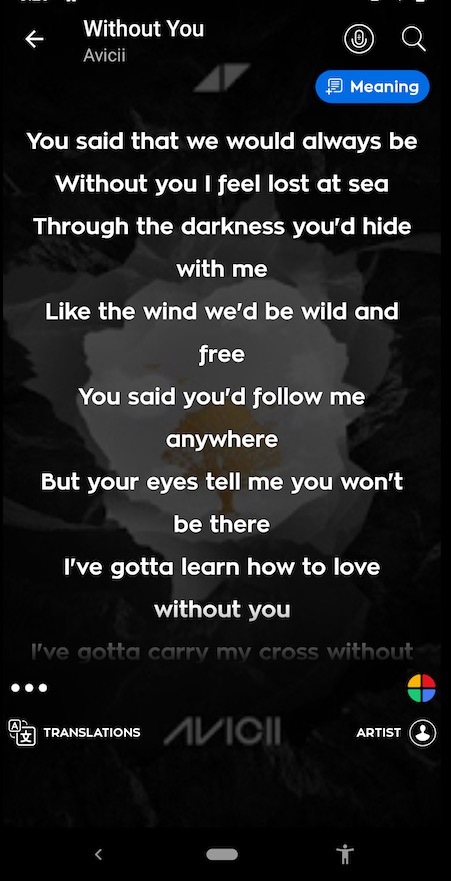 Apart from the various settings from the hamburger menu, the app helps you earn some points on various levels by modifying lyrics, syncing lyrics and other activities you can perform, which is an interesting thing. One turn-off is the presence of ads within the app.
Pros: Trending song options
Cons: Sign up via Facebook or Google account
6. Lyrics Library
While helping us find songs lyrics, the app also lets us write, save and edit lyrics, and helps us add chords or markers over lyrics. This added functionality is the reason the app is present on my best song lyric finder apps list.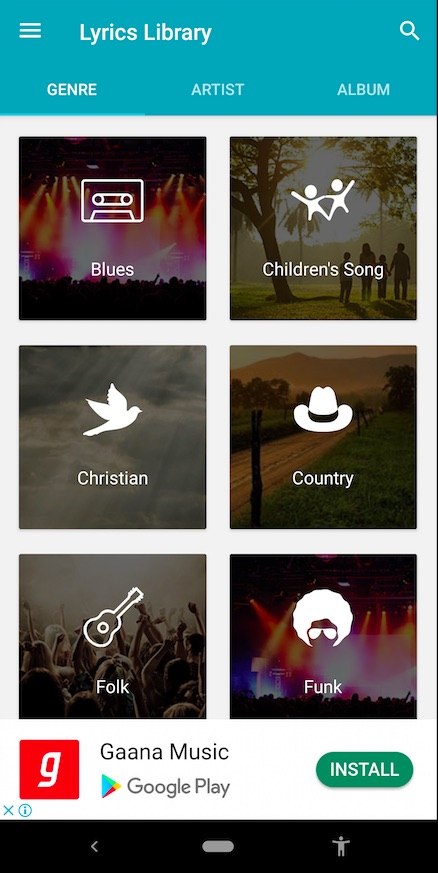 The app also requires you to sign-up with either your Facebook or Google account. The app is pretty organized and is divided into sections such as Genre, Artist, and Album — allowing you to look for music lyrics easily.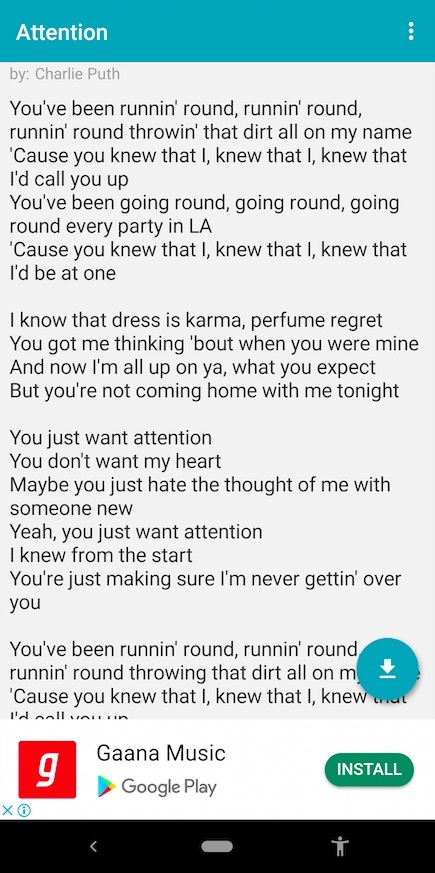 While there are various genres to choose from, the app doesn't have all the songs you need, which can be a drawback. Another downside is the presence of adverts in the app that can prove annoying. Among various other things, there is a hamburger menu to get hold of various settings and other app options.
Pros: Works in offline mode
Cons: Sign-in procedure
Availability: Android
7. Genius
The Genius app has various interesting features such as the display of music news to keep track of the music world and the trending charts on the home page.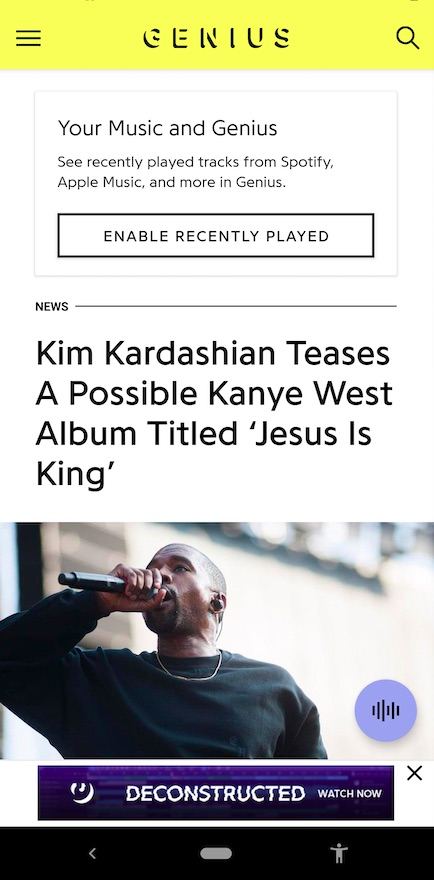 The app lists down various song options when you search for lyrics to any of the songs (Hindi or English); selecting the one you need will display the music lyrics to that song. There's a button on the app (situated at the bottom right side) to allow the app to identify music.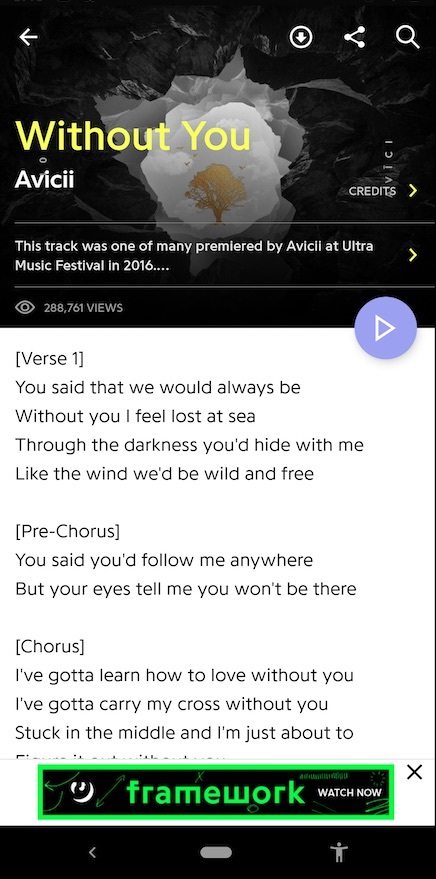 Additionally, there is a hamburger menu for various other app options you need to check out. While everything is pretty decent on the app, the ads are definitely a downside.
The app offers a lot of features apart and lets your search for free song lyrics, which is the reason it is on my best song lyrics finder list.
Which Song Lyrics Finder App Is Your Choice?
As I know the struggle one faces when they can't understand the lyrics of a particular song, I wish my lyrics finder app list solves your problem and the above-mentioned apps become your best friend during any activity of the day.
To clear the air, as usual, both the Google Play Store and the App Store offer a number of lyrics finder apps, and you can choose whichever you like.
If I go as per my choice, I liked the Genius app, given that it has various options in a single app. Let me know which one is your favorite from my list or if you have any suggestions to make. Until then, keep the music on and the world off!