Have you ever been in that situation where you hear a soothing song on the radio and before you could figure out its name… poof …it's gone. In most cases, you wouldn't be able to recall the lyrics nor have any idea about the song's artist. Thankfully, there's a catalog of song finder apps to identify music on Android devices.
You can identify songs on some of these apps, merely, by humming into your smartphone's built-in mic. Song recognition apps a.k.a. Music ID apps mainly collect samples of the listened music and compare the audio fingerprint to a huge online database of songs.
In a nutshell, song finder apps answer one of the most common questions we ask while listening to some new playlist: "What song is this?" or "What's playing in the background?"
Here, I have compiled a list of the top song finder apps to identify music / songs available on Android in 2022, so you don't lose out on any song ever again. At the end of each app, I have rated these music finder apps based on their song recognition speed and accuracy. So, let's get started:
List of Best Music Finder Apps for Android (2022)
Music ID
Shazam
SoundHound
MusixMatch
Genius
BeatFind
Soly
Google Now Playing
1. Music ID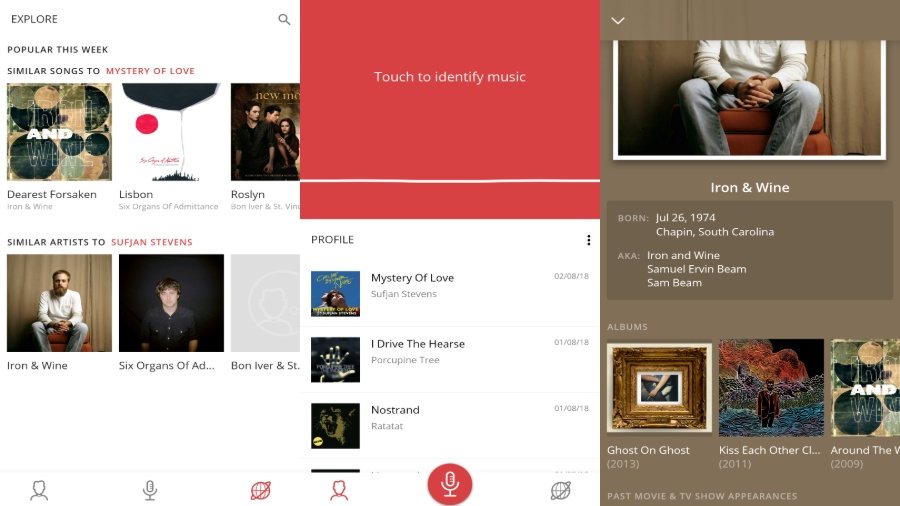 Although Music ID does not provide any unique features that aren't listed above, it is excellent for people who just need a minimalistic-looking app, providing one of the best music recognition capabilities and soundtracks tags.
The music finder app features the Explore tab, where you can see information about top songs and different artists. Unfortunately, the app doesn't showcase the lyrics of a song. But on the bright side, you can add comments on the identified songs.
One interesting feature of the Music ID Android app is that it displays a detailed profile of every artist like movies and TV shows information, biographical data, etc.
Price – Free
Music recognition speed of Music ID : ⭐⭐⭐⭐
Music recognition accuracy of Music ID: ⭐⭐⭐⭐
2. Shazam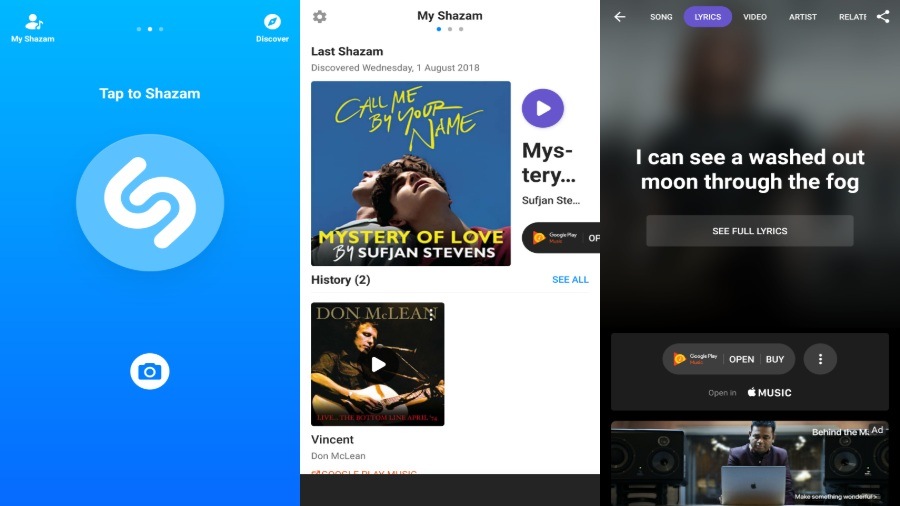 You might have heard people saying, "Shazam this song." Undoubtedly, the Shazam app is most popular among the song finders apps. Kicking a three-panel alluring interface, the app is ridiculously fast in recognizing songs. Although ads on the free version are kind of annoying.
Once it identifies the song, the Android app offers different choices. For instance, you can play an excerpt of the song, watch its YouTube video, sing along with the lyrics, and much more.
The app also features a pop-up tool that identifies music while using other apps. Then you have offline Shazam, automatically identifying the song once the user is back online.
The Shazam app can also ID posters, magazines, and movies using the camera, not to mention the embedded QR code reader. You can also discover song charts to see which tracks are popular in your area and tap on music apps icons like Spotify and Google Play Music for listening to entire songs.
Price – Free
Music recognition speed of Shazam: ⭐⭐⭐⭐⭐
Music recognition accuracy of Shazam: ⭐⭐⭐⭐⭐
3. SoundHound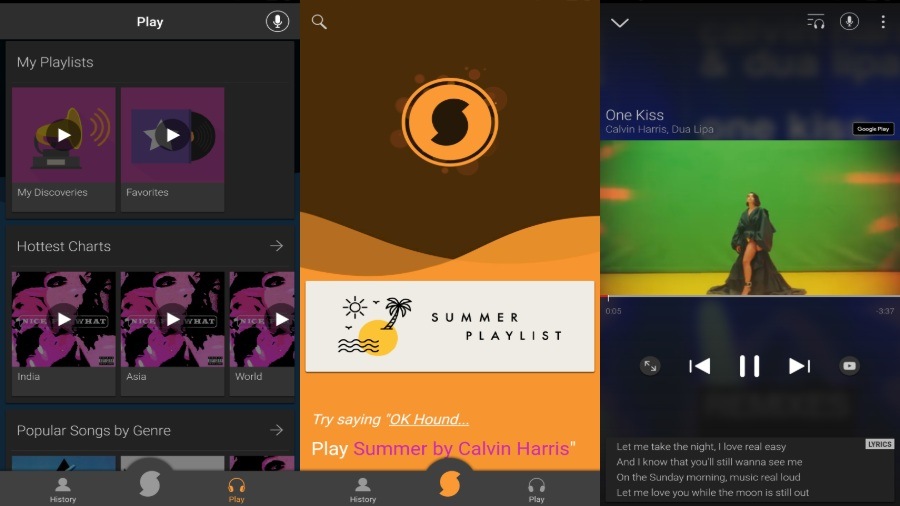 Sound Hound is very similar to music streaming apps out there. Apart from identifying music, the Android app offers different music categories to choose from. Unlike Shazam, it plays music videos rather than just music on the results screen.
SoundHound app also features its own song assistant. Saying "Ok Hound" allows you to search for an artist and play songs. You may also hum the song to identify it, however, SoundHound more often than not struggles to make this feature work correctly.
Other than that, you can see lyrics of songs, connect to Spotify and buy songs on Google Play. One more feature that sets it apart from other music identifiers is its web-based version called "Midomi," which uses your PC microphone to recognize songs.
While using the song identifier, I found the user interface a little unfriendly and restrictive. Especially, with the floating video window that never seems to go away. And similar to what we see in Youtube videos; turning off the screen will immediately halt the music.
Price – Free/Premium $5.99
Music recognition speed of Sound Hound: ⭐⭐⭐⭐⭐
Music recognition accuracy of Sound Hound: ⭐⭐⭐⭐
4. Musixmatch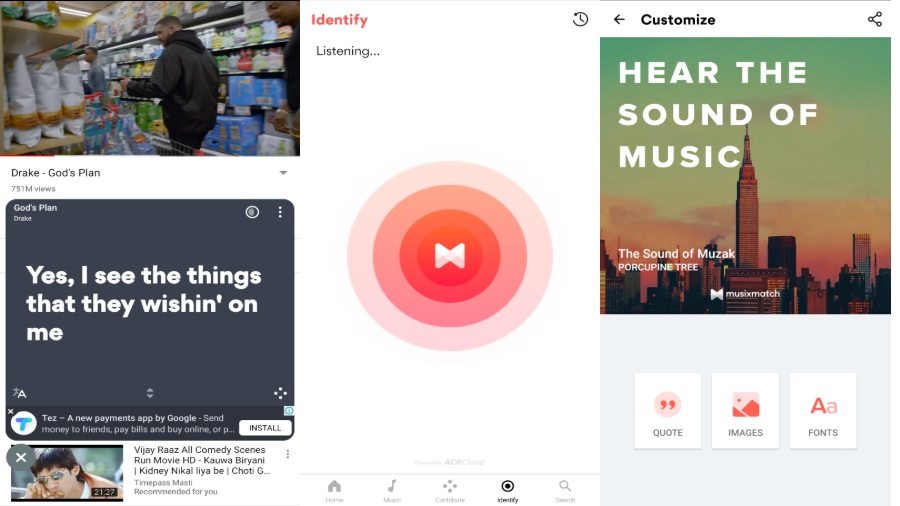 Unlike other song finder-cum-media apps, Musixmatch is entirely focused on providing lyrics and recognizing songs. Nevertheless, it does an outstanding job at finding songs.
Musixmatch floating lyrics feature can showcase lyrics of nearly any song in the world and even bolds out words in real-time as the song track plays in the background. This music finder app also features a translated version of the lyrics. Sadly, not every song has been translated into different languages.
You can create flashcards of lyrics like quoting an excerpt from the song and sharing it on social media.
MusicXmatch premium version allows word-by-word sync while you're singing the song, similar to karaoke music apps. Also, you have the option of offline lyrics.
Price – Free with in-app purchases
Music recognition speed of MusiXmatch : ⭐⭐⭐⭐⭐
Music recognition accuracy of MusiXmatch: ⭐⭐⭐⭐⭐
5. Genius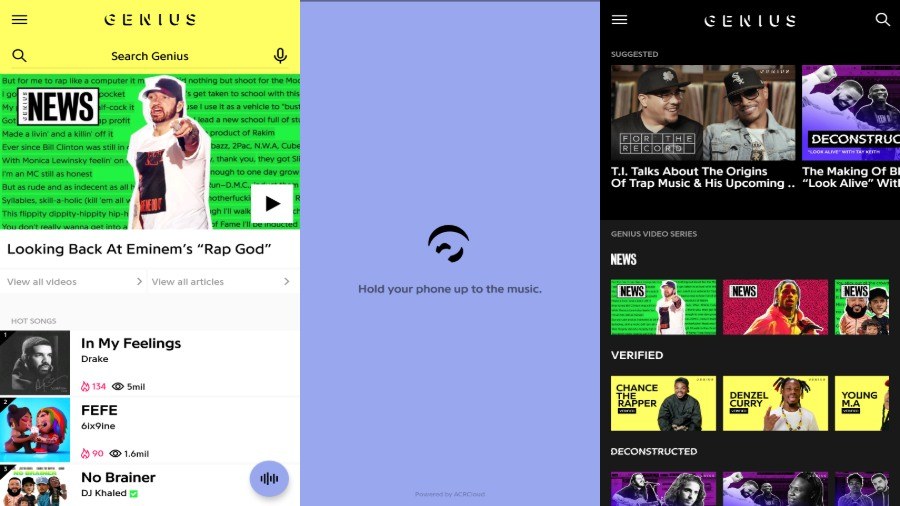 Genius is another popular song finder app available on Google Play. The cool app interface makes it easy to navigate the massive song library and view top charts.
The app features real-time lyrics which doesn't work as smoothly as MusiXmatch. Other than that, you can search for any song and see its lyrics. You can even play the video of the song.
The app allows you to download lyrics of the identified song so that you can read the lyrics while you're offline. Also, the app features an entire video library.
Music recognition speed of Genius : ⭐⭐
Music recognition accuracy of Genius: ⭐⭐⭐
6. BeatFind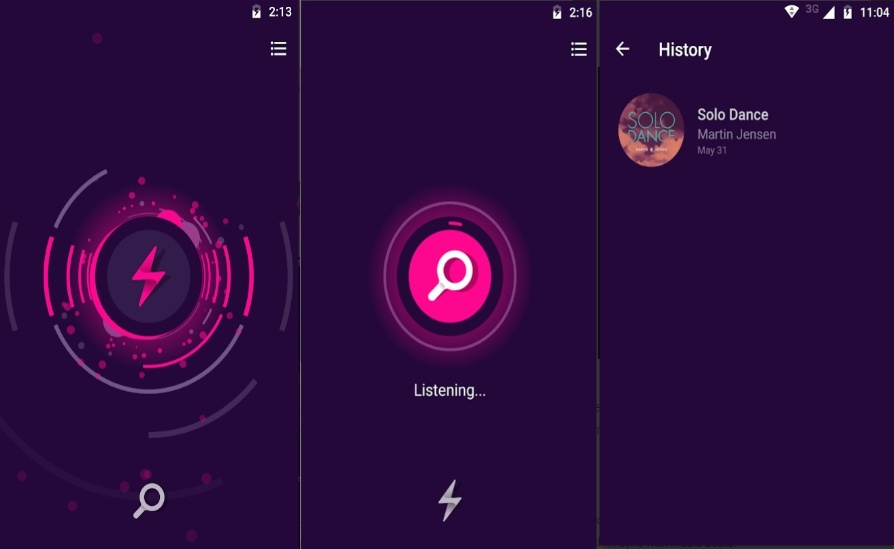 Beatfind is one song-recognition app that uplifts the entire listening experience. Rather than just searching for music, it actually syncs with the music and brings a flashing strobe light effect via using the smartphone flashlight.
You will see mesmerizing animations trying to blend with the beats of the songs. But there is one significant problem with the Beatfind music finder app — the ads.
To identify a song in 2022, one needs to click on the search icon at the bottom of the screen. However, most of the time, it hides behind the ad pop-ups.
Apart from this, it encompasses all the known elements like keeping a history of recognized songs, listening to songs on Spotify, Youtube, etc.
Price – Free
Music recognition speed of BeatFind : ⭐⭐⭐⭐⭐
Music recognition accuracy of BeatFind : ⭐⭐⭐⭐
7. Soly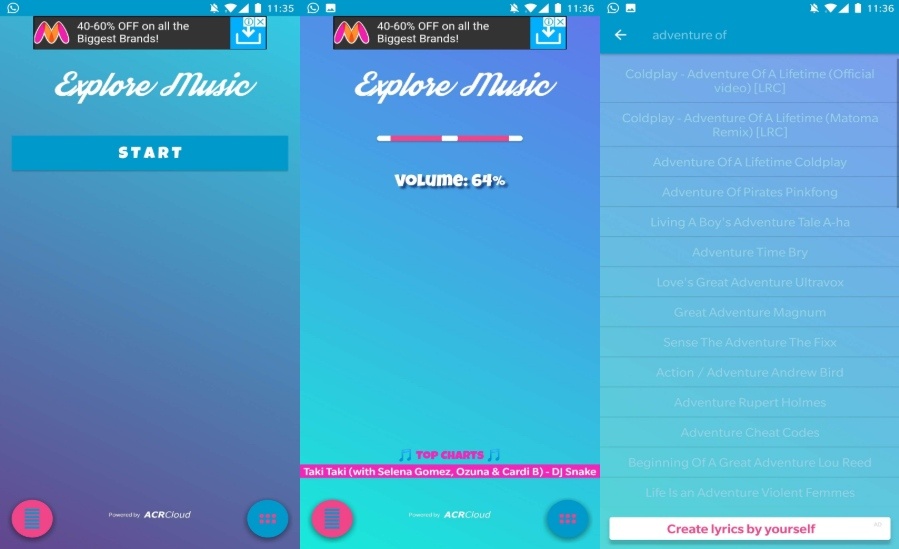 Soly is another song finder app that can identify songs as well as come up with lyrics. It also has an embedded music player, which means you can play songs stored on your device
Although Soly's song recognition is good, it encompasses a bunch of issues. The most irksome element of Soly is the ad bombs which are more frequent than any other song identifier apps mentioned here.
Other than that, Soly lyrics usually don't come up when it identifies a song. On the other hand, it has a lyrics search column where one can manually look for lyrics.
Price – Free
Music recognition speed of Soly : ⭐⭐⭐⭐
Music recognition accuracy of Soly : ⭐⭐⭐
8. Google Music Recognition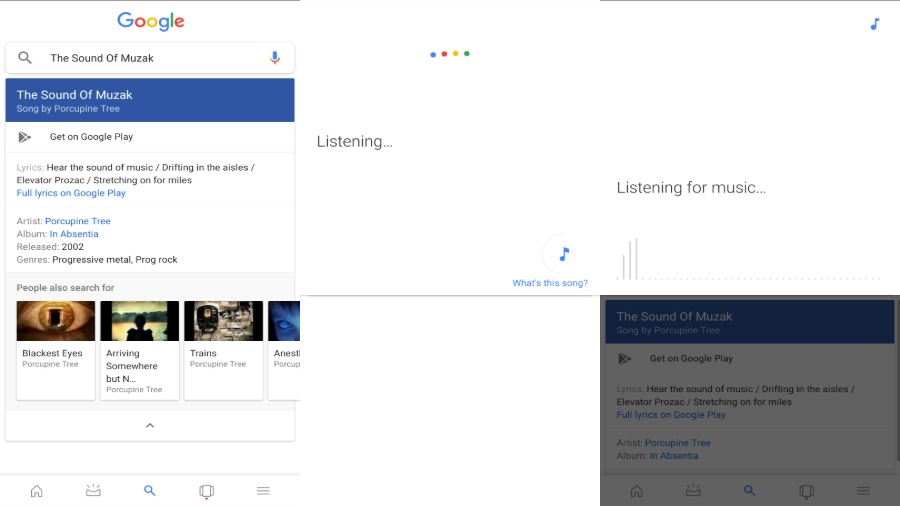 Google has a lot of exciting search tricks waiting for you to explore them. One such trick is Google's built-in music recognition feature. To look up any song, just open the Google app, tap on the mic icon (next to the search bar), and select "Search for a song" near the bottom of the screen. Let the song play or just hum it to help Google identify it out for you.
Google music recognition doesn't feature any song charts or anything like that. It's just a plain and simple song identifier. Although, once Google recognizes the track, you will be prompted to search results where you can look up lyrics, play it on Spotify and YouTube, etc.
The best part is you don't need to download any music identifier app. The pre-installed Google app on your smartphone will do everything for you. In case, you want to check your song recognition history, you can do so in Android Settings.
Price – Free
Music recognition speed of Google : ⭐⭐⭐
Music recognition accuracy of Google : ⭐⭐⭐⭐⭐
Tips to identify songs
Now, the music recognition apps we have mentioned are quite capable but there are a couple of things you need to remember while identifying a song. For example, the app might face problems if the environment is too noisy or if other songs are being played simultaneously.
In that case, moving your phone closer to the audio source might help. Also, at times when the app can't analyze a particular song, it could possible that the song is a music cover or personal composition that's not present in the database of the song recognition app.
Which song recognition app you liked the most?
It appears that Shazam and MusiXmatch are the top songs finder apps as of now. However, every app offers a unique set of attributes accompanying the music identifying tool. For instance, the SoundHound lets you identify songs simply by humming. So, try different apps before making your final decision.
Regarding the music recognition efficiency, Shazam will always top the list of song finder apps. Nevertheless, MusiXmatch has become quite popular too with its equally fast music recognition tool.
Tell us which song finder app best suited you in the comments below. For more helpful posts on Android apps, keep reading Fossbytes.
FAQs
1. Which is better Shazam or SoundHound?
While it's true that both these apps are great when it comes to identifying music, SoundHound gets the slight edge over Shazam as it can find out song details simply based on your humming. Another advantage is you don't have to download SoundHound to use it as it also has a web version known as Midomi.
2. How do I identify a song on Google?
One of the quickest ways to find out a song is to open the pre-installed Google app on your phone, tap on the mic icon, and choose "Search for a song." Let the music play and the search engine will do the job for you.
3. How to find a song by humming it?
You can literally hum or sing a song to Google or a compatible third-party app, such as Midomi, to search for that song. Although it isn't as accurate as making these services listen to the actual song playing, humming can also help you identify a song.